When news broke Thursday that special counsel Jack Smith decided to indict former President Donald Trump over his classified documents scandal, one of the most intriguing questions was: Would Smith indict only Trump or would he charge a conspiracy that includes the people around Trump who assisted, facilitated or were directly complicit in Trump's alleged crimes? In other words, would Smith try to take down the entire "Mar-a-Lago mafia" next?
As of Friday, the answer to the last question appears to be yes. Not only has the former president been charged with conspiracy to obstruct, but also the Justice Department has indicted his aide Walt Nauta. According to The Washington Post, one of the jobs of Trump's "personal aide and general gofer … has been to move and carry cardboard boxes in which Trump likes to keep mementos and papers." Nauta has been a subject of Smith's interest since reportedly making contradictory statements about whether he moved boxes of classified documents around at Mar-a-Lago. Might Nauta turn out to be one of the capos of the Mar-a-Lago mafia?
Trump seems to surround himself with people willing to do his dirty work, only to see those people fall away one after another.
It may sound funny, but with each breaking legal development, it seems like Trump's resort in Florida has a good bit in common with the (admittedly more violent) worlds of the Corleone compound from "The Godfather" or the "Bada Bing!" club from "The Sopranos." Trump seems to surround himself with people willing to do his dirty work, only to see those people fall away one after another.
We know that there were repeated efforts by officials from the National Archives to convince Trump to return the documents he had taken from the White House. Later, FBI and DOJ officials traveled to Mar-a-Lago in attempts to cajole Trump to return the documents. Though Trump staffers turned over 15 boxes to the National Archives and a further 38 documents to the FBI and DOJ, the government's efforts to reclaim all documents were to no avail.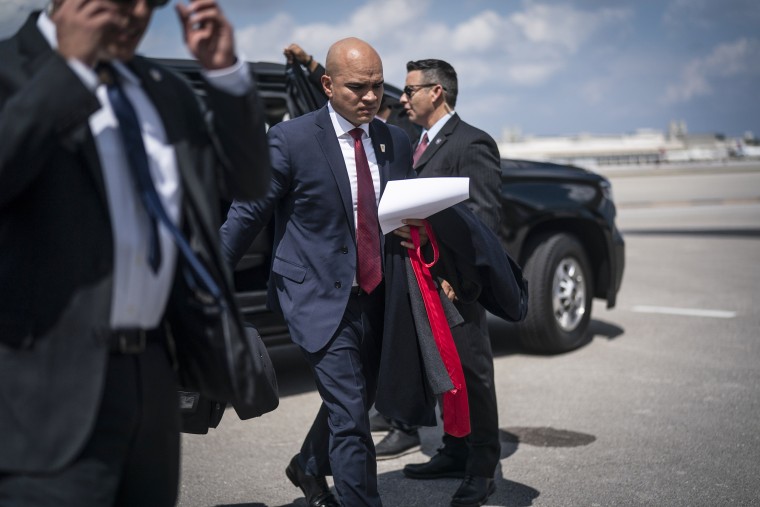 After the meeting with FBI and DOJ personnel, Trump's lawyers had certified to the agencies that a "diligent search" had not found any more classified documents. But two months later, on Aug. 8, 2022, FBI agents executed a search warrant and found an enormous stash of additional classified material, some located in Trump's desk drawers. On that August day, Mar-a-Lago was, quite literally, a crime scene. 
In the classified documents probe, it's been clear from day one that Trump did not pack up and personally transport all those boxes to Florida. He had help. Lots of help. Anytime prosecutors get even a hint of multiple people being involved in concerted criminal activity, they launch (or expand) an investigation to determine the nature of the conspiracy, what crimes might be the subject of the criminal agreement and who any co-conspirators might be.
Of course, that does not mean that everyone who assisted Trump in taking those documents from the White House and delivering them to Mar-a-Lago were culpably involved. Many likely had no idea that the boxes contained highly classified national security information. But even those who innocently packed up and transported those boxes are, at a minimum, important witnesses for purposes of the criminal probe.
The potential co-conspirators are plentiful in this crime saga.
Which brings us back to the Mar-a-Lago mafia. One of the challenging tasks for Smith has been to determine who was innocently involved, who was culpably involved and who was so culpably involved that they should be charged as part of the criminal conspiracy.
Ordinarily, conspiracies are investigated from the bottom up, with the smaller criminal fish being held accountable first, flipped against the larger criminal fish, until prosecutors reach the pinnacle, the organization's boss.
The potential co-conspirators are plentiful in this crime saga. The Washington Post reported that Trump staffers at Mar-a-Lago rehearsed the moving of boxes in apparent preparation for when the feds came-a-callin' for the classified documents. It further reported that in June 2022, one day before DOJ and FBI officials arrived, Trump's foot soldiers put that plan into action, moving the boxes to keep them from being discovered, only to have them seized by the FBI pursuant to a search warrant two months later. Will these box-concealers be swept up in a conspiracy indictment? Or might they already have flipped against Trump or others who are higher up on the criminal food chain? 
And Trump's lawyers — one might even call them his consiglieres — have been in tight spots recently. Several have testified in the grand jury. As a former career federal prosecutor, I can say from experience that it is extremely unusual for prosecutors to secure the testimony of the criminal defense attorney who represents the target of the investigation. Yet, as but one example, Trump attorney Evan Corcoran testified to a grand jury in Washington about his inaccurate certification swearing that all classified documents had been returned to the feds.
More recently, we learned that Corcoran made an audio recording, documenting his recollections of interactions with his client. These included Trump asking whether he had to comply with the subpoena for all the documents, and Corcoran affirming that was the case. Corcoran may prove to be a devastating witness against Trump at a (highly likely) criminal trial.
We've even seen some members of the Mar-a-Lago "family" turning against other members. Upon exiting Trump's legal team, lawyer Tim Parlatore accused current Trump lawyer Boris Epshteyn of "interfering" with searches of Trump's properties designed to find all remaining classified documents so they could be returned to the federal authorities. When members of the crew turn against one another, the boss is at heightened risk of being taken down.
Finally, recent reporting from The New York Times and CNN revealed that former chief of staff Mark Meadows has testified in the grand jury. From an investigative perspective, this is an earth-shattering development. Meadows was sitting at Trump's knee during times that will be of keen interest to Smith: the events leading up to Jan. 6, the attack itself and, most pertinently, the alleged removal of classified documents from the White House. What we don't yet know is the conditions under which Meadows testified — whether, for example, he appeared under a grant of immunity or pursuant to a sealed guilty plea that required him to cooperate fully and truthfully with Smith's investigations.
But regardless, when the boss's chief of staff has potentially "ratted out" the boss, the endgame is clearly in sight. Smith has built his case in classic style, reeling in person after person in Trump's orbit. Only the biggest fish is left to be caught.