Why the mug shot matters 
This Georgia indictment is different for a whole host of reasons. Donald Trump has 18 co-defendants, he can't pardon himself, the trial will likely be televised, and now, for the first time, we have a mug shot.    
Trump and his allies are already leaning in to it. We should expect T-shirts, posters, mugs galore. 
He thinks this is a political winner for him. But as New Hampshire Gov. Chris Sununu told me in an interview that airs Sunday, "independents hate it."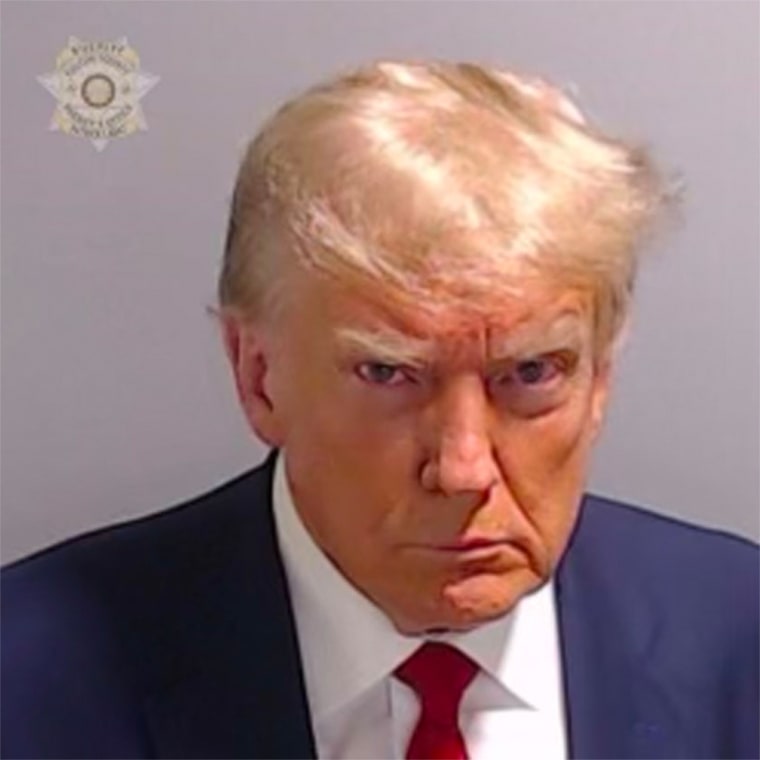 The fact remains that Trump is going to need to expand his voting base to win a general election. Yes, Trump has turned politics on its head. But it's very unlikely independents and moderates in the suburbs of Milwaukee, Phoenix or Detroit are going to become more likely to vote for Trump because he has was booked in the Fulton County Jail. 
Already, 26% of likely Iowa Republican caucus-goers said Trump had committed serious crimes, according to a new poll from NBC News/Des Moines Register/Mediacom. 
This photo will be shared on every text thread in America. Sometimes, images are more persuasive than anything. And it is hard to imagine that this image, of Trump scowling into the police camera, will make him more appealing to anyone who is not already a hardcore supporter. 
---
A story you should be following: The race for second place
On a packed stage at a presidential debate, I like to focus on the top target of attacks. That's who the broader field of competitors views as their biggest threat. 
Wednesday night, that target was (perhaps surprisingly) Vivek Ramaswamy. Former Vice President Mike Pence called him an "amateur," former Gov. Chris Christie said he sounds like "ChatGPT" and former U.N. Ambassador Nikki Haley attacked him for having "no foreign policy experience." 
On the other hand, only two — two — attacks were leveled at the candidate currently in second place, Florida Gov. Ron DeSantis. It was almost as if he was not on the stage. Nothing he said was memorable, and almost no one even cared to attack him. 
Indeed, Ramaswamy firmly staked his claim to the MAGA lane DeSantis doubtless wanted to occupy. Taking a page from Trump's book, Ramasamy certainly didn't let facts get in the way of a good one-liner. And it might just be working for him. 
I'm going to keep watching to see if this is a flash in the pan or a real upward trend. There is also the possibility he's actually auditioning to be the name under Trump's on the ballot.  
---
Someone you should know: Amanda Litman
With so much focus on the presidential election, it's easy to forget about the incredibly important down-ballot races taking shape all across the country. And I'm talking about races way down the ballot. 
With book bans and challenges continuing at a rapid pace, school board seats have never been more important. One of the groups trying to elect young people to fight back against right-wing extremism on school boards is Run for Something. Amanda Litman is the co-founder, and someone I'll be watching very closely as election season unfolds. 
---
NBC News and MSNBC national political correspondent Steve Kornacki's weekend routine 
What show are you bingeing on right now?
Enough people told me to watch "The Bear," so I did and am almost current with it now. It's not really holding my interest, even though some of the characters and moments worked well. 
What's the last book you read?
Randy Boyagoda's biography of Richard John Neuhaus, an influential Catholic theologian who probably attained his greatest prominence during the Bush presidency. It's a really fascinating read that explores Neuhaus' personal, religious and political evolution with detail and insight. 
What time do you wake up on the weekends?
Early, especially on Saturdays, which I generally like to spend watching horse racing. I try to get my morning routine done as early as possible so that I have enough time to look closely at the tracks I'm going to play and to plan out my betting strategy. 
How do you take your coffee?
Dunkin' with some kind of milk in it and nothing else. If I'm traveling somewhere where Dunkin' Donuts are few and far between, I am willing to drive way out of my way to get my fix.