Hillary Clinton will leave her post as the most-traveled secretary of state after four years, 956,733 miles, 112 different countries, and 1,700 meetings with world leaders. In her final speech to the State Department, Clinton parted with her staff of approximately 70,000 and told them that she will always remain an "advocate from outside."
"I'm proud of the work we have done to elevate diplomacy and development, to serve the nation we all love, to understand the challenges, the threats and the opportunities that the United States faces, and to work with all our heart and all our might to make sure that America is secure, that our interests are promoted and our values are respected."
Clinton said leading the state department had been a "unique and singular, exciting and challenging" experience. "The world we are trying to help bring into being in the 21st century will have many difficult days. But I am more optimistic today than I was when I stood here four years ago because I have seen, day after day, the many contributions that our diplomats and development experts are making to help ensure that this century provides the kind of peace, progress and prosperity that not just the United States but the entire world, especially young people, so richly deserve."
She wished for the same focus and dedication for the department's new leader, Secretary John Kerry, who will replace Clinton after he was confirmed by the Senate on Tuesday.
"I am going to be secretary of state until the very last minute when I walk out the door," she told the Associated Press on Thursday.
In Clinton's official resignation letter to the president, she writes of America's influence as a global leader and its capacity to be a force for good in the world.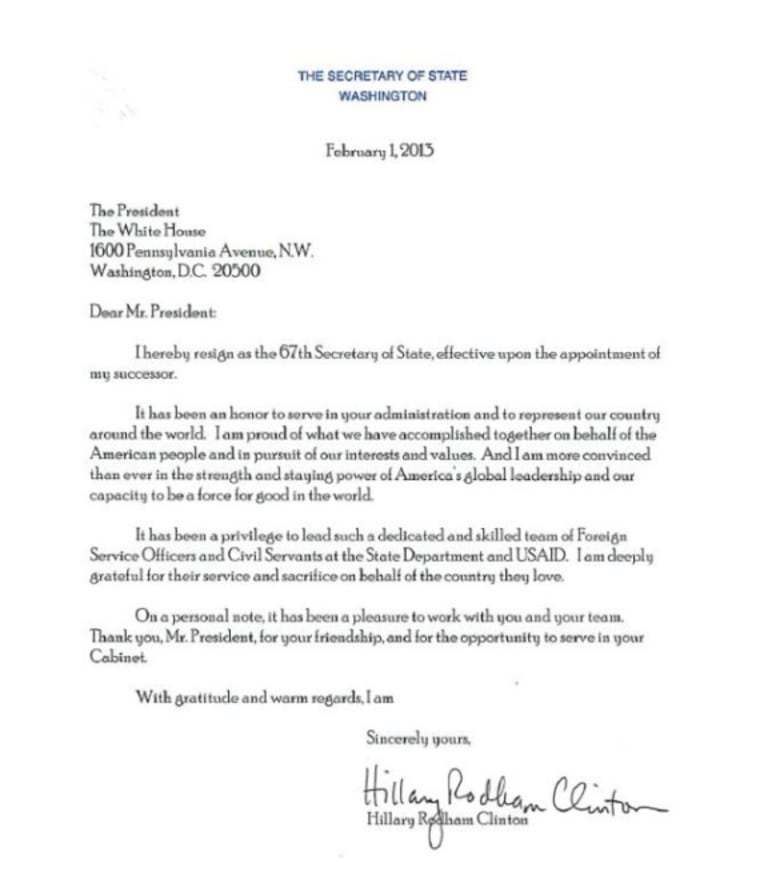 Clinton has not specified her plans for the future, but her immediate plans involve writing, speaking and taking the weekend off.