... but one of the guys who did looks a whole lot like him.
By now you've probably seen the video. If not, you can watch it here (caution, lots of coarse language).
On Saturday, a belligerent man was tackled by passengers and arrested by police inside the Dallas-Fort Worth airport after he used several homophobic slurs on another passenger and then attacked that same passenger, seemingly unprovoked. As airport security restrained the man on the ground, he made more threats and more offensive comments about the passenger and the security officers trying to subdue him. Essentially, the arrested man was a more violent, entirely unfunny, and exponentially more intolerant version of SNL's Drunk Uncle character.
But among the six or more people who quickly moved in to tackle the man once he kicked and punched another passenger is a man who the Internet thought looked a lot like actor Paul Rudd.
And given that Paul Rudd is a known Kansas City Royals fan, there was even speculation that he'd been in Kansas City because of the World Series (between Kansas City and the San Francisco Giants) and could have had a flight connection in the Dallas airport.
A flurry of headlines and conversations on social media immediately began to speculate that the man highlighted below was none other than actor Paul Rudd helping subdue this malcontent. And while we're pretty sure Paul Rudd would have done exactly what this guy did had he been there, a publicist for the actor confirmed that the man below is not Paul Rudd.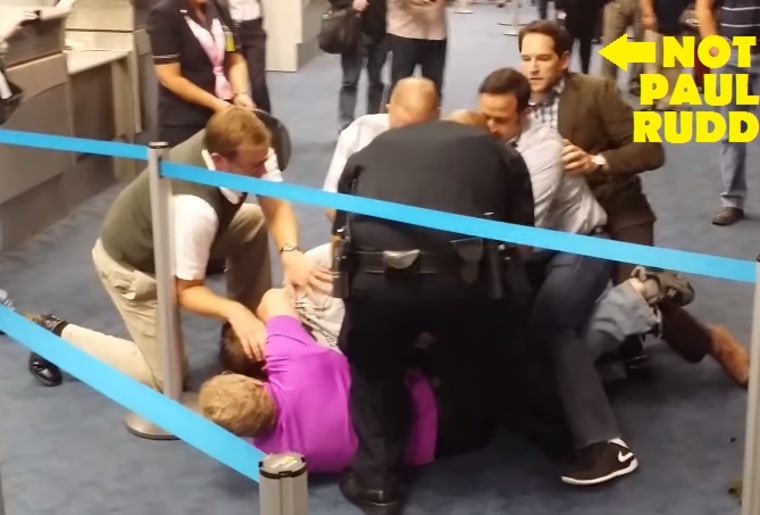 Between the time the video went viral and the world learned that Paul Rudd was not part of the scuffle, the hashtag #PaulRuddSavesLives popped up on Twitter. Some of the tweets were pretty amazing.