This Christmas tree in Rockefeller Center is a great example of just how wrong Mitt Romney has been about the issue of poverty. This tree is a symbol of what a very rich man can do to help his fellow Americans.
First of all, you should know that the tradition of the Rockefeller Center Tree started as a kind of tribute. At the height of the Great Depression, 60% of New York City construction workers were unemployed. Nobody was building anything. Except for John D. Rockefeller, Jr. He employed thousands of workers despite the worst economic conditions.
On Christmas Eve 1931, a group of Rockefeller's employees put up a 20-foot tree in the middle of the muddy construction site. They were celebrating their relative fortune because, unlike so many Americans, they were getting paid. In the black and white photograph (below), you can see a man standing next to a crate getting ready to hand out paychecks.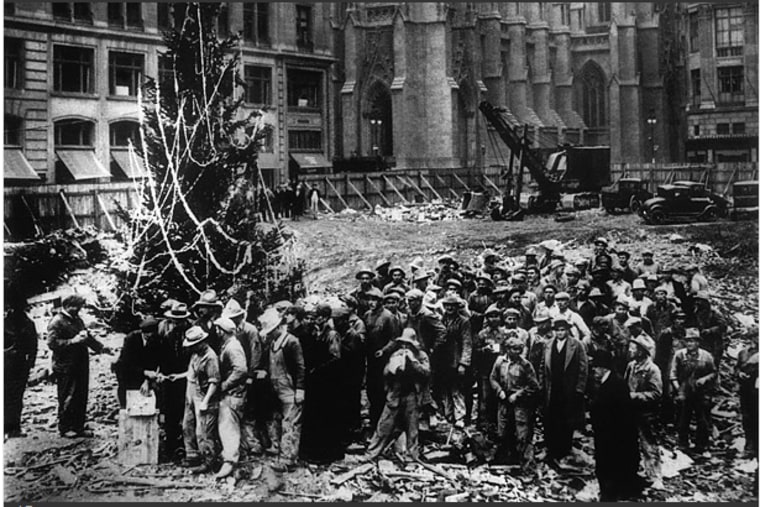 Just like Mitt Romney, the man who paid those workers was a very rich guy. And unlike Romney, John D. Rockefeller, Jr. inherited the bulk of his wealth from his father.
Like Mitt Romney, the Rockefellers were religious. But unlike Romney, Rockefeller Jr. didn't focus his charitable giving on his church. His dad donated heavily to various causes, including funding for the inception of the University of Chicago.
Romney founded Staples and ran for president. Rockefeller contributed to public institutions that continue to make a difference. Here's a very short list of  John D. Rockefeller, Jr.'s most notable achievements, which might even make modern-day Republicans think twice. (You can check out the Rockefeller Archives for a more detailed list.)- Soon after graduation, helped his father manage the Rockefeller Foundation, giving away more than $530 million.- Served as foreman of a Special Grand Jury in Manhattan investigating white-slave traffic.- Helped create the Bureau of Social Hygiene in 1913, a predecessor of the modern-day health department.- Helped establish the United Service Organizations (USO).- Visited servicemen during World War I.- Advocated for workers by fighting the 12-hour work day and 7-day work week.- Served as chairman of the advisory committee for the United Negro College Fund.
I know, right? Rockefeller proves you can be an extremely rich person who doesn't think the country is made up of "takers." He proves you can be rich without believing 47% of your fellow Americans are "victims, who believe the government has a responsibility to care for them," as Romney told donors this spring.
Now compare Romney's rhetoric to Rockefeller's.  This is from a radio broadcast on July 8, 1941 (emphasis is mine):
"I BelieveI believe in the supreme worth of the individual and in his right to life, liberty, and the pursuit of happiness.I believe that every right implies a responsibility; every opportunity, an obligation; every possession, a duty.I believe that the law was made for man and not man for the law; that government is the servant of the people and not their master.I believe in the dignity of labor, whether with head or hand; that the world owes no man a living but that it owes every man an opportunity to make a living.I believe that thrift is essential to well ordered living and that economy is a prime requisite of a sound financial structure, whether in government, business or personal affairs.I believe that truth and justice are fundamental to an enduring social order.I believe in the sacredness of a promise, that a man's word should be as good as his bond; that character -- not wealth or power or position -- is of supreme worth.I believe that the rendering of useful service is the common duty of mankind and that only in the purifying fire of sacrifice is the dross of selfishness consumed and the greatness of the human soul set free.I believe in an all-wise and all-loving God, named by whatever name, and that the individual's highest fulfillment, greatest happiness, and widest usefulness are to be found in living in harmony with His will.I believe that love is the greatest thing in the world; that it alone can overcome hate; that right can and will triumph over might. "