FORT MORGAN, CO – Jose Munoz can't understand why Congressman Cory Gardner won't give him a straight answer on immigration.
Munoz, a 25-year old volunteer with the Colorado Immigrant Rights Coalition, was one of many attendees at Gardner's first town hall of the summer eager to hear their congressman address the topic. Just a week earlier on July 29, Gardner met privately with group members who left feeling encouraged.
According to participants, Gardner said that he favored a more "humane" approach to keeping immigrant families together and expected House legislation to include "earned legalization" for undocumented immigrants. That's short of a path to citizenship, but it would still be a significant step that could radically improve his family's living situation. Munoz, whose father works on a nearby farm, is in removal proceedings over a DUI arrest years ago.
But when the audience at the August 5 town hall, about half of whom are Latino, confronted Gardner with the same questions, it was as if that earlier meeting never happened. Asked how he would protect families from being separated by deportation, the Colorado Republican pivoted to the importance of cracking down on illegal immigration.
"Once we address those questions of security and enforcement, then we can have the conversation about what to do with those 11 million undocumented," Gardner said.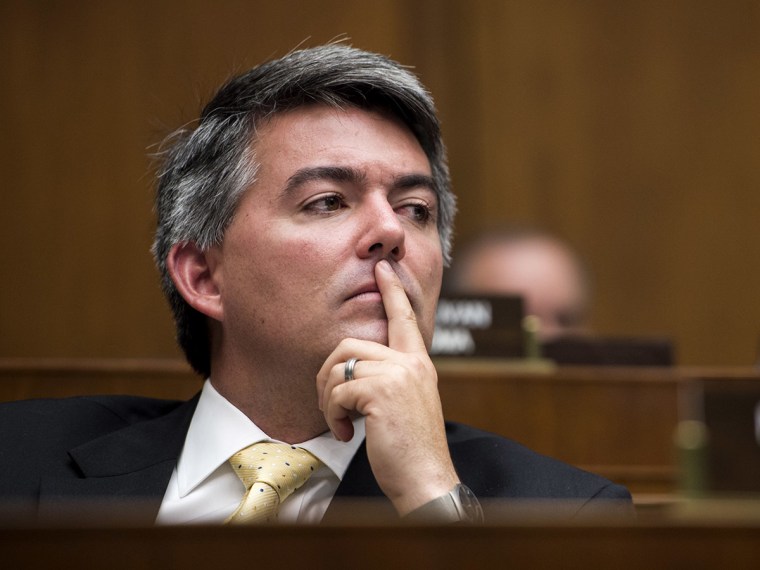 At times Gardner seemed to conveniently misinterpret requests for more detail. One attendee asked: "What are the requirements to qualify for the immigration reform?" Gardner took this as a cue to restate his policy requirement that real "reform" meant a series of small bills dealing with border security, internal enforcement measures, and a guest worker program. Another asked: "Do you support immigration reform – and if so, for whom?"
"Maybe I'm not the following the question," the congressman replied: "It's for all of us!"
Gardner is one of about 100 potential Republican swing votes that immigration advocates have identified based on their personal views, their district's demographics, and the regional economy. Without these GOP votes, meaningful immigration reform is unlikely to pass the House.
National reform groups like America's Voice and the National Immigration Forum prepared for months to court them over the summer recess, working with local groups like CIRC to identify the most influential community voices sympathetic to the cause. In Gardner's district alone, the advocates scheduled events with pro-reform business executives, farmers, Latino groups, pastors, and law enforcement officials.
But for all their work, Gardner is hesitant to endorse a broad legalization plan along the lines of the bipartisan Senate bill that passed in June. At best, he's floated a smaller fix for people who, like Munoz, were brought to the country as children.
"He says 'border first,'" Munoz told MSNBC. "In the meantime, we're splitting up families."
Munoz was mystified at first by Gardner's apparent intransigence. Then he got in his car and followed Gardner to his second town hall of the day in nearby Akron–the seat of 97% white Washington County--and things started to make more sense.
Here, constituents talked about President Obama's phony birth certificate and how Gardner will stop the president from using a "dictator process" to claim a third term. Turning to immigration, one attendee complained, "I don't believe there are only 11 million illegals in the country--and more are coming." Another wanted to station returning troops along the Mexican and Canadian border.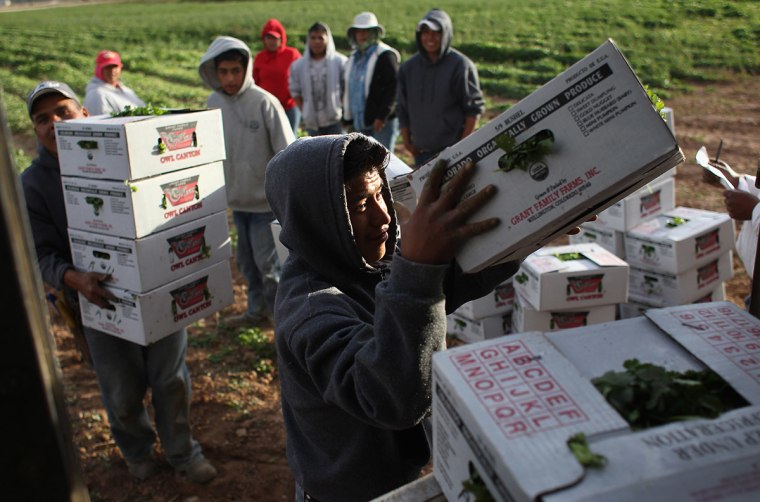 After the Akron event, two middle-aged women buttonholed Gardner to complain that his proposals for guest workers and a streamlined legal visa process sound too similar to the Senate bill.
"Don't talk to us so much about the poor immigrants," one said. "Talk to me about Americans."
"I don't support the pathway to citizenship," he responded.
"But you're letting them stay!" she insisted. "You're defeating the purpose!"
"It's just a reflection of the fact that we've had 30 years of failed immigration policy," he replied.
She wasn't happy with the answer, but politely urged him to "stand tall" against any attempts by Speaker Boehner to hoodwink them. Her friend had a final suggestion of her own.
"Cory, let's think of this one too," she said. "Let's think of impeaching Obama?"
Gardner, the Target
Cory Gardner of Colorado is one of the Republican party's most promising politicians. Watching him in action, it's easy to see why.
The buoyant 38-year-old's views are conventionally conservative, but he conveys them with a folksy can-do spirit that comes off as moderate. He's just as enthusiastic explaining the Republican budget as he is local irrigation policy. He can, and will, argue the merits of green tractors over red tractors.
Gardner's reputation is equally sterling in Washington. Roll Call recently mentioned him as a dark horse candidate to succeed John Boehner as Speaker of the House, citing his role as a mediator between his own ultra-conservative Class of 2010 and more pragmatic House leaders.
But on both the national and state level, immigration throws that dual appeal into question. If Gardner sides with reformers in the House, he could earn a reputation as an unreliable conservative. If he goes against them, he could tarnish his centrist brand – especially with Latinos, who make up about 21% of Colorado's population.
As a result, the August recess became a critical period for both sides. Supporters of reform saw it as their best chance to convince Republicans that the political benefits of backing a bill outweigh the risks. In Gardner's district, and dozens like it, they blitzed town halls, demanded private meetings and rallied.
On the anti-immigration side, there was little in the way of organized opposition, a trend that's played out on a national level as well. What they had going for them was a feeling -- an uncomfortable suspicion among conservatives that reform is a corrupt trade between establishment Republican trying to pad their donors' profits and Democrats trying to add new voters.
"This isn't always how they say it, but a lot of it goes back to the idea of the law and being a nation of laws," Gardner told MSNBC when asked about the anti-immigration side. "If you don't follow the laws we create, then we're a nation that has abandoned that principle, and I think that's what their statements boil down to. They obviously don't always say it like that."
For now, as Congress returns to debate immigration after recess, Gardner is trying to please everyone. But eventually he'll have to disappoint the voters at one of those two town halls.
Fire over ICE
A large number of House Republicans making up their minds on immigration represent overwhelmingly white constituencies that are mostly untouched by the issue. Districts like Gardner's are the reason the issue is on the front burner in Washington.
Over the last decade, immigration policy has divided families, heightened racial tensions, sent businesses scrambling to find workers and burned the careers of Colorado politicians who got on its bad side.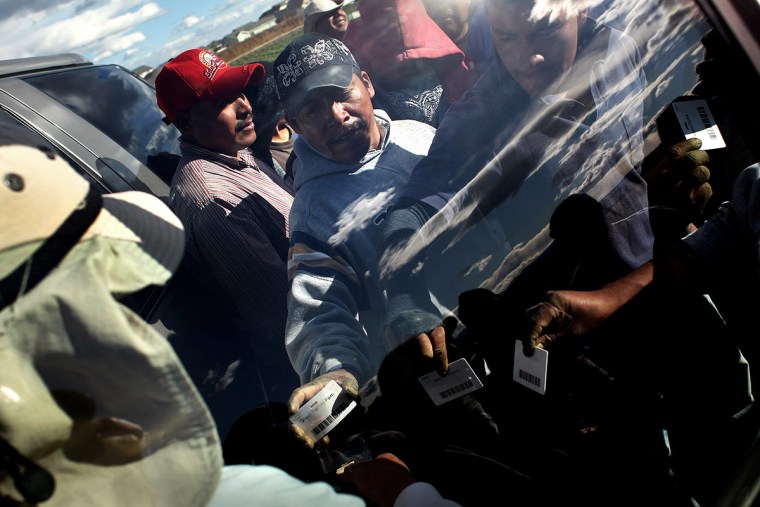 In December 2006, ICE agents raided the Swift & Co. meatpacking plant in Greeley, the largest city in Gardner's district, and arrested 273 workers. It was the first of a series of raids throughout the state aimed at cracking down on illegal hiring. The Swift case was coordinated with Weld County District Attorney Ken Buck, who quickly earned a reputation as an anti-immigration crusader. In the most brazen example, Buck ordered a raid on an accounting firm in order to collect thousands of tax returns from suspected illegal workers, which he then used to arrest 100 people. The ACLU sued and the state supreme court eventually ruled the operation unconstitutional.
To many Greeley residents, the crackdown was welcome. Locals had complained that a recent wave of migrant workers was responsible for increased crime and that their Spanish-speaking children dragged down the school system. Conservative activists lobbied ICE to station a permanent office in Greeley. When Republican Mayor Tom Selders criticized ICE's raids as heavy handed, the right united behind a hardline candidate in the next election and ousted him in a landslide.
To Latinos in Gardner's district, the debate was a wakeup call of a different kind. A large portion of Hispanic Coloradans trace their roots back to before the state's founding, when it belonged to Mexico. Another sizable group descends from refugees who fled the 1910 Mexican Revolution. Immigration law is no more relevant to them than it is to fifth-generation German Americans, but they're intimately familiar with discrimination against the state's Latinos, who are still recovering from a legacy of segregation. To their ears, much of the rhetoric around immigration sounds like an attack on their heritage and ethnicity.
The face of these grievances was Congressman Tom Tancredo in the neighboring 6th District, who labeled the National Council of La Raza a "Latino KKK," called Miami a "third world country," and warned of a "cult of multiculturalism" that threatened Western civilization.
"There was some racism in Greeley before the raid, but it was under the surface," Rhonda Solis, a dental assistant and immigration activist, said. "The raids brought it all to the surface. I heard people who were born here, people like me who don't even speak Spanish, told to go back to Mexico. They lumped everyone together."
As a young state representative in Yuma, Gardner tended toward the safe path of siding with the pro-enforcement crowd. He opposed a bill granting in-state tuition for young undocumented immigrants, warning in a 2006 panel, "We must not reward illegal behavior, nor should we institute policies that perpetuate it."
Gardner doesn't need voters like Solis to win elections in his right-leaning congressional district, but he's widely expected to pursue higher office some day. If there's one thing Republicans have learned over the last few years, it's that what plays well in Greeley doesn't always translate outside of it.
Buck discovered the hard way that his anti-immigration posture made him repellent to Latinos. In 2010 he ran for Senate only to lose 81% of the Latino vote and the election to incumbent Democrat Michael Bennett. The same year, Tancredo lost 86% of the Latino vote in a three-way gubernatorial race against Governor John Hickenlooper. Two years later, Democrats captured solid majorities in the state legislature while 75% of Latinos voted for Obama over Mitt Romney in 2012.
Latino voters aren't the only reason for the state GOP's implosion, but it's hard to imagine the party bouncing back without them. The Latino share of Colorado's electorate jumped from 8% in 2004 to 14% in 2012 and demographic trends suggest it will keep rising.
Right now, there are some faint signs of life for the GOP: Hickenlooper's approval ratings are sagging and in September Republicans managed to recall two Democratic legislators over their votes for gun control. But they still need viable candidates to capitalize on the opening statewide. Strategists on both sides believe Gardner's sunny, reassuring style is the party's best chance–maybe their only chance--to mount a comeback in the short term.
"He's the front of the bench," Katy Atkinson, a longtime Republican consultant and former state legislator, told MSNBC. "What Cory Gardner does, you don't see often. He never speaks in the negative. It's always positive."
Gardner has watched voters punish two of the top politicians in his district for mishandling immigration, so it's easy to understand his "wait and see" approach. Maybe the GOP's brutal losses could push hyper-conservative primary voters to accept a moderate lapse or two. But it could just as easily drive them towards more isolating extremes instead. The top political cause in Gardner's district over the recess was an effort by officials in ten counties, including Weld, to secede and form the 51st state in response to new Democratic laws on guns and energy. The issue came up constantly at town halls throughout the month.
Money Talks
Gardner had some advice for immigration activists when they met in July: press the economic argument. The more businesses leaders who can publicly support reform, the better.
"If you look at the needs of this district, from the energy fields in Weld County to the farms and ranches of eastern Colorado, to the dairies of Morgan County, to the high tech sector of the suburbs…immigration is very important," he said at his Akron town hall.
Gardner's district is among the most agriculture-heavy in the country. Greeley, for example, is a "cow town" dominated by the dairy and livestock industry. Locals jokingly refer to the occasional manure odor as the "smell of opportunity."
Farmers throughout the area say the last few years of raids and audits have hurt efforts to expand. Finding suitable workers is difficult either through the current visa system or among the local population, who, farmers say, are unwilling to perform the unpleasant tasks necessary to turn a profit. In Greeley, local meatpacking plants replaced workers lost to ICE raids with refugees from Somalia. Adding to their woes, deadly floods in September have washed out hundreds of acres of farmland.
Business owners have lobbied Gardner for months to back immigration reform and a number of them participated in a closed-door meeting with his staff over the recess. They're coordinating their efforts with national pro-business reform groups who are hosting similar events around the country. And it's not just farmers: Gardner noted to MSNBC that the Dish Network is headquartered in his district, one of many high tech companies, including Google and Facebook, that wants to revamp visa laws to help recruit top talent from abroad.
"What we try to tell him is 'Look, you're representing a huge swath of rural Colorado and we need this thing to get passed,'" said Chris Kraft, a member of the Council of Dairy Farmers of America and Morgan County farmer, told MSNBC. "It's probably the thing that's holding us back right now."
Estamos En La Lucha!
"Today we are going to tell Cory Gardner that he needs to stand up for immigration reform!" Sonia Marquez, the north regional director for CIRC, shouted to the crowd.
And with that, hundreds of overwhelmingly Latino protestors clad in white marched down 10th Avenue toward the Weld County Courthouse in Greeley. Soon the chants began: "Gardner, escucha! Estamos en la lucha!" which translates roughly to: "Listen up, Gardner! We're in the fight!"
The August 10 march had exactly one stated goal: to get Gardner to publicly back a path to citizenship. Many of the same protestors surprised Gardner earlier in the week by marching in a parade in his hometown of Yuma, where they yelled, "We need you!" as he passed them by.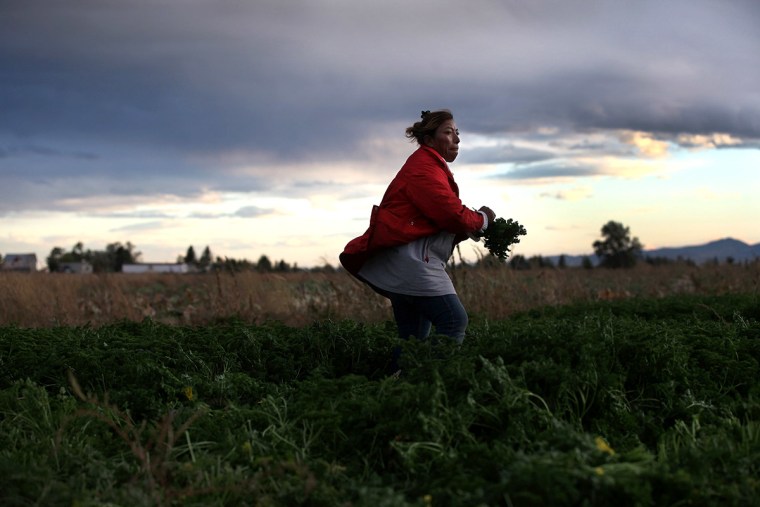 Gardner, however, is still holding out. Marquez had heard from Gardner's staff that he might release either a statement or an op-ed clarifying his position further, but he ultimately decided to hold off during the recess.
"Frankly, I'm not too optimistic," grumbled Mil Hart, a former labor organizer turned financial adviser. "Maybe he'll support a path to citizenship that's 100 years long."
The pressure is getting to other Colorado Republicans at least. In the 6th District, Mike Coffman won his seat with mailers declaring "Congressman Tom Tancredo never wavered on the issue of immigration reform and nor will I." But thanks to redistricting, about 20% of Coffman's voters are now Latino and he recently published an op-ed endorsing a path to citizenship. 
More astoundingly, Ken Buck – that Ken Buck – has joined his old foe Bennett in signing onto the Colorado Compact, an open letter endorsing immigration legislation that protects families from deportation. He also disavowed his old raids. In August, he announced his intention to challenge Democratic Senator Mark Udall.
Jose Munoz and his friends are considering a civil disobedience campaign to up the pressure on Gardner. Organizers are urging them to hold off until it's clearer where he's heading.
"We're going to give him until October," Munoz told MSNBC. "Right now he's friendly with us, but if he doesn't want to support reform we're going to go full blast."
Among the crowd were some of the families who attended Gardner's town hall in Fort Morgan. Antońa Faudoa's husband, Edmundo Faudoa, is facing deportation stemming from his 2011 arrest in a raid on the local Wildcat Dairy. She wanted to talk about it, but her English is weak so she motioned to her daughter to tell their story.
Jennifer Faudoa, 10, was born in Fort Morgan and recounted in perfect unaccented English the day ICE agents came looking for her father at their home. She described the legal nuances of his case--he's received temporary permission to stay--and how her younger sister needed therapy to help cope with the stress.
"It was the saddest event of my life," she told MSNBC. "But that's why we need immigration reform."
The young Faudoa is so poised that it's almost eerie. It's clear she's had to plead her family's case many times before. In fact, Jennifer has sent Gardner letters asking for help and last month she lobbied him in person at his meeting with immigration activists.
"I told him all about the raids on my dad's workplace," she said. "The day after the meeting was my birthday, so I asked him if he could give me a birthday present by supporting immigration reform."
Jennifer shared her own dream of becoming a lawyer and member of congress, just like Gardner. He said she could skip the lawyer part if she wanted to. A few days later she received a photo of them together with a card telling her to "keep up the great work."
Jennifer was grateful for his time. But even at age 10, she knows a dodge when she hears one.
"It wasn't clear if he supports immigration reform or not," she said. "He kept talking about doing it in pieces."