Last year, Colorado Secretary of State Scott Gessler got fined about $2,800 for using state money to pay for a trip to a Republican lawyers conference. You can argue whether Gessler's fine was a big deal or small one, his just deserts or (as Gessler's office says) the result of a witch hunt by a liberal group. In any case, he was fined about $2,800.
Yesterday, the citizens of Colorado got a look at the legal bills -- paid by Colorado taxpayers -- for Gessler's defense. The bills go on, item after item, with a 24 percent discount (pdf) for the secretary of state, and sent directly to his office, under "Bill to: Colorado Department of State." The great ColoradoPols totaled the damage this way:
Gessler was found to have "breached the public trust for private gain," and fined the maximum amount–roughly $2,800. That's $122,000 billed to taxpayers to protect Gessler from a $2,800 fine. An awfully bad return on investment, don't you think?
If you're keeping track at home, the defense-to-fine ration is about 43:1, rounding down. Just for fun -- because anything this expensive ought to be fun -- my colleague Steve Benen charted the amount taxpayers have spent defending Gessler and the amount of the fine.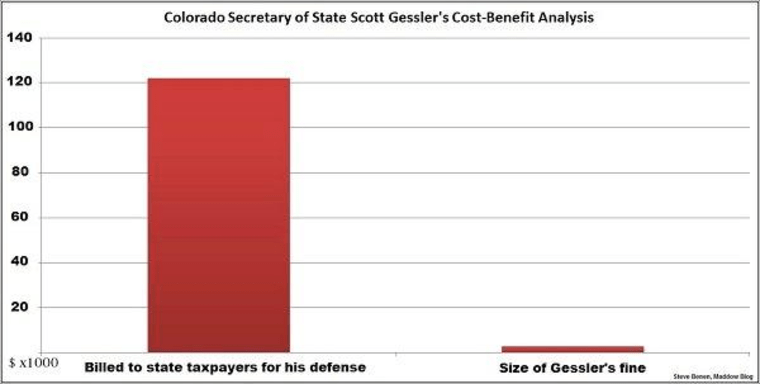 You can find the full set of legal bills on Colorado Ethics Watch, where they note that Gessler's defense cost twice the entire legal budget of the state ethics commission. As Gessler fought the charge, the commission spent $63,869 prosecuting the case and responding to Gessler's legal motions. Gessler, we should note, is considering a run for governor next year (also: ColoradoPols calls him the honey badger).