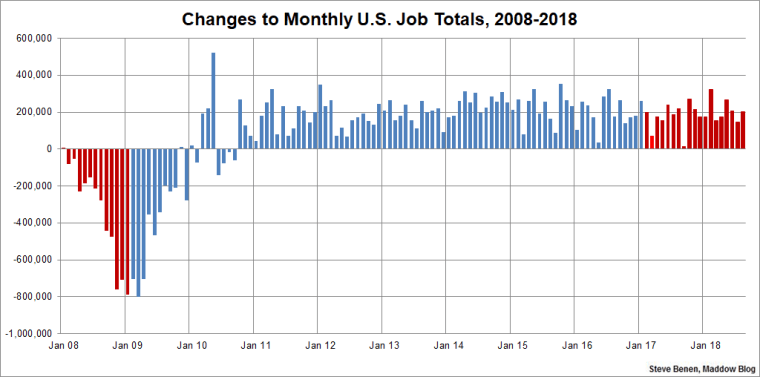 Ahead of this morning's new jobs report, most projections said the U.S. economy added about 192,000 jobs last month. It looks like those projections were pretty close to accurate.
The Bureau of Labor Statistics reported this morning that the economy added 201,000 jobs in August, while the unemployment rate held steady at 3.9%. Both numbers reflect a very healthy job market.
On a more discouraging note, the revisions for the two previous months -- June and July -- were unusually bad, with a combined loss of 50,000 jobs as compared to previous BLS reports.
In terms of the larger context, this morning's data points to 1.65 million jobs created so far in 2018, which is quite good, and which is an improvement on the totals from the first eight months of 2016 (1.59 million) and 2017 (1.51 million). That said, this year's tally is still short of the totals from the first seven months of 2014 (1.9 million) and 2015 (1.75 million).
As for the political implications, Donald Trump has now been in office for 19 full months -- February 2017 through August 2018 -- and in that time, the economy has created 3.58 million jobs. In the 19 full months preceding Trump's presidency -- July 2015 to January 2017 -- the economy created 3.96 million jobs.
The White House has not yet offered an explanation for why job growth has slowed.
Above you'll find the chart I run every month, showing monthly changes in total jobs since the start of the Great Recession. The image makes a distinction: red columns point to monthly changes under the Bush and Trump administrations, while blue columns point to monthly job changes under the Obama administration.
Update: Here's another chart, this one showing monthly job losses/gains in just the private sector since the start of the Great Recession.