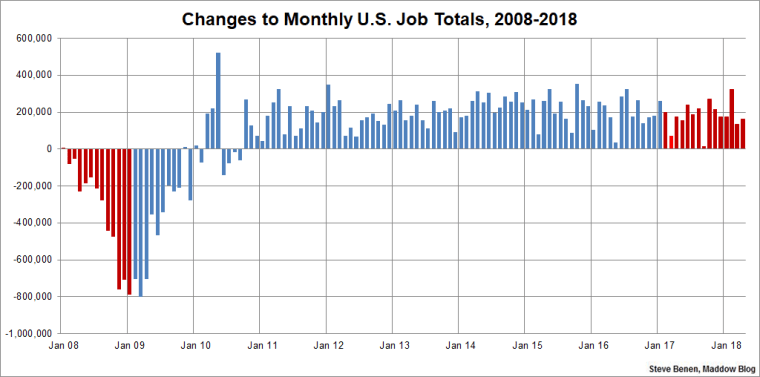 One of the perks of the presidency is getting a sneak peek at the monthly job numbers before the public gets to see them. This came to mind this morning when Donald Trump, presumably after having seen the new data, boasted that "Jobs in the U.S. are doing so well."
And while it's true that the job market looks healthy, the latest figures aren't worth getting too excited about. The Bureau of Labor Statistics reported this that the economy added 168,000 jobs in April, well short of expectations, while the unemployment rate dropped to 3.9%.
While the 168,000 total is underwhelming, the 3.9% jobless rate is the lowest since before the Bush/Cheney administration took office.
Meanwhile, the revisions for the two previous months –February and March – didn't change too much, and pointed to a combined gain of 30,000 jobs as compared to previous BLS reports.
In terms of the larger context, this morning's data points to 799,000 jobs created so far in 2018, which is up a bit from the totals we saw in the first four months of 2016 and 2017, but short of the totals from the first four months of 2014 and 2015.
Above you'll find the chart I run every month, showing monthly changes in total jobs since the start of the Great Recession. The image makes a distinction: red columns point to monthly changes under the Bush and Trump administrations, while blue columns point to monthly job changes under the Obama administration.
Update: Here's another chart, this one showing monthly job losses/gains in just the private sector since the start of the Great Recession.