We've been keeping
a close eye
on a burgeoning controversy out of New Jersey, where Gov. Chris Christie's (R) administration has been accused of crippling a community with brutal traffic because its mayor refused to endorse the governor's re-election campaign. The editorial board of the
Star-Ledger
, New Jersey's largest newspaper, raises the stakes in
a new piece
today.
The first time Bill Baroni spoke to lawmakers about the George Washington Bridge brouhaha, it was a laugher. That was just two weeks ago, when Baroni, deputy executive director of the Port Authority of New York and New Jersey, blamed a secret "traffic study" for traffic jams that crippled Fort Lee in September. Now that his cover story is starting to unravel, legislators should subpoena Baroni to testify again -- this time under oath, with the threat of perjury hanging over his head. Baroni wants us to believe the Port Authority was studying the bridge's traffic patterns when it blockaded two-thirds of Fort Lee's entry lanes, sparking three days of gridlock starting Sept. 9. The agency, he testified, wanted to measure the effect of the Fort Lee shutdown on other bridge traffic.... Nobody involved with George Washington Bridge's operations knew anything about Baroni's phantom "study."
The Port Authority's executive director, New York's Patrick Foye, wasn't notified of the deliberate traffic jam beforehand, and has no record of the non-existent "traffic study." What's more, note that Foye, who described the lane closures as literally "dangerous," has been willing to talk about the incident publicly.
And then there's Christie's appointees. We know that the governor's long-time pal, David Wildstein, a former pseudonymous political blogger whom Christie appointed to serve as the director of interstate capital projects, ordered the lane closures and told Port Authority officials not to tell local officials about the move. We also know that his boss, Baroni, has been willing to stick to the obviously ridiculous "traffic study" story.
Wildstein has since resigned and now Baroni is under pressure to do the same.
The Star-Ledger editorial added that the time for "jokes and fairy tales" is over: "What's needed, finally, are truthful answers. Let's hope the threat of perjury charges shakes loose some official honesty."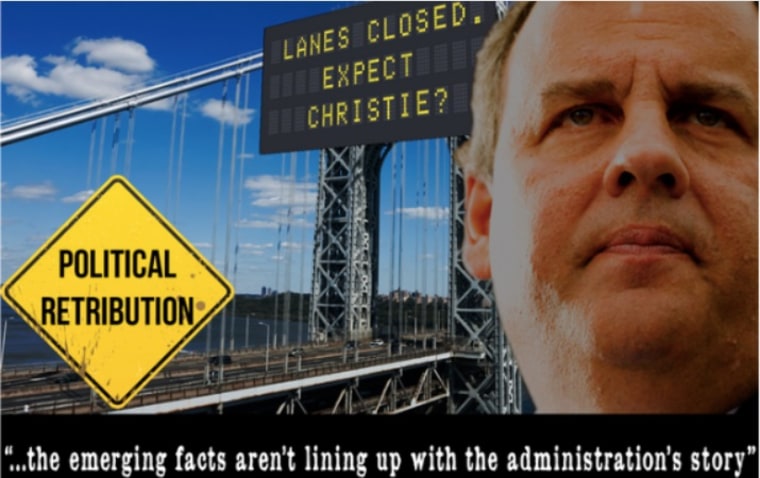 "Chris Christie owes the people of New Jersey straight answers about his role in this alleged abuse of power for political retribution," said Adrienne Elrod, communications director at Correct the Record. "Chris Christie should come clean about any knowledge of or involvement with these lane closures rather than offer glib and flippant deflections."
And finally, the
New York Times
took an added interest in the story yesterday,
noting
that the dots "are beginning to look suspiciously connected," adding, "[T]here is certainly more to learn before this whole Fort Lee matter is dismissed as mere coincidence."