Carly Fiorina, a Romney campaign surrogate and failed U.S. Senate candidate, argued a couple of weeks ago that the economic conditions President Obama inherited weren't that bad. By January 2009, she said, "the recession, we now know from the data, was over."
Sen. Ron Johnson (R-Wis.) made a similar case yesterday, arguing that the economy was not in "free fall" when Obama took office. On the contrary, the far-right senator said, "President Obama's policies took effect ... and as a result the economy totally stalled."
Now, admittedly, I don't expect much from Johnson, but the public shouldn't forget what actually happened. Let's revisit a post from June, and look at the nation's GDP before and after "President Obama's policies." Note, once the stimulus kicked in, the economy immediately started growing.
And in this chart we see private-sector job growth before and after the stimulus. Note, once Obama's Recovery Act kicked in, job growth immediately improved. Also note how severe the job losses were when the president took office.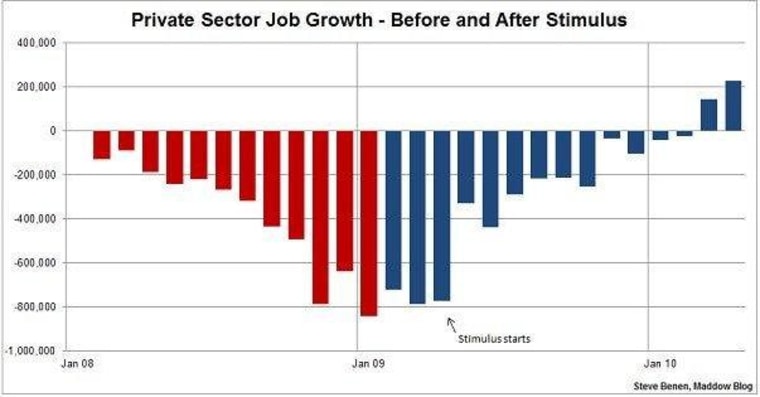 And here's a chart showing the Dow Jones Industrial Average before and after the stimulus. See that low point in March 2009? That's just before the stimulus kicked in.
---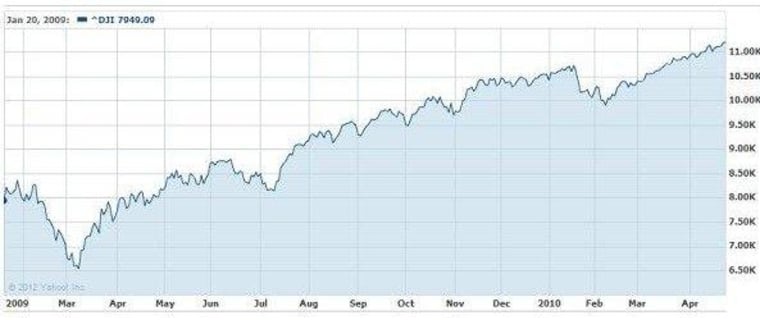 I understand the tactic Johnson and Fiorina are using. If the public forgets just how awful conditions were when Obama took office, voters will also forget how much the economy has improved on the president's watch. It's in the interests of assorted hacks, cranks, and amnesiacs to argue that Obama wasn't really dealt that bad a hand, so there's no reason to give him credit for getting the nation on a stronger, more stable track. It's why Fiorina, with a degree of shamelessness that's slightly unnerving, claims the recession was "over" by the time Obama was inaugurated.
But for those who care at all about reality, the facts should matter. The crisis that began in late 2008 was the worst since the Great Depression. Nothing else comes close. The global economy stood on the brink of catastrophic collapse; then Obama took office; then his policies took effect; and the economy started to improve. Technically, the recession ended six months after Obama became president, which wasn't a coincidence.
Political players can and should argue about whether those policies were sufficient and what the effects would have been to alternate approaches, but the fact that the president took the lead in rescuing the economy during a once-in-a-lifetime crisis is not in dispute.