When drawing up lists of who still opposes U.S. efforts to address the climate crisis, it's a shrinking group. Indeed, at first blush, we're effectively left with polluters and Republicans.
A lopsided and bipartisan majority of Americans support federal limits on greenhouse gas emissions, according to a new Washington Post-ABC News poll that also finds most are willing to stomach a higher energy bill to pay for it. Fully 70 percent say the federal government should require limits to greenhouse gases from existing power plants, the focus of a new rule announced Monday by the Environmental Protection Agency. An identical 70 percent supports requiring states to limit the amount of greenhouse gas emissions within their borders.... Democrats and Republicans are in rare agreement on the issue.
That last part is the most unexpected aspect of the results. As is the case in the debate over gun safety and immigration, the divide is not between Democrats and Republicans. Rather, it's between elected Republican officials and the American mainstream -- since GOP voters don't toe the party line.
Consider this in chart form.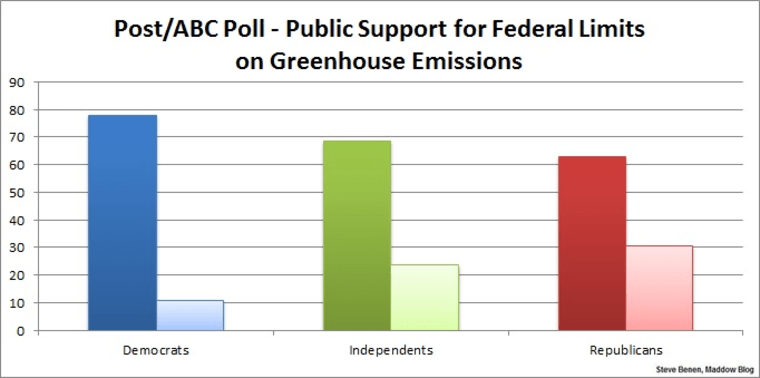 But in the chart I put together -- darker colors show support for federal limits, lighter colors show opposition -- consider the partisan breakdown. Sure, Republican support is weaker than among self-identified Democrats and Independents, but it's nevertheless clear that a majority of GOP voters support federal limits on carbon pollution.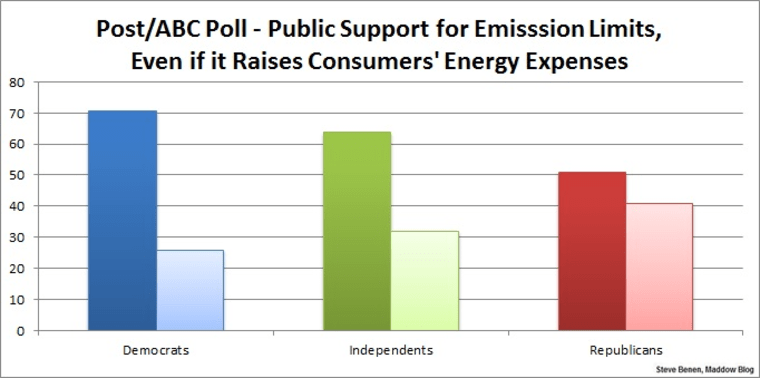 Just so we're clear, a majority of Americans -- regardless of party affiliation -- is prepared to raise their own energy bills a bit in order to combat climate change. That's no small development.
It's always wise to wait for additional polling data before drawing sweeping conclusions, but if this poll accurately reflects public opinion, most Americans -- at least those outside of Congress -- not only recognize the seriousness of the climate crisis, but support action to address it.
I wouldn't have guessed these results, and I'm delighted to have been wrong.