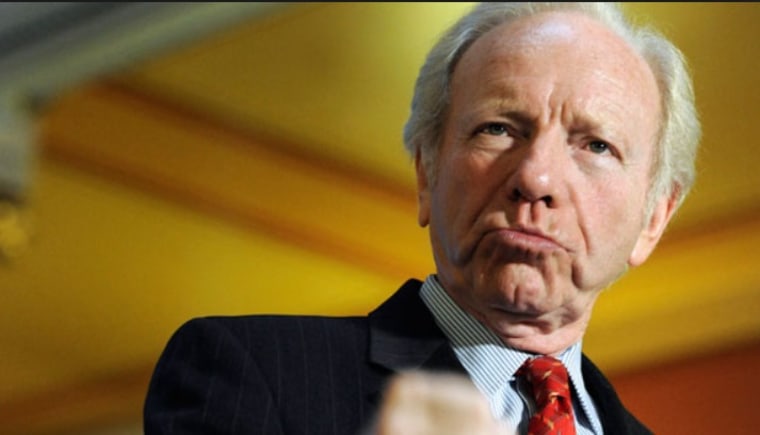 Lieberman replied, "I'm not going to lobby. For sure."
When the Times responded, "Chris Dodd said the same thing two years ago," Lieberman added, "Yeah, I know. Watch me."
That was good advice. Byron Tau
reports
this afternoon:
Former Sen. Joe Lieberman will be working for Basit Igtet on a government relations contract. Igtet is a Libyan businessman and activist who is exploring a run for office in his native country. Lieberman's firm Kasowitz Benson Torres & Friedman has signed a contract with Igtet that includes "government relations services, communication of information to the principal and as well as [communication of] information about the principal to interested persons in the public sector," according to public documents posted online this week. Such communication will include "meetings with members of Congress, executive branch officials and others."
Judd Legum
flagged
a copy of the contract and disclosure forms.
In case there are any doubts, in D.C., a "government relations" contract is a lobbying contract. When someone goes to a D.C. firm to hire professionals to tackle "government relations services," including "meetings with members of Congress, executive branch officials and others," they're hiring lobbyists.
This is not to cast aspersions, of course. Lobbying is perfectly legal; there's nothing untoward about the contract; and Lieberman is free to make a living as he sees fit. But let's note the timeline of events:
Step 1: Lieberman boasts that he'll never go into lobbying, as if he's above such activities.
Step 3: Lieberman
joins
his chief of staff at the D.C. firm.
Step 4: Less than a year after leaving the HIll, Lieberman signs on to do "government relations" for a client who needs a lobbyist.
In fairness, it's worth emphasizing that Lieberman cannot personally lobby his former colleagues until 2015, but he can nevertheless use his congressional expertise to guide his colleagues and client through the process -- which is no doubt why he was hired.
In other words, Lieberman can't say, "Let me call the chairman of the committee for you and tell him about your work." He can say, "You should call the chairman of the committee and tell him I referred you."