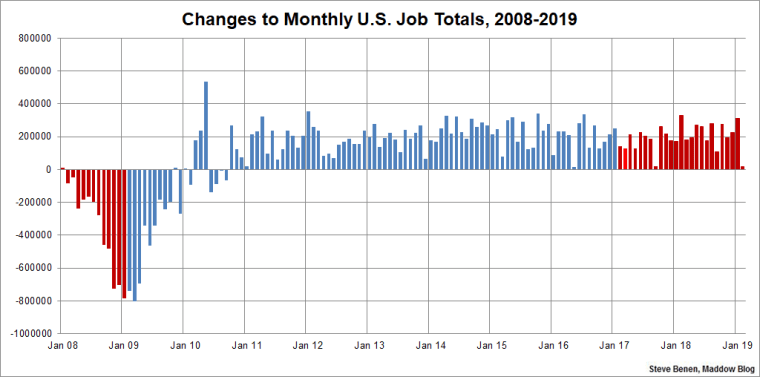 Ahead of this morning's jobs report, most projections pointed to growth in February of roughly 180,000 jobs. Regrettably, that's not even close to the actual results.
The Bureau of Labor Statistics reported this morning that the economy added a surprisingly paltry 20,000 jobs last month, while the unemployment rate inched a little lower, falling to 3.8%.
Though the revisions from the previous two months added about 12,000 previously unreported jobs, there's no denying the fact that this is the worst jobs report we've seen in over a year. It may be a fluke -- outliers happen from time to time -- or it may be cause for concern about the health of the job market. We'll know more in the coming months.
As for the political implications, Donald Trump has now been in office for 25 full months – February 2017 through February 2019 -- and in that time, the economy has created 4.91 million jobs. In the 25 full months preceding Trump's presidency -- January 2015 to January 2017 -- the economy created 5.3 million jobs.
The White House has not yet offered an explanation for why job growth has slowed since Trump took office.
Above you'll find the chart I run every month, showing monthly changes in total jobs since the start of the Great Recession. The image makes a distinction: red columns point to monthly changes under the Bush and Trump administrations, while blue columns point to monthly job changes under the Obama administration.