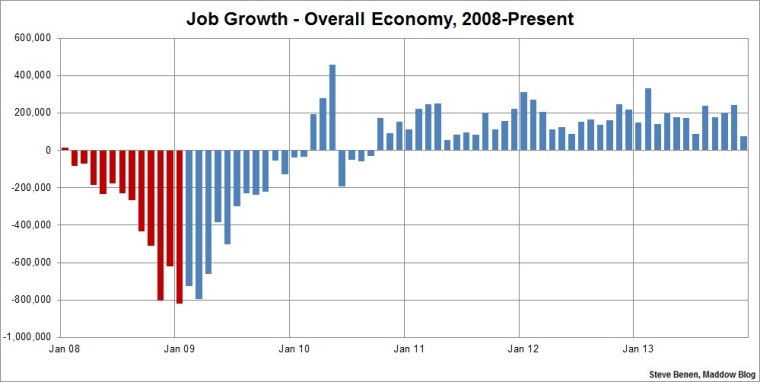 When it comes to U.S. job creation, the latter half of 2013 looked quite good, and there was ample reason to believe the year would end on a high note, giving the economy some momentum going into the new year.
That didn't happen, at least according to initial estimates. The
new report
from Bureau of Labor Statistics shows the U.S. economy added only 74,000 jobs in December, far below economists' expectations. The unemployment rate dropped to 6.7% -- its lowest point since October 2008 -- but that appears largely to be the result of people dropping out of the workforce.
Indeed, though the drop in the jobless rate may appear encouraging, this is a pretty dreadful jobs report -- 74,000 jobs for December is the lowest monthly total in two and a half years.
Note, however, that this is an initial estimate, which will be revised twice more, and may end up looking far less discouraging than it does right now. Indeed, the revisions from October and November showed an additional 38,000 U.S. jobs that had been previously unreported.
That said, December's awful numbers are a reminder -- to policy makers, to the Fed, to the public -- that a robust economic recovery has still not arrived. For congressional Republicans to undermine the economy on purpose by cutting off extended unemployment benefits makes it that much more difficult for the job market to return to where it needs to be.
All told, so far in calendar year 2013, the economy added 2.18 million jobs, while the private sector alone created 2.21 million jobs.
Above you'll find the chart I run every month, showing monthly job losses since the start of the Great Recession. The image makes a distinction – red columns point to monthly job totals under the Bush administration, while blue columns point to job totals under the Obama administration.