As of August 12, 2014, Obama has taken 20 "vacations" lasting 2 to 15 days. He has spent all or part of 129 days on "vacation." [...] At this point in George W. Bush's presidency, he had taken 58 trips to his Prairie Chapel ranch near Crawford, Texas, for all or part of 381 days. (Bush also frequently used the property to host world leaders). Bush had also spent all or part of 26 days at his family's oceanside compound in Kennebunkport, Maine, over the course of seven trips there.
These figures don't include time at Camp David, the official presidential retreat, which Knoller doesn't count as "vacation."
Perhaps it's time for another chart.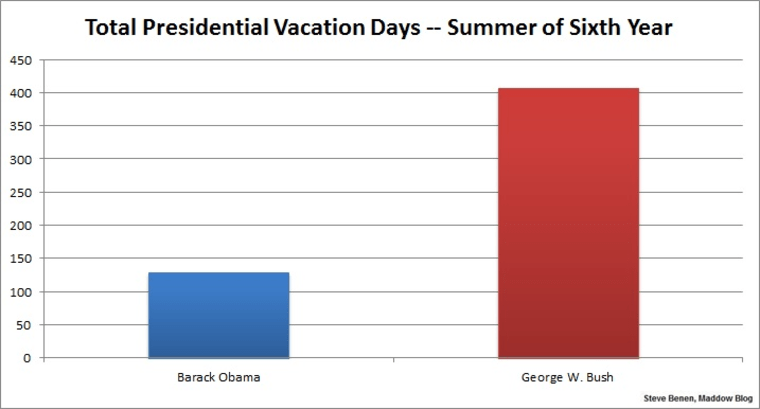 What's more, all of this attention on Obama's occasional breaks seems to miss the other more salient point: Congress is in the middle of a five-week break and has spent the year doing very little work at all. They'll give themselves another two weeks off in September, before working a total of two days in October.
So what's with the preoccupation with Obama's downtime?