Former President Donald Trump is no stranger to being deposed. Characteristic of most people in that situation who know to take the process seriously, when Trump has spoken under oath, he has often been more circumspect than the Trump we've come to know in public. At times, he has even been subdued.
That is very much not the case in the transcript of his sit-down with New York Attorney General Letitia James in April as part of her $250 million civil lawsuit against his company. Trump himself is named alongside the Trump Organization in the suit, which alleges that he wildly inflated the value of his properties to get favorable terms on loans from banks. Aside from the financial penalty, James is seeking to have the company shut down entirely in the state of New York.
Given the stakes, Trump should have been on his best behavior. But the 479-page document, which was unsealed Thursday, is Trump in rare form. He's combative. He's rambling. Gone is the canny, and even shrewd, person we've seen at other points.
Given the stakes, Trump should have been on his best behavior.
The New York Times released a series of excerpts from the transcript Thursday morning that gave a taste of how unhinged the deposition was. They include an excerpt in which Trump declares — unprompted and within 15 minutes of the deposition's beginning — that he had saved the world while president: "I was — I considered this the most important job in the world, saving millions of lives. I think you would have nuclear holocaust, if I didn't deal with North Korea. I think you would have a nuclear war, if I weren't elected. And I think you might have a nuclear war now, if you want to know the truth."
But even that excerpt doesn't do the full document justice. He rails against Forbes, which had recently pegged his net worth at only $2.5 billion, as having an agenda against him because it's "owned by China." When asked whether in 2014 he was the CEO or the president of the company he owns, he says, "I don't know exactly." He accuses the prosecutor questioning him of letting him ramble on in hope of making a mistake, comparing the prosecutor to TV defense lawyer Perry Mason.
In the transcript, Trump also claims that the forms he provided to banks to secure favorable loans actually undervalue his properties. His argument, such as it is, asserts that because a property of his is worth more in 2023 than it was in 2014, it's impossible that he overvalued them when his company completed them in 2014. He also argues that the forms weren't meant to be taken seriously thanks to what he calls a "worthless clause" that makes it clear that all of the values provided were a "guesstimate." For that reason, he argues, he never paid much attention to them.
James clearly disagrees. On Wednesday, her office filed a motion seeking partial summary judgment. As part of that filing, prosecutors asked the court to find that Trump had overvalued his properties by as much as $2.2 billion in one year. As NBC News put it, James' team "urged the court to consider 'two simple and straightforward questions,' specifically whether Trump's statements of financial conditions from 2011 to 2021 were 'false or misleading' and whether defendants 'repeatedly or persistently' used the documents to conduct business transactions."
But let's go back to the deposition itself, which also features interjections from Trump that feel familiar to anyone who has listened to him during the last five years: randomly bringing up that "the election was rigged," asserting that "people" have told him things like "how the hell could they have sued you and put you through this stuff?" and arguing that "even the press agrees" that the case should be thrown out.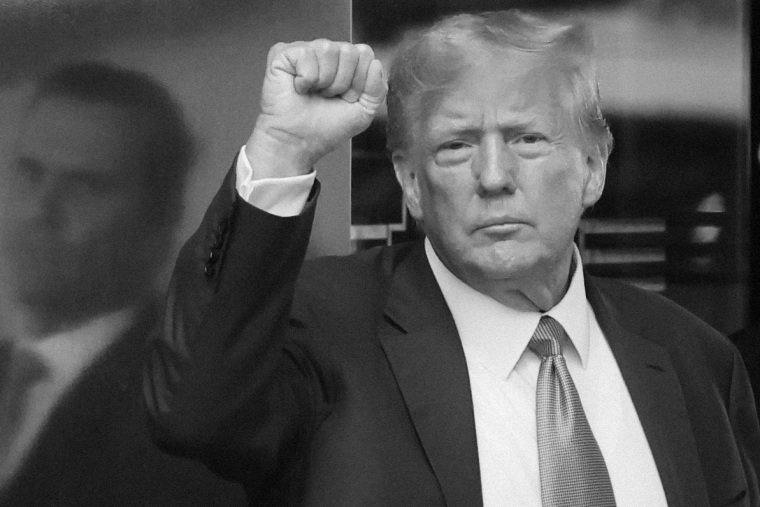 Compared to earlier depositions that have been released, this one's notably different. When Trump sued journalist Tim O'Brien for libel in 2006, it opened him up to questioning from O'Brien's lawyers under oath. The deposition prompted a series of admissions from Trump that he'd lied in public about the size of his wealth and its origins. He lost the case, but still, he seemed to know then to keep his answers succinct, almost perfunctory.
The deposition released Thursday features a Trump who appears not to care whether he's giving opposing counsel more than it wants.
Ditto the deposition he gave in a 2016 lawsuit against his now-defunct Trump University. It didn't go well for Trump, either, and he settled for $25 million soon after he'd won the election. But that transcript makes it clear that even when he's dodging questions and claiming not to remember things, he stays on topic.
Even the parts that have been released of his deposition last year in writer E. Jean Carroll's defamation lawsuit read differently. Trump confuses a picture of Carroll with one of his ex-wives, Marla Maples, despite having claimed that Carroll wasn't "his type." And yet, notwithstanding a few digs at President Joe Biden and Attorney General James, Trump, in that deposition, appears to be responsive to the questions being asked. (He was found liable for defamation and sexual abuse in that suit, for the record.)
In a scene from the TV show "The West Wing," a White House counsel preparing a staffer for a deposition asks whether she knows the time. Looking at her watch, she answers, "It's 5 past noon." As the counsel explains, when asked in a deposition, "Do you know what time it is?" the correct answer is: "Yes." Trump took a similar approach to some of those earlier depositions.
But the deposition released Thursday features a Trump who appears not to care whether he's giving opposing counsel more than it wants. Some moments in the transcript read like he was back to his real estate magnate ways, pitching the properties under discussion to the people in the room. At times the prosecutors had to tell him to rein in his answers. That's not normal in depositions.
The transcript paints a picture of a Trump who was, at best, detached from the goings-on at the company that bore his name. At worst, he comes across as someone who doesn't think there'll be consequences for what he says under oath. Either way, it seems unlikely Trump's April deposition will help him in October, when the trial that could put him out of business in New York kicks off.