Women are at the forefront of many of this year's critical and most-watched races. From candidates for governorships making waves from red-to-blue states, to game-changing senate seats up for grabs, women are making their voices heard now more than ever. Pivotal issues, including equal pay for women, health care, and campus sexual assault are front and center in Washington and statewide with women leading the charge. While the 113th Congress boasted 20 female senators – more than any other Congress to date, women still only make up 24.2% of state legislators in the U.S. With only a few months until the November midterm elections, it's down to the wire for many candidates striving to change all that and bring a female perspective to the table.
To showcase a year of textbook races for women, msnbc introduces '30 in 30,' a new series where the 30 of the most dynamic women candidates seeking office in 2014 will be spotlighted: One a day over the next 30 days. The candidates – Democrat and Republican – have answered questions based on women's issues and being a woman in a male-dominated industry. Welcome to Day 6!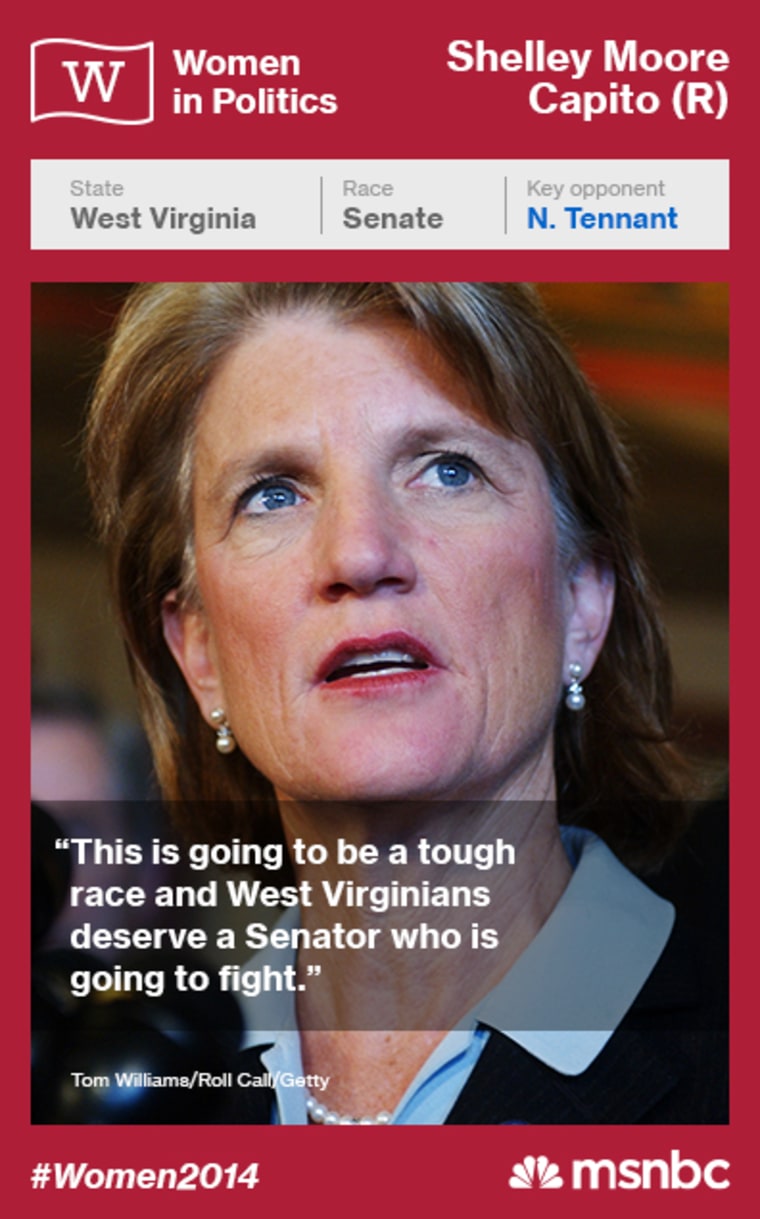 Name: Shelley Moore Capito
Party Affiliation: Republican
Race: West Virginia Senate
Challenger: Democrat Natalie Tennant
Here's the deal: Capito is a congresswoman in the state's Second District where she is a senior member of the House Financial Services Committee and chairwoman of the Financial Institutions and Consumer Credit Subcommittee. She was reelected to the House six times -- and at one point, was the only Republican from West Virginia. If elected, Capito will become the first Republican senator from West Virginia in more than 50 years and the first female U.S. senator from the state. Capito, the daughter of former West Virginia Gov. Arch Moore, is a co-founder of the Congressional Coal Caucus and has been an advocate of the Keystone Pipeline.
How has being a woman in a field dominated by men impacted your race so far?
As a mother, grandmother, and the daughter of a strong woman, my personal experiences enable me to speak candidly and compassionately about the issues women face. In West Virginia, the biggest challenges for women – and all West Virginians – stem from the president's policies that are devastating our economy. I can relate to the women and families who are wondering what will be left of this state for their children and grandchildren if our economy keeps taking these hits. I am running for Senate so that we can turn things around and get our state on a path toward economic prosperity – the path hard-working West Virginians deserve.
What will you bring to the table that your opponent can't?
A proven record that West Virginians trust. This is a small state where relationships matter. I'm known as someone who can get things done, who sees problems and solves them and who works across the aisle to do the right thing for the people I represent. West Virginians also know where I stand on the issues. West Virginians trust me to stand up for our economy, our principles and our values. 
If elected, what will be your #1 priority?
My number one priority is getting West Virginians working again through an all-of-the-above energy plan that doesn't pick winners and losers. I will make sure the legislation we passed in the House to combat the assaults on our coal industry is passed in the Senate, starting with the Coal Jobs Protection Act and the Electricity Security and Affordability Act. West Virginia is an energy state and if we are going to get our economy moving again it has to be through a pro-growth plan that incorporates all of the resources available to us.
What can we expect to see from your campaign this summer?
A lot of hard work. This is going to be a tough race and West Virginians deserve a Senator who is going to fight for West Virginia every day, just like I have for the last 14 years in the House. I plan to meet with West Virginians from all corners of the state and share with them my plan for strengthening our state and getting our economy growing. 
What's one piece of advice you would give to young women looking to pursue a career in politics today?
Remember that each day is another opportunity to succeed and to make a difference in the world. Wake up each morning with renewed enthusiasm and keep working hard, regardless of the challenges of the day. Be confident and do not hold back. If you stand by your beliefs, work hard and surround yourself with supportive people, you will accomplish great things. 
Which women in politics inspire you?
Condoleezza Rice is someone I have always admired. She speaks with such authority and intellect, and she has a great grasp of the world. Margaret Thatcher is also an inspiration because of her courage and unwavering commitment to her principles.  
How will you address unequal pay for working women?
Women absolutely deserve equal pay for equal work. Equal pay is the law. In order to ensure women and men have access to the same opportunities we need to grow our economy and create jobs, and we must invest in job training and skill development.
What's your favorite amusement park ride?
The log flume at Camden Park in Huntington, West Virginia where I took my children every year when they were young. We always had a great time.
Follow Shelley Moore Capito @CapitoforWV // Facebook // Instagram // campaign website
Check out msnbc's Women of 2014 Twitter Trail to follow 2014 candidates to watch all in one place!