PARADISE VALLEY, Arizona — A country divided. A party in turmoil. Donald Trump's political rise has inspired comparisons to the summer of 1964, when Barry Goldwater became the original angry outsider, accused of riding fear and racial resentment to the Republican nomination. 
But Goldwater's widow and eldest son are as appalled by Trump as the establishment was appalled by Goldwater in 1964. Maybe more so. They see Trump as a "cowboy" and an "authoritarian" — not to mention irrational, unprincipled and a symptom of a lost party.
They won't vote for any of the remaining Republican presidential candidates in 2016. And they don't believe Goldwater would either.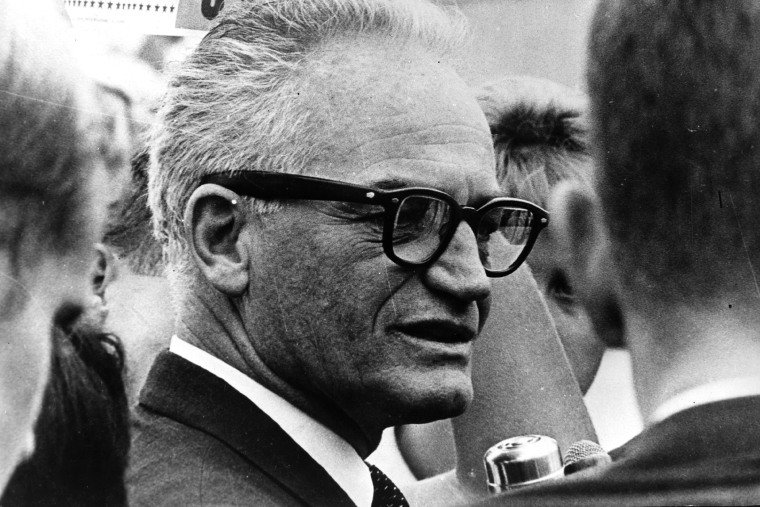 "Barry would just go absolutely go crazy if he were watching this today," Susan Goldwater (now Levine) told MSNBC by phone. "He would be yelling at the television. He would think it's embarrassing this situation we have with Donald Trump. It's not the Republican Party or the country that we knew 25 or 30 years ago."
She plans to vote for Hillary Clinton and, she continued, a lot of her friends from the Goldwater era are too. They think the Republican field has come unhinged and drifted hard-right, and, yes, she knows that's what they used to say about her late husband, the so-called father of modern conservatism. 
"Barry was a quite moderate and rational man despite opinions to the contrary. And 25 years ago, he was appalled by the rise of the extreme Christian right," she explained. "The bigotry and the religious extremism is just wrong, wrong, wrong." 
She doesn't support Trump's anti-immigration policies, or those of his controversial local surrogates, including Sheriff Joe Arpaio and former Gov. Jan Brewer. "Our legislature is Neanderthal," she said, dismissing much of the state. "It just is." 
Barry Goldwater Jr., a former Republican congressman from California, was less talkative but equally troubled by Trump's supposed similarities to his father.
"I don't think there's any comparison at all with Barry Goldwater," he said. "Donald Trump is an authoritarian. Barry Goldwater had principles and he was a gentleman. Donald Trump is a cowboy." 
To be sure, the Trump and Goldwater comparison is rooted in surface similarities.
Both candidates garnered support from white supremacists, including members of the Ku Klux Klan. Both held events where black attendees faced verbal and physical assaults. And both were opposed by powerful elements within their own parties.
RELATED: Protester punched, kicked at Donald Trump rally in Arizona
More specifically, Trump's closed-border approach to immigration and Muslim-Americans reminds some of Goldwater's opposition to the Civil Rights Act and Brown v. Board of Education.
Those positions damaged the GOP's relationship with generations of minority voters, especially black voters. Many Republicans fear Trump could similarly damage the party's relationship with Latino voters. 
But Goldwater died a veritable progressive by the standards of today's Republican Party. He became a prominent gay rights activist, persistent critic of the religious right, and semi-regular backer of Democratic candidates for office. 
What mattered to him were ideas and ideology, his son argues, and that makes him deeply different from Donald J. Trump.  
"When you voted for Barry Goldwater, you knew exactly what you were going to get," his son said. "When you vote for Donald Trump, you don't know what you're going to get."