KNOXVILLE, Tennessee -- Donald Trump took the stage in Tennessee armed with the certainty that he'd been right all along, and a new plan for what to do with the Syrian refugees fleeing their country's brutal civil war.
"If you had 25 people in there that had guns … it would have been a totally different story, folks. It would have been the shoot-out at the O.K. Corral."'
The GOP front-runner told the nearly 10,000 person crowd at the Knoxville Convention Center that his prescription for the Middle East had one again been proven correct. "We have no documentation on these people. And I said – you probably saw a couple weeks ago – I'm looking at this migration. It's a terrible thing. I have a tremendous heart, I want to take care of people, you look at this migration, I said to my wife the other day 'you know, they seem like so many men.'" 
Trump continued: "We have a president that wants to take hundreds of thousands, hundreds of thousands, of people and move them into our country." The crowd booed in disapproval.
Trump has, in fact, said this before. At a rally in Keene, New Hampshire, Trump first made waves for telling crowds he'd send those who come as part of the mass migration "back." Monday night, he explained that they have to go because "we're going to have a country again. We're going to have borders….right now, we don't have a country."
RELATED: GOP governors refuse to accept Syrian refugees
The GOP front-runner also touted his prediction that we should attack Iraqi oil, "take it, and keep it" as one that is being half-employed now as countries like France and the U.S. bomb in the region. "Why didn't they do this a year ago?" he asked, wondering why they "always wait for tragedy to happen" before acting. He also repeated his plan to "bomb the sh—" out of ISIS. 
Trump's new plan came in the form of a rebuke of German Chancellor Angela Merkel, who's decision to allow refugees into the country Trump called "a disgrace." Instead, he would build a safe zone for refugees, who Trump says all want to go home after the crisis is over anyway. "In Syria, take a big swatch of land, which believe me, you get for the right price, OK? You take a big swatch and you don't destroy all of Europe."
"What I like is build a safe zone, it's here, build a big beautiful safe zone and you have whatever it is so people can live, and they'll be happier," Trump continued. "I mean they're gonna learn German, they're gonna learn all these different languages. It's ridiculous. The weather – a friend of mine lives in Minnesota. And he calls me, he says can you imagine? It's 130 degrees in Syria and now they want to send some up to Minnesota where it's 30 degrees. Well, these people are gonna be very, very unhappy. its cold and beautiful but its cold."
RELATED: 2016 outsiders find new hurdles in Paris attack
Even before Trump took the stage, refugees were mentioned by two campaign affiliates who spoke to the crowd before him. First Sgt. David Perry, a Trump campaign volunteer, told the crowd that Trump was "gonna send those Syrians back where they came from." Then, that he was "gonna be the first volunteer to drive them to the airport." 
Trump also took issue with Democrats, like President Obama and Hillary Clinton, who won't say that "radical Islamic terrorists" are responsible for the Paris atrocity, and other events like it. "You hear the term 'radical Islamic terrorism' and he won't say it. And you can't solve a problem if you refuse to talk about what the problem is." 
The GOP front-runner once again took aim at France's tough gun laws, saying that because people under attack in Paris didn't have guns, there was "nothing anybody could do" to protect them. Ha they been allowed to be armed, he said, "it would've been a totally different story, folks. There would have been a shootout at the OK corral, right? And you would have had death, but if would have been their death and there could have been something."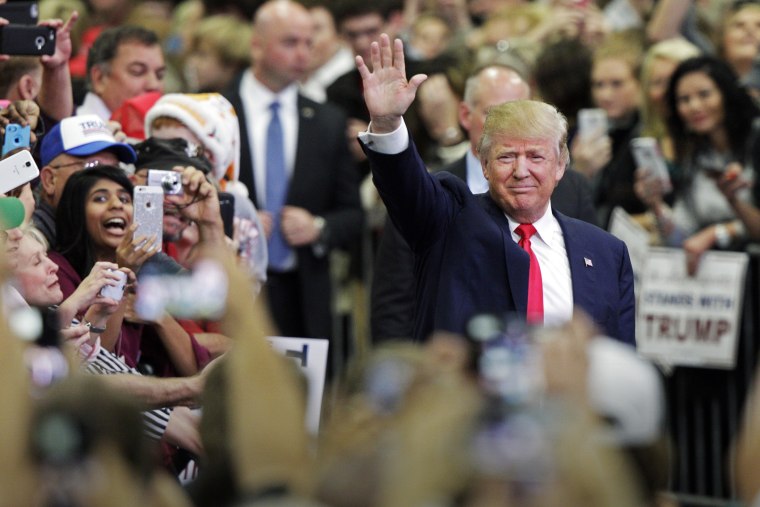 To those who attended the rally, foreign policy was at the forefront of their minds as well. "I want someone more aggressive," Judy Vandergriff of Knoxville said, adding that she liked the ideas Trump has put forth so far. Of blocking Syrian refugees from entering the U.S., she said "it's too risky. I'm sorry, but we could do other things to help the refugees. But it's too risky to let them in." 
Chris Clark, 31, agreed that Trump may have a point, though he attended the rally unsure if he would support Trump when it came time to go to the ballot box. "Well, we saw what happened in Paris, so maybe he has a point there. We can't support everybody." 
Clark's friend, Kenny Collins, pushed back on the notion that refugees should be barred. Instead, he told NBC News he was attending Trump's rally to be a part of history, "to be in the same room as he is when he says some of these controversial things," and "for the entertainment." 
Largely absent from Trump's rally Monday, however, were his signature attacks on his fellow Republicans. For Vandergriff, that was a good thing: "The only thing he does that I don't like are his personal attacks," she said. "I don't have a problem with him attacking the other candidates but keep it to policy or their record. I don't wanna hear personal attacks, I think that belittles him."