The new msnbc.com feature we're most excited about are the Groups, show or issue-related spaces where you can discuss stories with other people who share your interests. Once you're a part of a Group, you can share stories and video to kick off debates—it's like your own homepage with your fellow msnbc friends. So let's get started.
  1. Log in to the site or create a profile if you don't have one already. Your msnbc profile exists independently of your other profiles, so don't worry about it being linked to Facebook or Twitter.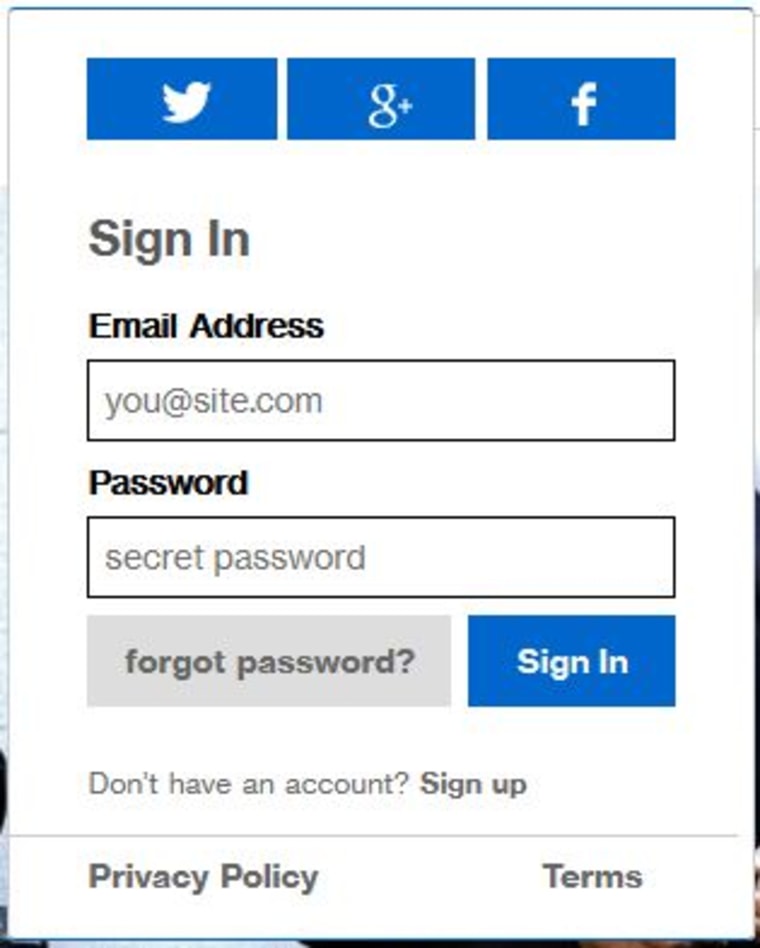 2. Click on the Join In tab at the top of the homepage.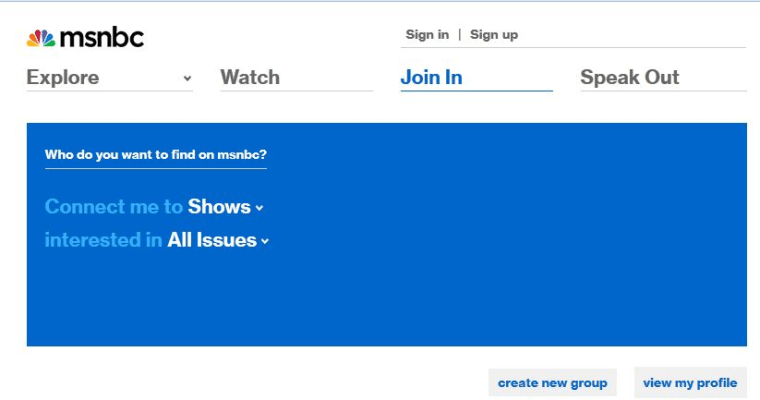 3.  Pick a category that you would like to follow from the "Connect me to" drop-down menu
           A) Anyone—This selection will show you msnbc community members like yourself, show hosts, member groups, activist groups and organizations, as well as msnbc staff
           B) TV Hosts—Under this tab you will only see msnbc hosts.
           C) Shows—Official pages of msnbc programs, including all your favorites like The Rachel Maddow Show and The Ed Show, appear in this heading.
           D) Contributors and Staff—msnbc regulars like Richard Wolffe, as well as staff reporters like Adam Serwer, Suzy Khimm, and Benjy Sarlin, all have profiles under this heading.
           E) Activist Organizations—msnbc has partnered up with several organizations that you may be familiar with--the Log Cabin Republicans, Planned Parenthood Action Fund, and Oxfam America among them--to provide forums for reader discussions.
           F) Member Groups—These are groups created by msnbc community members like you! Many of them have open membership and you can just click "join." Others that are more specifically tailored have closed membership and you can click "apply." An administrator from that group will then determine whether or not to grant you admission.
          G) Members—This tab shows you other msnbc community members who you can choose to follow.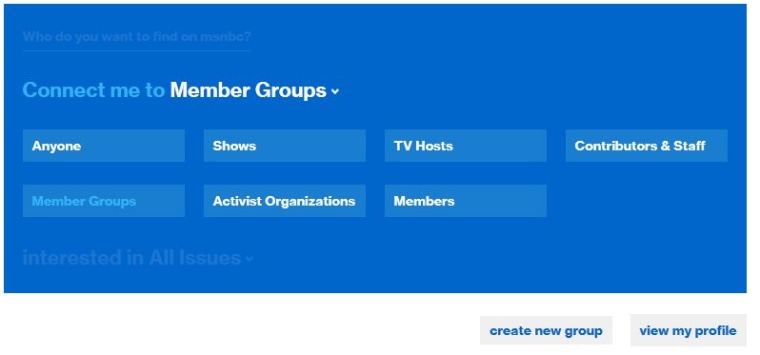 4. Pick an issue that you feel strongly about from the "interested in" drop-down menu. The categories are:
           A) All Issues
           B) Democrats
          C) Economy
          D) Education
          E) Elections
          F) Equality
         G) Green
         H) Health
         I) National Security
        J) Republicans
        K) Society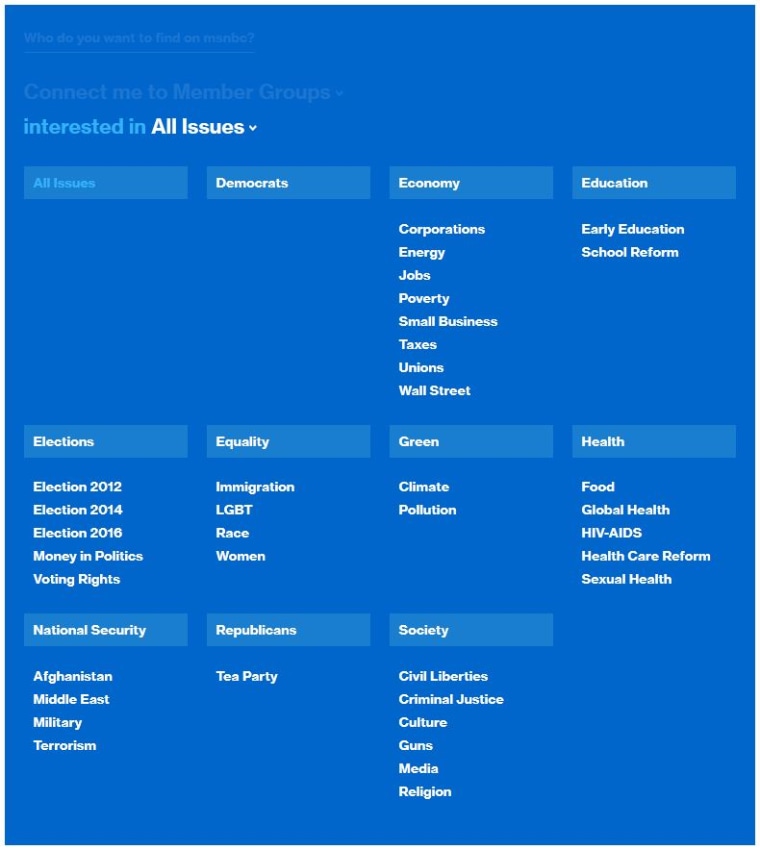 5. Take a look at the Groups that have turned up in your search and click "join."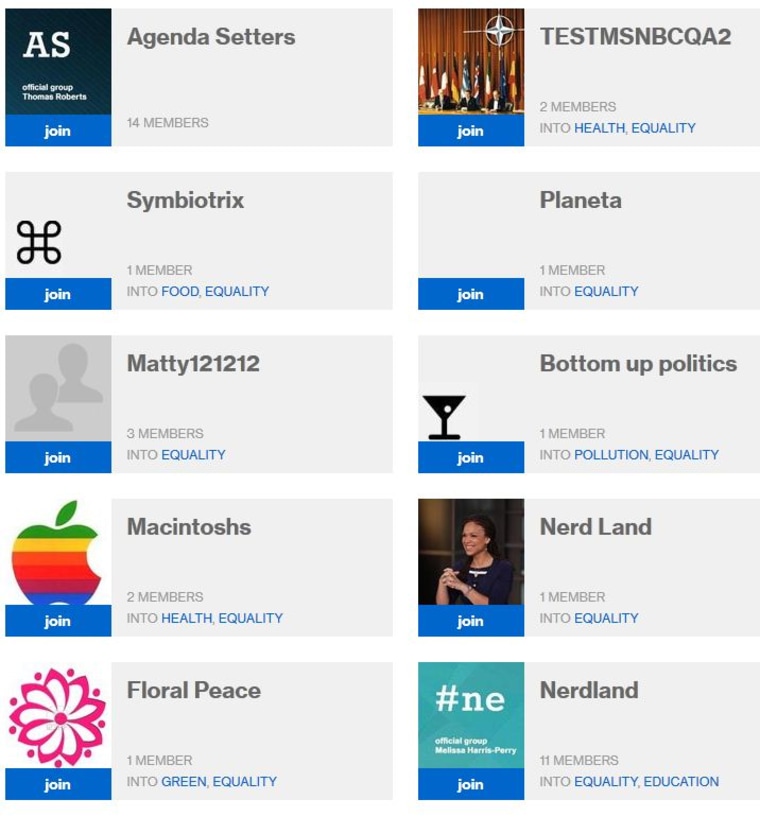 6. Et voila! You're in the Group!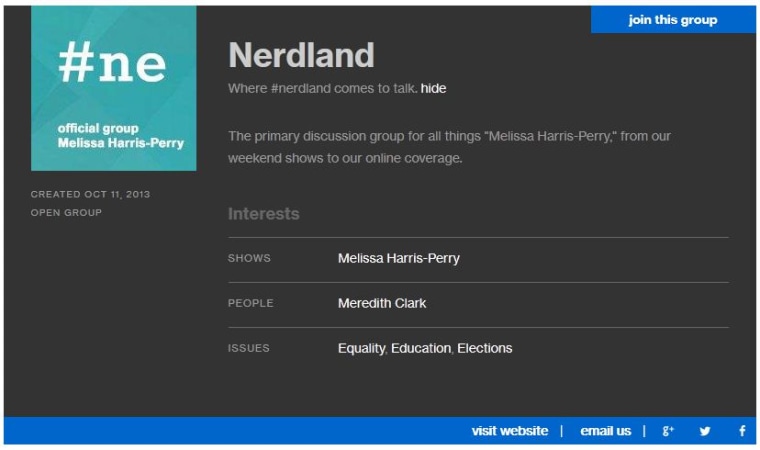 Here is a list of official show member groups that you can join. Enjoy!
Morning Joe: MoJoers—http://mojoers.groups.msnbc.com/_tps/index
The Daily Rundown: First Readers—http://firstreaders.groups.msnbc.com/_tps/index, Trivia Buffs—http://triviabuffs.groups.msnbc.com/_tps/index, Diving Team—http://divingteam.groups.msnbc.com/_tps/index, Soup Lovers—http://souplovers.groups.msnbc.com/_tps/index
Thomas Roberts: Agenda Setters—http://agendasetters.groups.msnbc.com/_tps/index
Jansing & Co.:Jansing's Company—http://jansingscompany.groups.msnbc.com/_tps/index
Up with Steve Kornacki: Up on Politics—http://uppolitics.groups.msnbc.com/_tps/index
Melissa Harris Perry: Nerdland—http://nerdland.groups.msnbc.com/_tps/index
Andrea Mitchell Reports: Ask Mitchell Anything—http://askandrea.groups.msnbc.com/, Women in Politics—http://womeninpolitics.groups.msnbc.com/
NewsNation with Tamron Hall: Gut Checkers—http://gutcheckers.groups.msnbc.com/_tps/index
The Cycle: The MSNBC Cyclists—http://themsnbccyclists.groups.msnbc.com/
Martin Bashir: Clear the Air—http://cleartheair.groups.msnbc.com/
Hardball with Chris Matthews: Let's Play Hardball—http://letsplayhardball.groups.msnbc.com/
The Ed Show: Team Ed Show—http://teamedshow.groups.msnbc.com/_tps/index
PoliticsNation with Al Sharpton: Team Rev—http://teamrev.groups.msnbc.com/_tps/index
All In with Chris Hayes: #Inners—http://inners.groups.msnbc.com/_tps/index
The Rachel Maddow Show: Mind over Chatter—http://mindoverchatter.groups.msnbc.com/_tps/index
The Last Word with Lawrence O'Donnell: Last Word Friends—http://lwfriends.groups.msnbc.com/
Disrupt with Karen Finney: Disrupters—http://disrupters.groups.msnbc.com/
Lockup: Lockup Fans—http://lockupfans.groups.msnbc.com/_tps/index