On Sunday, St. Louis police charged Jeffrey Williams, 20, with five felony charges including assault in the first degree for the shooting that injured two police early Thursday morning during a rally outside the Ferguson police department. 
Williams acknowledged his participation in the shooting, St. Louis County Prosecuting Attorney Bob McCulloch said, but says that he was trying to shoot someone else when he fired the 40 mm handgun ballistics tied to the shooting of the officers. "We're not sure we completely buy that part of it," McCulloch said Sunday afternoon at a press conference. He said the investigation would determine whether that was true or if he Williams was targeting the police, but either way, he'll still be charged with Class A felonies for injuring the officers whether or not he was targeting them. On top of the two felony charges for striking the officers, Williams has also been charged with two counts of armed criminal action and one count of shooting a firearm from a motor vehicle with injury.
Related: Ferguson reacts to shooting, DOJ report
His arrest was a direct result of tips from the community, information that proved "invaluable" in the investigation, McCulloch added.
He also said that Williams, who is African-American, was a member of the Ferguson protests and had been at the rally as a demonstrator earlier in the night. But several Ferguson activists and reporters, including Deray McKesson, said they could not recall ever seeing Williams at past protests or the one in question.
Williams has a criminal record, McCulloch said Sunday, and was on probation for receiving stolen property; ahead of his arrest 10:30 Saturday night for the police shooting, there was a preexisting warrant out for his arrest because he'd violated parole seven months ago.
The city of Ferguson in a statement on behalf of the Mayor James Knowles III and the Ferguson City Council expressed gratitude to the police department for its efforts in making an arrest of a suspect. "As a result of today's announcement, the city will continue its efforts, with the help of our residents and businesses, to embrace the healing which is needed to move forward," the statement released late Sunday read.
"We are actively addressing the issues that have raised concerns of fairness and fair treatment. We support peaceful protesting. However, we will not allow, nor tolerate, the destructive and violent actions of a few to disrupt our unifying efforts," the statement read.
"This arrest sends a clear message that acts of violence against our law enforcement personnel will never be tolerated," Attorney General Eric Holder said Sunday afternoon, commending federal and local authorities' team work. "In the days ahead, we will continue to partner with the authorities in St. Louis County to secure justice for all those affected by this heinous and cowardly crime. And we will continue to stand vigilant in support of public safety officers and the communities they serve."
The arrest comes after a three-day manhunt for the shooter who fired and struck two officers while they were policing a demonstration by Ferguson activists. The rally was in support of the resignation of embattled Police Chief Thomas Jackson on Wednesday, the fifth city employee to lose their jobs in the wake of a scathing Justice Department report that found systemic abuses by police and courts on the black community. The report culminated a lengthy investigation into the St. Louis suburb's police force following the shooting death of Michael Brown, an unarmed African-American teen whose August death prompted massive, national protests.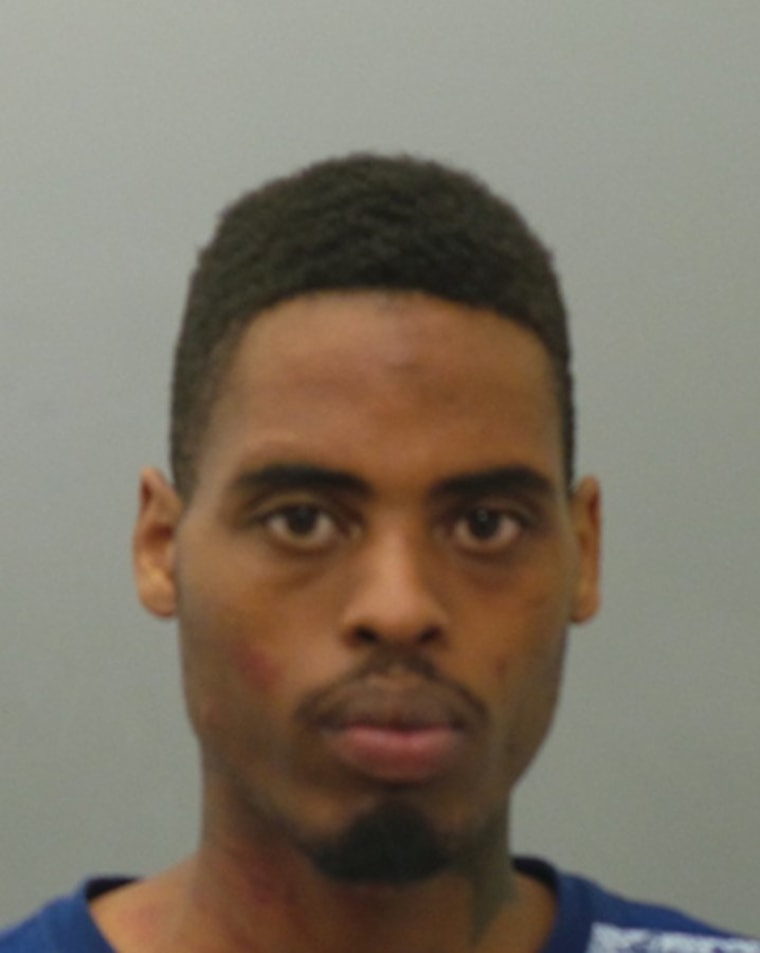 The two officers who were shot -- a 41-year-old officer and 14-year veteran of the St. Louis County Police and and a 32-year-old officer and seven-year veteran of the nearby Webster Groves force -- were released from the hospital later that day, but authorities said they's sustain serious injuries.  
Immediately, officials and activists condemned the shooting.
"This was not someone trying to bring healing to Ferguson, this was a punk – a damn punk" Attorney General Eric Holder said on Thursday afternoon. "This really disgusting and cowardly attack might have been intended to unravel any sense of progress but I hope that doesn't happen."
"We reject any kind of violence directed toward members of law enforcement. It cannot and will not be tolerated," Brown's family wrote in a statement. "We specifically denounce the actions of stand-alone agitators who unsuccessfully attempt to derail the otherwise peaceful and non-violent movement that has emerged throughout this nation to confront police brutality and to forward the cause of equality under the law for all."
Related: Economic recovery? Not for Ferguson or black America
"Violence against police is unacceptable," President Obama tweeted. "Our prayers are with the officers."
On Friday and Saturday nights, peaceful protests continued in the Midwestern city.
Police are still seeking information and additional witnesses from the shooting and are requesting that the community come forward with any evidence -- particularly video -- they may have from the incident.