WASHINGTON – The Roe v. Wade decision legalizing abortion isn't in danger of being overturned anytime soon, Supreme Court Justice Ruth Bader Ginsburg told msnbc in a wide-ranging, exclusive interview. But Ginsburg warned that the abortion restrictions being enacted by states around the country are having an outsize impact on low-income women.
"We will never see a day when women of means are not able to get a safe abortion in this country," Ginsburg told msnbc on Friday.
The 81-year old Ginsburg, appointed by President Bill Clinton in 1993, is a longtime champion of women's rights who has emerged as the leading voice of dissent on the Roberts court.
Referring to the cascade of state-level laws curtailing access to abortion, some of which may well end up before the Supreme Court in the near future, Ginsburg said, "All the restrictions, they operate against the woman who doesn't have freedom to move, to go where she is able to get safely what she wants."
Conservatives for decades have been gunning for Roe v. Wade, the 1973 decision which prohibits states from banning abortion until fetal viability. Every presidential election seems to throw the future of the law into question.
Ginsburg pointed to the 1992 decision Planned Parenthood v. Casey, in which the Court affirmed, and in some ways expanded the Roe decision. "I don't want to make any predictions," Ginsburg said. "But precedent is important in this court."
Overturning Roe, she added, "could happen, but I think it's not a likely scenario."
There is significant uncertainty about the future of abortion rights on the current court. Two of Casey's co-authors, the moderate Justices David Souter and Sandra Day O'Connor, have retired; the third, Justice Anthony Kennedy, wrote a bitterly anti-abortion decision in 2007, the last time the issue fully came before the court.
Related: Ginsburg thought tattoo was a 'joke'
Ginsburg faced conservative backlash last week for comments she made to Bloomberg News about how the country had shifted towards acceptance of LGBT people. The remark was perceived as a signal about how the court would rule on marriage for same sex couples later this year.
Asked whether she thought such rights had outpaced the court's recognition of women's rights -- something she has expressed dismay about in the past -- Ginsburg demurred.
"I don't want to talk about what you describe as gay rights," she said, noting the pending case challenging bans on same sex marriage in Kentucky, Michigan, Ohio and Tennessee the court will hear in April. "I don't want to suggest how the court will decide that case, one way or another," she said.
In 2013, Ginsburg became the first Supreme Court Justice to officiate at a same-sex wedding.
Ginsburg was more voluble about the lingering legacy of racial oppression in the United States. One of her most stinging dissents came in 2013 with Shelby County v. Holder, the 5-4 decision gutting the Voting Rights Act on the theory that federal protections against discriminatory state voting laws were no longer needed. 
The majority, led by Chief Justice John Roberts, effectively ended the system of preclearance, where states and localities with a history of racial discrimination in voting must clear any changes to voting laws with the federal government.
"Throwing out preclearance when it has worked and is continuing to work to stop discriminatory changes is like throwing away your umbrella in a rainstorm because you are not getting wet," Ginsburg famously wrote then.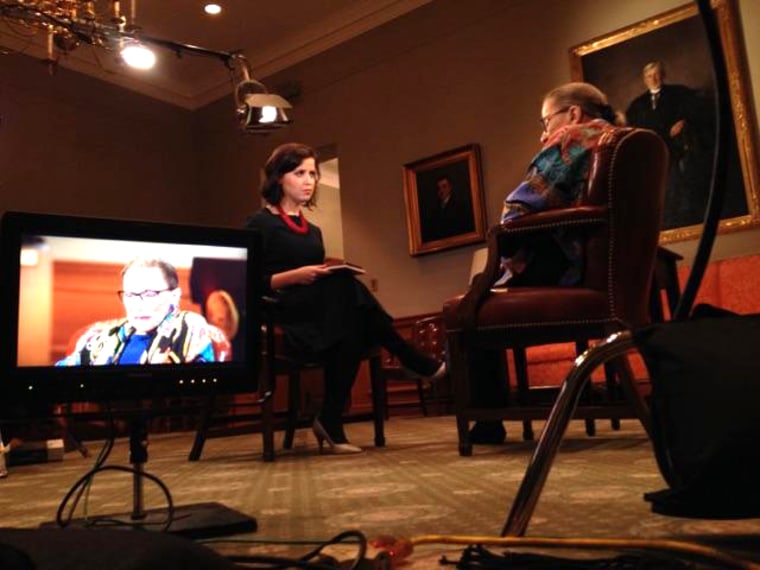 In contrast to her conservative colleagues, some of whose decisions have rested on the premise that racism is an artifact of the past, Ginsburg told msnbc, "People who think you could wave a magic wand and the legacy of the past will be over are blind." Residential and educational segregation persist, she said, as does discrimination in lending.
"We've come a long way from the days where there was state enforced segregation," Ginsburg said. "But we still have a way to go."
Ginsburg has often said that the courts should act in dialogue with Congress, pointing her influential dissent in the Lilly Ledbetter pay discrimination case in 2007. When a majority of her colleagues on the court used a cramped and legalistic definition to rule against the Goodyear Tire worker who had only belatedly learned she had been paid less than her colleagues for decades, Ginsburg urged Congress to step up and clarify the law. "The ball is in Congress's court," she wrote in her dissent. 
Congress actually picked up the ball: The Lilly Ledbetter Fair Pay Act was the first bill signed into law by President Barack Obama in 2009.
But, Ginsburg told msnbc, there isn't much hope for that happening under the present, Republican-controlled Congress.
"The current Congress is not equipped really to do anything," she said. "The kind of result that we got in the Ledbetter case is not easily achieved today. Someday, we will go back to having the kind of legislature that we should, where members, whatever party they belong to, want to make the thing work and cooperate with each other to see that that will happen."  
Through her litigation with the ACLU Women's Rights Project in the 1970s, Ginsburg famously helped topple laws that blatantly discriminated on the basis of gender.
"That job was an important first step," she said of her generation's work. "What's left, what's still with us and harder to deal with is what I call unconscious bias." 
Despite her activist past, it is only recently that the often-cautious Ginsburg has seemingly found her voice on the court.  
Related: Ginsburg explains sober comments
Asked if she had gotten more radical with age, Ginsburg told msnbc, "My aspirations have not changed since the '70s." She is steadfast, she said, in "my hope for our society that we're going to use the talent of all of the people and not just half of them. I would contrast an earlier period in my life, when I just accepted discrimination as that's the way things are, nothing I can do about it."
Now, Ginsburg said, "I try to teach through my opinions, through my speeches -- how wrong it is to judge people on the basis of what they look like, [the] color of their skin, whether they're men or women."
Despite calls for her to retire while President Obama is still in office, allowing him name her successor, Ginsburg said she has no plans to do so anytime soon. "I will step down when I feel I can no longer do the job full steam," she said.
And when the time comes, what would she like to be remembered for?
"Someone who used whatever talent she had to do her work to the very best of her ability," Ginsburg said. "And to help repair tears in her society, to make things a little better through the use of whatever ability she has."
Related: How RBG are YOU?