Women earn disproportionately low wages across the entire retail industry, according to a new report from the left-leaning think tank Demos.
The report comes just days ahead of Walmart's annual shareholders meeting, at which a small band of Walmart employees are once again going on strike in protest of what they say are poor wages and abysmal working conditions. The labor group OUR Walmart did something similar last year, but this time there's a twist, one that aligns with Demos's finding: The strikes are being led exclusively by women, so-called "Walmart moms" who seek to highlight the company's mistreatment of women. 
According to OUR Walmart and allied organizations, the company regularly discriminates against female employees. But according to Demos's report, the problem goes far beyond a single retailer. 
"Retail is far from the only low-paying sector of the American economy," according to the report. "Yet because it is one of the top industries employing women, and one projected to add a substantial number of new jobs over the coming decade, the choices the nation's major retailers make about employment will play a crucial role in determining the nation's economic future."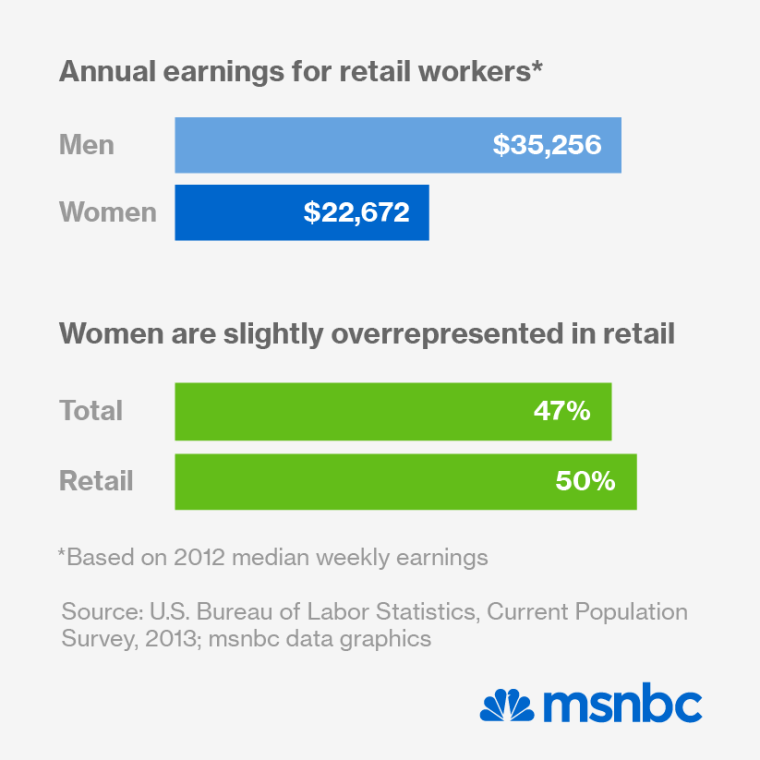 Women make up 47% of the overall American labor force, according to the U.S. Department of Labor, but 50% of the retail labor force. They also make up 55% of those retail workers earning under $12.25 per hour, according to Demos. A full 1.3 million women in retail -- or nearly 30% of the female retail workforce -- live in poverty or near poverty, the report finds.
Although the Demos report doesn't mention it, women also make up a disproportionate segment of the other fast-growing, low-wage sector of the American economy: food service. This is doubly true of food service workers who rely on tips. A recent White House report [PDF] found that 72% of tipped workers are women, and that women in tipped professions are twice as likely to enter poverty.
Similarly, women make up 90% of domestic workers, another rapidly growing sector of the economy with an exceedingly low median wage. Unlike food service and retail workers, home care workers in most states aren't even subject to minimum wage laws thanks to an exemption in the Fair Labor Standards Act.