When Teresa Hodge finished a five-year prison term for a non-violent offense, she returned to a different world.
"When I went to prison, the iPhone -- the smart phone -- hadn't been invented," she recalls. "People were using MySpace, Twitter, LinkedIn -- all of the social media buzz and craze took place while I was incarcerated," she tells msnbc.
Re-entering society after a prison term has never been easy, and Hodge, like the half a million inmates who are released every year, was struggling with the extra adjustments of the digital age. But she didn't just try to get herself up to speed. Hodge founded an organization, along with her daughter and a woman she met in prison, to launch a program for returning citizens.
RELATED: Obama bans the box
"Seventy percent of people who go to prison can't get jobs," says Hodge's daughter Laurin, "so either you need to look at entrepreneurship or you need to look at freelance micro-enterprise."
Their organization, Mission Launch, doesn't just aim to serve returning citizens. It helps them develop their own programs. This month the group held its second annual "hackathon" in Washington, D.C., a gathering of former inmates, technology experts and lawyers to brainstorm ideas and digital apps for re-entry.
The hackathon helped develop a "clean slate" app, which shows former inmates how to get their records expunged. Another focuses on a narrow but critical period – the first 48 hours when an inmate gets out.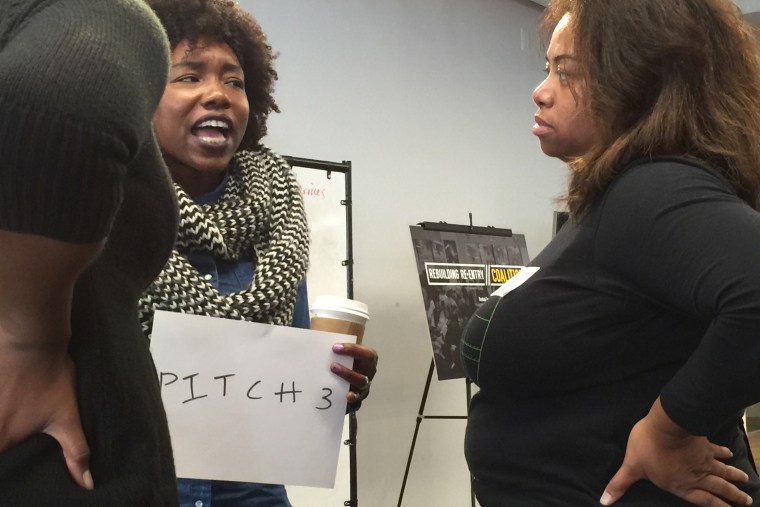 "Some people only get $20" when released, says Briane Cornish-Knight, who worked on the app." The first year is really the hardest, so if people aren't getting services they're more likely to return," she says.
Bryn Phillips, who met Hodge in prison, says the hackathon creates a space for different people to brainstorm. "There are so many aspects that a returning citizen may not considered that an attorney, a coder, a civil-rights activist may bring to the table," she tells MSNBC.
While Mission Launch works on local solutions, prison reform and re-entry is increasingly drawing national attention. In the past two weeks, President Obama proposed new tech training for returning citizens and banned the box for federal hiring – delaying the use of criminal records in hiring until former inmates can at least have their qualifications assessed – while Hillary Clinton endorsed a similar proposal.
It's an issue people at the hackathon know firsthand – and not just the non-violent offenders who politicians are more comfortable discussing.
Bill Cobb was convicted on a serious violent felony charges, including kidnapping, in 1993. Since his release in 2000, he says he reformed himself, has never re-offended, and yet has been fired more than 10 times for that record.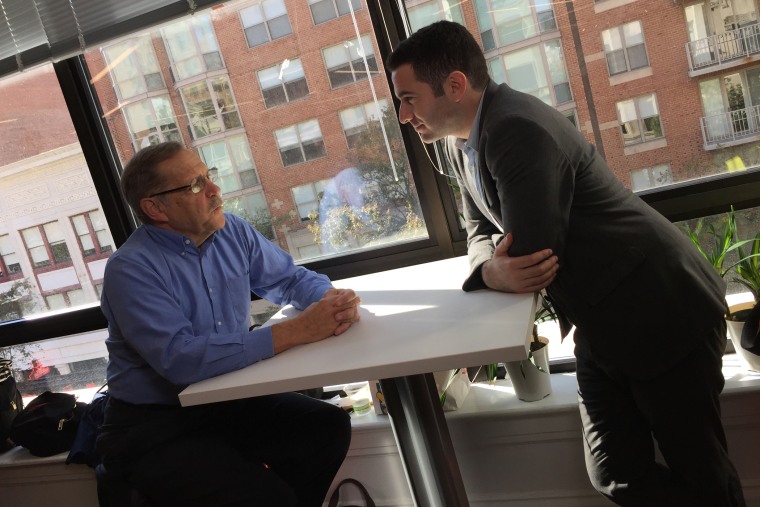 "Mostly I get jobs in the sales industry, telemarketing sales or door-to-door sales, and what happens is that typically employers call me to the office and say, 'Mr. Cobb, although you did indicate that you had a criminal history, after reviewing your criminal history we can't maintain you as an employee,'" he says.
Cobb says that after paying his debt to society, he ought to have a chance to earn an honest living.
"We did our time, paid our debt and we desperately want to become part of the American dream," he says. "So to systemically be eliminated from pursuing our dreams, goals and objectives and contributing to the fabric of America is not only unfair -- it's wrong."
RELATED: In new crime policy, Hillary Clinton embraces Obama agenda
That may be the ultimate test of prison reform – whether programs not only mete out punishment, but give people a chance to return to society, not another cell.
Hodge says her organization is built on that basic premise – that on their best day, no prisoners really want to re-offend.
"I feel like no one," she says, "is laying on their bunk thinking, 'I can't wait to go back to prison.'"