Trevor Noah, the controversial new host of "The Daily Show," addressed the growing controversy over his history of offensive tweets with a fresh post on Tuesday evening. "To reduce my views to a handful of jokes that didn't land is not a true reflection of my character, nor my evolution as a comedian," he wrote.
After his past Tweets generated widespread criticism, Comedy Central came to the defense of 31-year-old South African comedian on Tuesday. "Like many comedians, Trevor Noah pushes boundaries; he is provocative and spares no one," Comedy Central told msnbc in a statement. "To judge him or his comedy based on a handful of jokes is unfair. Trevor is a talented comedian with a bright future at Comedy Central."
Still, it's hard to ignore the fact that the honeymoon phase for Jon Stewart's replacement has quickly come to a halt.
Noah became an instant celebrity after he was named the new host of "The Daily Show" on Monday. His name was trending nationally and had 70,000 mentions on Twitter. However, the buzz was quickly overshadowed by some of his past social media musings, which comedian Rosanne Barr and others have called "sexist" and "anti-Semitic."
One of his insensitive jokes, which reinforces negative stereotypes of wealthy Jewish men, appeared as recently as May 2014. 
"We wish @TrevorNoah success @TheDailyShow; hope he keeps it funny without engaging in jokes at the expense of Jews," the Anti-Defamation League said Tuesday on Twitter. 
Related: Trevor Noah, new 'Daily Show' host: 7 things you need to know
Noah posted the following tweet Tuesday morning which was removed within minutes: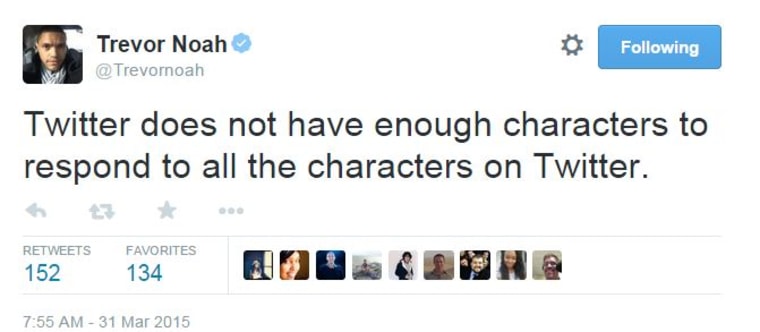 Since "The Daily Show" has a reputation largely built on using humor to undermine sexist, racist, and elitist rhetoric and policies in the U.S., the new host's controversial remarks have not been taken lightly. 
QUIZ: How much do you know about Trevor Noah?