In the wake of the first two nominating contests, Hillary Clinton is maintaining her lead over Bernie Sanders nationally in the past week, dropping a single percentage point to 50 percent. Sanders picked up a point to lower the difference to 10 points among Democratic and Democratic-leaning voters.
Although the numbers have remained relatively stable, the national margin between Clinton and Sanders is now at the lowest it has been in 7 weeks. These results are from the latest NBC News|SurveyMonkey Weekly Election Tracking poll conducted online from Feb 8-14 among a national sample of 13,129 adults including 11,417 who are registered to vote.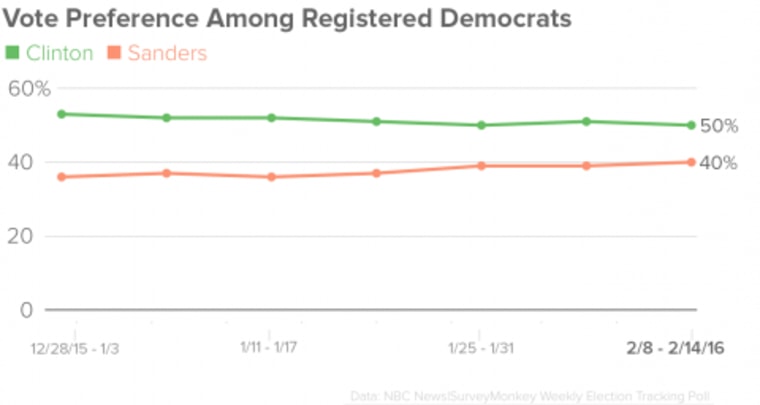 After a 22-point victory for Sanders in New Hampshire last Tuesday, a third of Democratic and Democratic-leaning voters now think Sanders will win the eventual nomination. However, 66 percent still think Clinton will win. This 34-point margin is down from 44 points just last week and is the smallest it has been since the beginning of our tracking poll in January.
Though Sanders may have gained momentum from his virtual tie with Clinton in Iowa and his large victory in New Hampshire, the candidates have rapidly shifted their focus to the next Democratic contests: a caucus in Nevada on Feb. 20 and a primary in South Carolina on the 27th. These are the first states where the Democratic electorate will consist of a more diverse racial makeup.
Iowa and New Hampshire are racially homogenous—with entrance and exit polls showing that over 90 percent of the Democratic electorates in each state were white. In Nevada, the 2008 entrance poll data shows that 15 percent of Democratic caucus goers were Hispanic and another 15 percent were black. In South Carolina, 55 percent of Democratic primary voters were black, according to NBC News exit polls.
Our tracking poll has shown that nationally, white Democratic voters are divided over their choice in candidate, with 44 percent currently supporting Clinton and 47 percent supporting Sanders. Among non-white voters, however, the former Secretary of State has had stronger support than the senator from Vermont.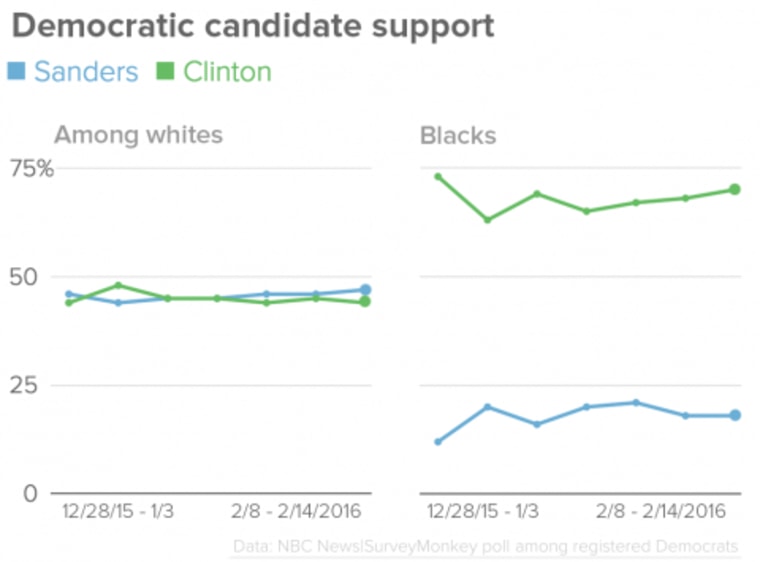 Both Clinton and Sanders have been campaigning hard for the attention of non-white voters in South Carolina and Nevada. Each candidate has picked up notable endorsements in the past week. Last Tuesday, the PAC for the Congressional Black Caucus held an event to announce its endorsement of Clinton.
Sanders secured endorsements from Harry Belafonte, the notable civil rights activist and performer, as well as Erica Garner—the daughter of Eric Garner, the Staten Island man who died after police put him in a chokehold in 2014.
Sanders has received widespread attention for his solid capture of the millennial vote in Iowa and New Hampshire – those between the age of 18 and 34. However, the most recent data from the NBC News|SurveyMonkey tracking poll shows that Sanders' popularity does not extend to young black voters.
This week's poll shows that black millennial voters who are Democratic or lean Democratic support Clinton by a wide margin, 64 percent to 25 percent, roughly mirroring older black voters' support for her (73 percent to 16 percent among those over 35).

The ability of Sanders to capture the minority vote will be key for his campaign moving forward. As the contests in Nevada and South Carolina quickly draw closer, the millennial vote could play a key role in deciding who will win delegates in each of these states.
The NBC News|SurveyMonkey Weekly Election Tracking poll was conducted online from February 8, 2016 through February 14, 2016 among a national sample of 13,129 adults aged 18 and over, including 11,417 who say they are registered to vote. Respondents for this non-probability survey were selected from the nearly three million people who take surveys on the SurveyMonkey platform each day. Results have an error estimate of plus or minus 1.1 percentage points. A full description of our methodology and the poll can be found here.