Republican presidential candidates have some heavy-duty reading on their desks — or at least a new doorstop. 
RELATED: Hillary Clinton flexes political muscle in key states
Democratic presidential front-runner Hillary Clinton sent a copy of her book "Hard Choices" to her GOP rivals, a campaign aide confirmed to NBC News on Tuesday. The move was meant as a snarky retort to criticism lobbed at her during the second Republican presidential debate. The former secretary of state was targeted repeatedly during the debate, especially by Carly Fiorina, who quipped, "If you want to stump a Democrat, ask them to name an accomplishment of Hillary Clinton."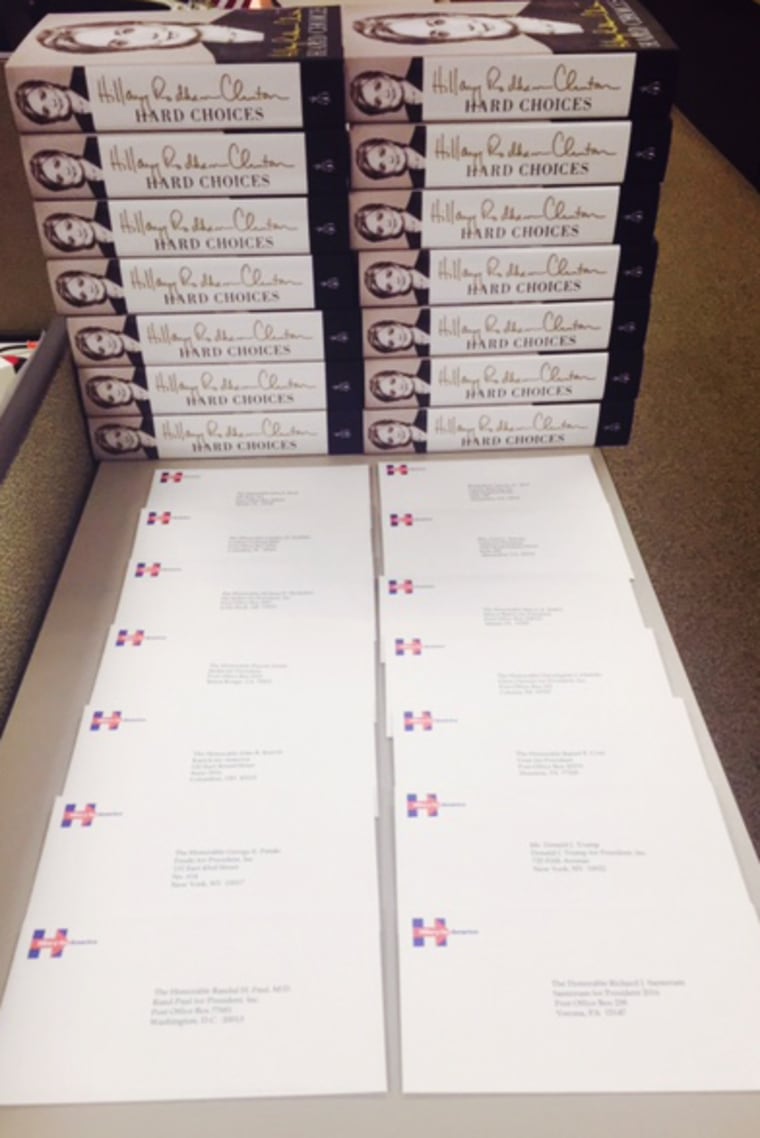 A campaign aide implied that the Republicans had some reading up to do. "From Iranian sanctions to negotiating a ceasefire in Gaza to restoring America's standing in the world, she felt that it would be an informative resource for them," the aide said. 
Asked about the book delivery, the Trump campaign told NBC News' Katy Tur: "Don't know -- didn't open the mail."
Clinton first floated the idea of sending them the 596-page tome while she was on a campaign swing in New Hampshire last month. She made good on her promise last week, sending copies with an accompanying letter to all GOP candidates except Jim Gilmore, who did not participate in the CNN debate.
"From working to restore America's standing in the world to bringing crippling sanctions to Iran to negotiating a ceasefire in Gaza, please enjoy all 596 pages of my time as secretary of state. With 15 candidates in the race, you've got enough people for a book club!" the letter said.
In Muscatine, Iowa, Clinton told voters on Tuesday that she sent the books because she was "trying to be a good fellow candidate and give them some help so they understand what it is to make these hard choices when you're sitting there and you're facing them."