KARNES COUNTY, Texas -- The steady hum of construction was a near-constant backdrop here for months, as the federal government rushed to build higher cement walls to confine immigrant mothers and their children. Now those sounds are being silenced as the cracks appear in an immigrant detention policy that may soon soon give way.
When the federal government first began detaining immigrant women and children caught crossing into the U.S. illegally, it was supposed to be a long-term and humane solution to avert a humanitarian crisis at the border. But in the last year a series of miscalculations, along with opposition from advocates and federal court rulings, have chipped away at the policy.
The dynamic has left the Obama administration caught in a paradox: The federal government is on the hook for contracts to build and run new detention facilities designed specifically to house families, while it may soon be legally barred from being able to fill them.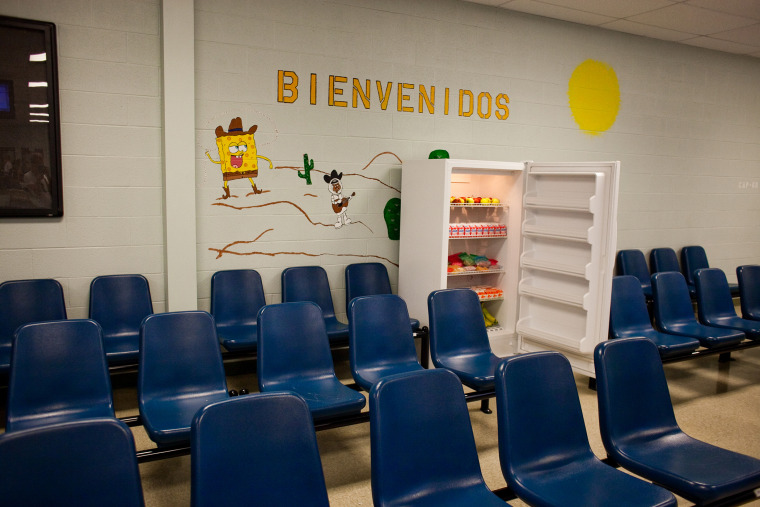 The latest blow came from District Court Judge Dolly M. Gee, who  in a 25-page order last week blasted the administration for rushing to build new facilities that didn't fully comply with long-established requirements for detaining young children. Noting that the testimony from women and children detained at the two new facilities contradicted the government's rosy portrayal of conditions there, Gee ordered that the roughly 1,700 families that aren't flight risks be released as soon as possible.
"It is astonishing that the defendants have enacted a policy requiring such expensive infrastructure without more evidence to show that it would be compliant with an agreement that has been in effect for nearly 20 years," Gee wrote.
Family detention was intended to avert another crisis at the border. Last year, nearly 70,000 unaccompanied children were captured while crossing into the U.S., along with just as many families who were fleeing together from Central America. The floods of people were leaving countries ranked by the United Nations Office of Drugs and Crime as among the most murderous in the world – Guatemala, Honduras and El Salvador – where warring gangs are uprooting full generations of families and fueling a lucrative market of smugglers that offer safe passage through Mexico.
The spike in migration log-jammed every level of the federal government's response and strained a bureaucratic maze that was ill-equipped to cope with the sheer volume of children entering the U.S. on their own. Federal officials sought to expand its detention capacity to hold more than 3,400 immigrant women and children by the end of this year. Two facilities – the Karnes County Residential Center and the South Texas Family Residential Center – are being built from the ground up to house the families, a towering increase from just a year earlier, when the U.S. was equipped to keep just 95 immigrant families in federal custody at a time.
The rush to expand family detention has baffled observers and advocates who saw similar measures fail in recent years. At least two detained mothers have reportedly attempted suicide since the new detention facilities opened up. Others tried to stage a hunger strike in protest of their detention. Mothers reported that their children were losing a significant amount of weight while in detention. Psychologists who toured the facility warned that prolonged confinement was having a negative impact on adolescents' development.
____________________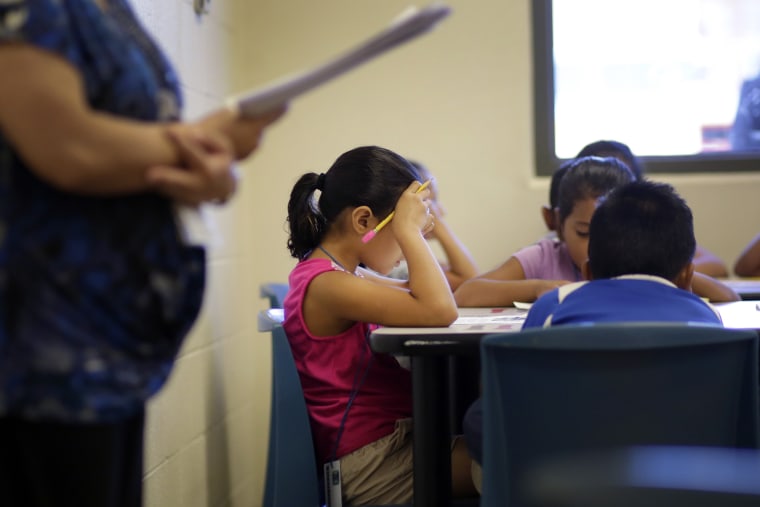 "We must make substantial changes in our detention practices with respect to families with children," Department of Homeland Security Secretary Jeh Johnson announced last month in the face of growing criticism. "In short, once a family has established eligibility for asylum or other relief under our laws, long-term detention is an inefficient use of our resources and should be discontinued."  
Now a growing number of members of Obama's own party are turning against the policy. More than 130 House Democrats have signed onto a letter condemning the practice, saying the administration "has not fully grasped the serious harm being inflicted upon mothers and children in custody." A delegation of members of Congress visited the two facilities in South Texas in June, calling for an end to the practice as a whole.
"These facilities need to be closed," House Minority Whip Steny Hoyer said after visiting the facilities. "The children at these centers have committed no crime. They've complied with U.S. law. They came and said we need refuge, we need safety."