Republican presidential candidates Donald Trump and Texas Sen. Ted Cruz came together with Sarah Palin Wednesday to oppose a nuclear accord with Iran, headlining a rally filled with fear-mongering, attacks on President Barack Obama, and at least one conspiracy theory.
The long-scheduled rally played out a day after the White House secured four additional votes that will protect the president from having to veto a resolution opposing the agreement, which would limit Iran's nuclear program in exchange for lifting economic sanctions. Still, the conservative celebrities and politicians who spoke -- including the two GOP presidential candidates, tea party favorites Palin and Michele Bachmann, pundit Glenn Beck, and "Duck Dynasty" star Phil Robertson -- argued the deal could and must still be stopped. 
Trump's five minute-long remarks were light on substance – the GOP frontrunner said he didn't need to go into the details of why the deal was so bad because other speakers already had -- and heavy on big promises.
Related: Trump guarantees the safe return of US prisoners from Iran
"We are led by very, very stupid people. Very, very stupid people. We cannot let it continue," Trump said. "It will change. We will have so much winning when I get elected that you may get bored with winning!"
Trump vowed that if he's elected, the four Americans imprisoned or missing in Iran -- including a Christian pastor and a Washington Post reporter -- will be released before he even takes office.
"They will be back before I ever take office because they know that's what has to happen and they if they don't know it, I'm telling them now," Trump roared.
"Only in an Orwellian Obama world full of sprinkly fairy dust blown from atop his unicorn, seen through his pink kaleidoscope, would he see peace in this treaty."'
More than a dozen speakers condemned the president as a terrorist, while one advanced the conspiracy theory that the president secretly negotiated with Iran as a candidate. Others asserted that the Iran deal would lead to the deaths of thousands -- if not millions -- of Americans.
Sarah Palin gave a spectacularly colorful address condemning the deal, and bringing up nearly every other conservative talking point along the way.
"Only in an Orwellian Obama world full of sprinkly fairy dust blown from atop his unicorn, seen through his pink kaleidoscope, would he see peace in this treaty," the 2008 vice presidential nominee said. "You don't reward terrorism, you kill it!"
While the event was a brainchild of Cruz and the Tea Party Patriots group, the bulk of the celebrity attention and accolades went to Trump, who Cruz himself has lavished with praise throughout the Republican primary. 
RELATED: Ted Cruz and Donald Trump are best buds right now. Will it last?
"Obama wants to make Iran great again, while Sen. Cruz and Donald Trump want to make America great again," pro-Israel activist Morton Klein said early in the rally, using Trump's campaign slogan. 
Of all the headliners, Cruz's 13-minute address offered up one of the most in-depth remarks on the specifics of the deal, particularly about the sanctions against Iran that would be lifted under the terms of the nuclear agreement.
If the deal goes through, "the Obama administration will become quite literally the world's leading financier of radical terrorism," Cruz said. "If you vote to send millions of dollars to jihadists who have pledged to murder Americans, then you bear direct responsibility for the murders carried out."
Cruz also alleged again that Iran could "kill tens of millions of Americans" with an electromagnetic attack on the East Coast, and threatened legal action as a way to stop the deal from going through.
"Any bank that listens to this president and releases billions to an international terrorist like the Ayatollah Khomeini will face billions of dollars in civil liability and litigation," he said.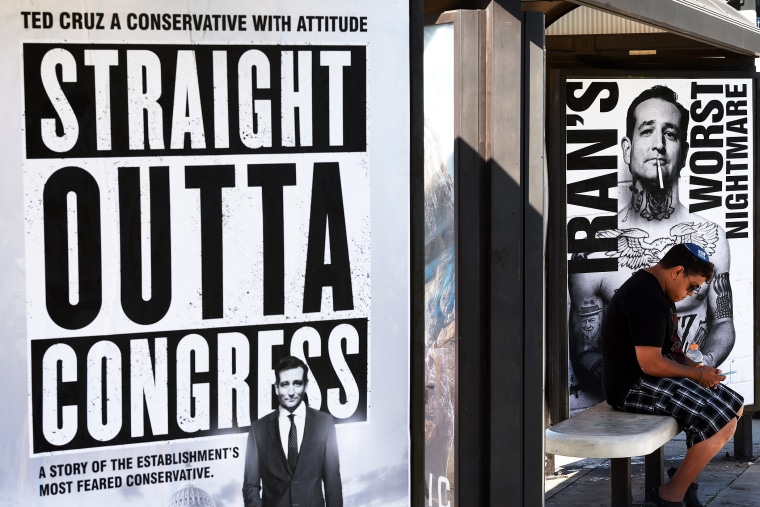 Ahead of the event, Cruz's campaign sent out a fundraising plea featuring a poster with Cruz's head superimposed on a tattooed body with the words "Iran's worst nightmare" in block letters.
The celebrity trifecta of Trump, Palin and Cruz weren't the only conservative darlings to rip the deal.
"Duck Dynasty" star Phil Robertson said Iran is "the last bunch you want to have nuclear weapons," adding that the Jewish people "wrote the Bible, for crying out loud, therefore you never ever want to put them in unnecessary dangers, which this deal will do."
Conservative pundit Glenn Beck likened the deal to another Holocaust.
"I testify to you today that 'never again' is now," Beck said. "When someone says they will wipe the Jew off the face of the Earth, you must take them seriously. They mean it."