Celebrities have been ubiquitous on the campaign trail this season. Even the GOP front-runner himself, Donald Trump, has been a famous personality for decades. Celebrity surrogates have frequently been driving the 2016 news cycle — and in some cases, forcing their preferred candidates off message.
For instance, on Wednesday during an appearance on "Late Night with Stephen Colbert," actress Susan Sarandon, a passionate Bernie Sanders supporter, doubled down on her refusal to say whether or not she would support Hillary Clinton in a one-on-one race against Trump. And unscripted diatribes on Sanders' behalf from stars like Rosario Dawson, Killer Mike and Tim Robbins have begged the question: Are these kinds of endorsements really worth it?
In a crowded media marketplace, the prominence of a celebrity surrogate can make a difference — at least when it comes to media attention — but unlike most traditional political representatives, they are infamously difficult to control.
"We have many, many surrogates who say many, many things. Many of these surrogates do not agree with everything I say. And I do not agree with every approach and everything that they say. And that's the simple reality," Sanders admitted earlier this month after a series of celebrity gaffes on his behalf.
RELATED: From Paul O'Neill to Dennis Rodman: The stars who have lined up for Trump
The Obama campaign's formidable roster of celebrity supporters has been a paragon of the form. In 2008, the then-senator was the beneficiary of one of the most celebrated celebrity endorsements of all time: Talk show host Oprah Winfrey's in 2008 prior to the Iowa caucuses. Winfrey's previous history as a largely apolitical figure, and massive appeal across several racially diverse demographic groups, was credited at helping buttress Obama's eventual victory in that first caucus state.  That same year, rapper Will.I.Am cut a whole song centered around one of the candidate's speeches. It became a viral phenomenon.
Corey Ealons, who worked as a spokesman on both Obama campaigns for president and now is a consultant for Vox Global, told MSNBC on Thursday that the campaign was very coordinated about how and when they deployed their star surrogates, like a then-largely unknown Kerry Washington.
"The endorsers are generally trying to be helpful but they have their own persona that they're working with as well," Ealons said. "In my experience in working with surrogates of any time, the campaigns generally want them staying on message. The first thing you want is to do no harm."
"We began having pretty regular calls with our battery of celebrity supporters because we wanted them to be on the same page," said Ealons. The result of which was very few gaffes that distracted from Obama's core message.
This year, with stars like Sarandon making more risky assertions and launching their own independent attacks, things have been a little more chaotic.
"This cycle has been a mixed bag," concedes Ealons, who believes Sarandon occupies a specific space in the consciousness of Democratic voters because she supported Ralph Nader in the past and is "seen to be on the edge of the political left."
"[Sanders'] folks have been kind of out there, but so is Bernie Sanders." said Ealons.
On the other hand, former Indiana basketball coach Bobby Knight, who just endorsed Trump, may be the ideal celebrity surrogate because he not only could sway votes, but because his brash, politically incorrect persona meshes so perfectly with the real estate mogul's. Ealons believes that because of Trump's track record, Knight can say they both want to "beat" their opponents' "a**", and it doesn't hurt the candidate's brand because that is his brand.
"If Bobby Knight had endorsed Ted Cruz and made that kind of statement it might not go over as well," said Ealons.
Presidential historian Michael Beschloss believes that the Knight endorsement has larger implications as well. 
RELATED: Sanders under fire for supporter's 'whores' remarks
"Knight didn't just come out and say I like Donald Trump because I like his policies," he told MSNBC on Thursday. "What he basically said was Trump is a great, trustworthy guy." Beschloss suspects that the Trump campaign has likely done internal polling in Indiana and determined that the trust is a vulnerable point for him. What Knight and other beloved famous figures can provide is a "character testimony" for their candidate that draws upon years of goodwill and fan support.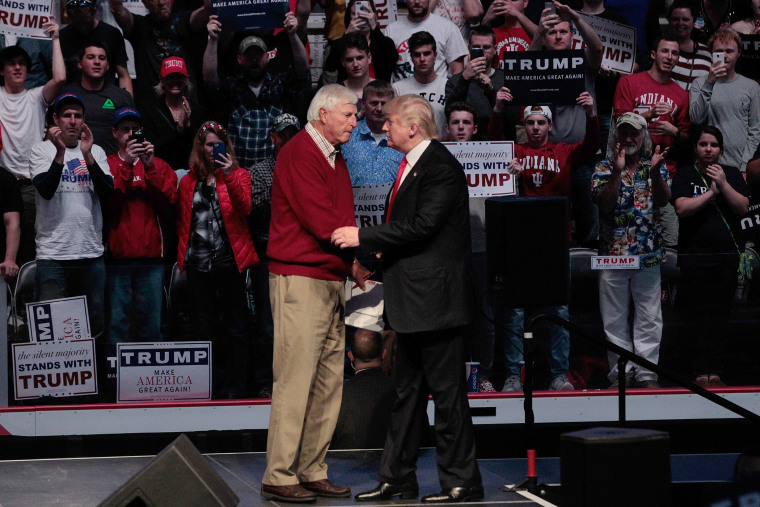 Celebrities also have a certain practical value by stepping in physically for candidates who can't be two places at the same time. A Hollywood star can be a draw for voters, in a way that a garden variety political figure just can't. Still, according to Ealons, "ultimately the value of the endorsement comes down to the individual celebrity."
According to Beschloss, modern celebrity endorsements date as far back to the early campaigns of Woodrow Wilson. New York Yankees legend Babe Ruth was an early supporter of the Democrat calling the former president a "great friend of mine" in what was viewed as a tacit endorsement. After a brief dalliance with Republican Warren Harding, Ruth refused to be photographed with GOP presidential candidate Herbert Hoover in part because of his loyalty to the 1928 Democratic ticket.
Franklin Roosevelt, Harry Truman and Dwight Eisenhower would also all hold rallies featuring famous names, but probably no 20th century celebrity endorsement has captured the public's imagination quite like the Rat Pack's public support for John F. Kennedy in 1960. A member of unofficial collective, which included Frank Sinatra, Sammy Davis, Jr. and Dean Martin, even recorded a song on his behalf ("High Hopes"), but according to Beschloss, their actual role in Kennedy's campaign is sometimes overstated.
"Kennedy actually kept his distance from the Rat Pack because they were seen as a lounge act who engaged with bad practices," he said. That said, the candidate did deploy baseball star Stan Musial to stump for him in that year's crucial Wisconsin primary. Musial, who was of Polish dissent and also a Catholic, proved effective in districts in and around Milwaukee.
RELATED: Tim Robbins becomes the latest Sanders surrogate to veer off message
Just a couple days prior to election day in 1968, Richard Nixon held a star-studded telethon where he was introduced by TV icon Jackie Gleason. And yet the legendary "Honeymooners" actor — and really no celebrity — has ever been credited with effectively swinging the vote.
"I can't think of one that was game-changing," said Beschloss. "Even if Trump wins Indiana it's going to be very hard to argue that Knight made the difference." What has made a difference, in his estimation, is the medium of television and how it has shaped and redefined celebrity.
"Do you think Trump would come anywhere near become the nominee of this party if he didn't have a weekly show?" he asked rhetorically. "If you delete the 14 years on a hit TV show, does this happen?"
Beschloss says that the role celebrity played in the Reagan revolution can't be discounted either. As the star of "General Electric Theater," "Death Valley Days" and a number of well-known Hollywood movies, the 40th president had a star appeal that often overshadowed his opponents, like his 1980 GOP primary opponent former president George H.W. Bush.
Still, Reagan was an established governor with a legislative record. Trump, with no political experience, but near universal name recognition, has been able to capitalize on his own celebrity by upstaging lesser known candidates, who in an earlier era would have been more formidable simply because of their political stature as sitting or former governors and senators.
"In the age of print, if people found out about politicians it was mainly from the newspaper," Beschloss said. Today, following Trump's already unprecedented success, he predicts that "every aspirant at every level has watched what Trump has done and they will try to emulate it."
"Whether Trump wins this year or not, things are going to change," he added.