Political pork is often a big issue on the campaign trail—but in New Jersey, pork of the actual porcine variety is creating potential 2016 drama for Gov. Chris Christie.
The Republican, who is considering making a bid for the Oval Office, has an animal-welfare bill on his desk that would prohibit pig farmers in the Garden State from using gestational crates – which animal advocates and some legislators deem as a cruel and inhumane.
While pig farming isn't a particularly big business in New Jersey, it's a huge deal in Iowa, home to the first-in-the-nation caucuses, which kick off the presidential nominating process. In fact, Iowa is the country's largest pork producer, and the Humane Society estimates there are 1.1 million mother pigs in gestational crates so small that the animals can't even turn around for up to four years of their lives.
Pig farming is so important in Iowa that even Republican Sen.-elect Joni Ernst sought to capitalize on her experience growing up on a farm in the Hawkeye State. In a much-talked about campaign ad, Ernst made the argument that she's uniquely qualified to cut spending in Washington. "I grew up castrating hogs on an Iowa farm, so when I get to Washington, I'll know how to cut pork," Ernst said, smiling as footage of pigs was played. "Washington's full of big spenders. Let's make 'em squeal," she added.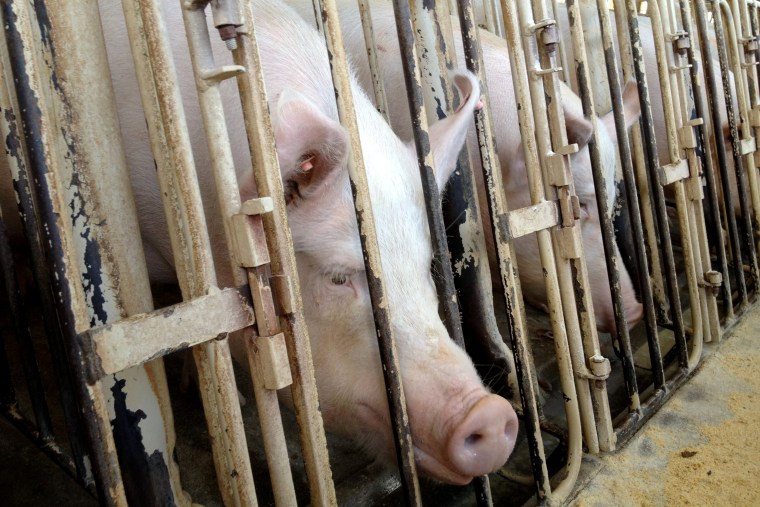 Proponents of the crates argue they're cheaper than alternatives and necessary to protect the animals from fighting. They also bristle at government intervention in their pig-farming practices.
Democratic New Jersey state Sen. Ray Lesniak, who is spearheading the animal-welfare bill, told msnbc on Thursday that he thinks there is a 50-50 chance that Christie will veto the measure. If he does, New Jerseyans "should take away from it that he still ascribes to what he told Republican financial supporters last year, that he'll do anything to win. He's putting the interests of his presidential ambitions ahead of ending cruelty that's universally condemned."
Christie's office did not return a request for comment. He has until Dec. 1 to make a decision.
Nine states (red , blue, agricultural and non-agricultural) ban gestational crates for pregnant mother pigs, including Maine, Rhode Island, Florida, Ohio, Michigan, Colorado, Oregon, California and Arizona.
Christie vetoed a different version of the bill last year, arguing there was "divergent" evidence surrounding the use of the crates and that the decision "best rests" with the State Board of Agriculture and the state Department of Agriculture. 
Photo essay: Politics and pork mingle at the Iowa State Fair
Matt Dominguez, a public policy manager for The Humane Society of the United States, said the new bill (which passed on a 53-13 vote in the New Jersey Assembly and 32-1 vote in the Senate in October), addresses Christie's concern in directing the Department of Agriculture to play a key role.
"We are taking the governor's word...If he does veto it, there's a lot of validity as to what role Iowa is playing," said Dominguez, pointing to a Mason-Dixon poll from this fall finding 93% of New Jersey voters were supportive of banning the crates, which are 2-feet-by-7-feet for a typical 500- to 600-pound sow.
The New Jersey pig crate issue has become a cause célèbre, with comedian Bill Maher, actors Danny DeVito and Edie Falco and businesswoman and lifestyle guru Martha Stewart all calling on the governor to sign off on the legislation.
Republican Iowa Gov. Terry Branstad – who Christie stumped for multiple times in the past few months – told the Associated Press that he urged the governor to veto the similar bill from last year, arguing the crates protect baby pigs who could be crushed by adult pigs. "I called him to tell him how bad I thought it would be and how the people that are involved in pork production, that really understand this, feel this would be very bad," said Branstad. 
Jimmy Centers, communications director for Branstad, told msnbc when asked further about Branstad's stance that "this is an issue that will be decided by Gov. Christie."
Meanwhile, residents and lawmakers are trying to put pressure on Christie to sign off on the bill. The Humane Society and the Monmouth County branch of the Society for the Prevention of Cruelty to Animals are holding an event later on Thursday called the "Great Crate Challenge," where human-sized gestation crates – scaled to mimic the condition in crates used by the pork industry—will be on site in Eatontown, N.J., for people "to see how long they can tolerate being immobilized." Lesniak said he would attend the event.
In addition, 17-year-old animal advocate twins from Summit, N.J. – Abigail and Elizabeth Fournier, who identify themselves as Republicans—on Thursday plan to deliver 125,000 signatures to the governor's office, urging him to approve the legislation.
What's interesting is there are only about 8,000 pigs in New Jersey and only "a handful" of them are sows, according to Dominguez. "It's a preventative measure," he said.