New Jersey Gov. Chris Christie suggested Monday that officials find a "balance" between requiring vaccinations and allowing parents to turn them down. But his run in with the issue may go back much longer.
Related: Chris Christie urges 'balance' on vaccination choice
Louise Kuo Habakus, an anti-vaccination activist who runs the site FearlessParent.org, provided a letter to MSNBC Monday in which Christie purportedly wrote that he understood their concerns about ties between vaccine mandates and autism -- long discredited by public officials -- and supported their push for parental choice. She shared a photo showing Christie meeting with her and what she said were other anti-vaccination activists with her organization, the NJ Vaccination Choice Coalition, as well as other autism groups at a meeting they organized with the then-candidate in August 2009.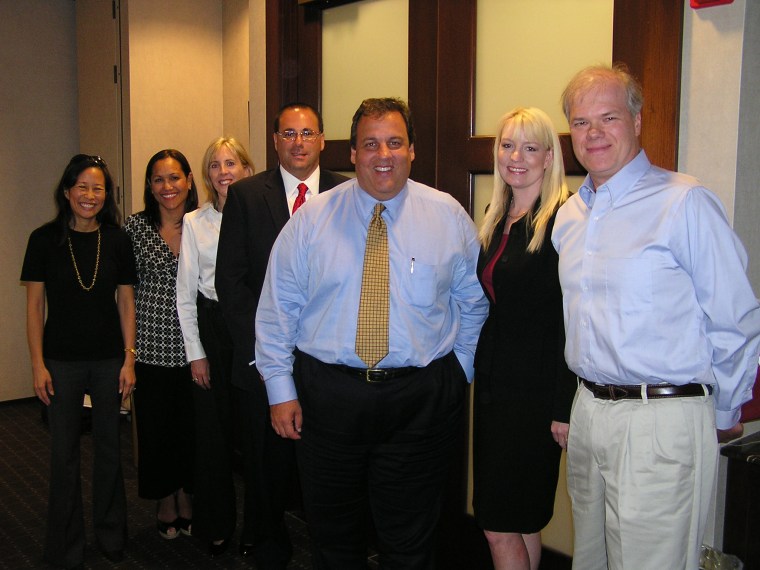 "I have met with families affected by autism from across the state and have been struck by their incredible grace and courage," Christie wrote in the letter. "Many of these families have expressed their concern over New Jersey's highest-in-the nation vaccine mandates. I stand with them now, and will stand with them as their governor in their fight for greater parental involvement in vaccination decisions that affect their children." 
A spokesman for Christie did not immediately respond to repeated requests for comment. The letter's existence was first reported by The Daily Beast.
"I spent a lot of time with Governor Christie working on this," Habakus said. "He's been absolutely constant on this issue since I first met with him in 2008."
Habakus added in a follow-up call that, despite the letter's mention of autism and vaccine mandates, the group's in-person meeting with Christie did not touch on claims of a link between the two. 
"Vaccines were one of many topics discussed and he expressed support for parents who wanted more of a dialogue and more participations and more say in this," she said. "He believed parents should have more say and involvement."
Nonetheless, she said autism was one of her many concerns with vaccinations.
Christie was not the only politician to address fears of an autism/vaccine link around the same period: The Washington Post's Fact Checker blog called out then-presidential candidates Barack Obama, John McCain, and Hillary Clinton in 2008 for suggesting the science around the issue was unsettled despite overwhelming evidence to the contrary. The anti-vaccination movement has garnered more attention -- and scathing criticism -- since then thanks to a resurgence of illnesses that experts complain are tied to parents refusing to vaccinate their children.
"I understand that there are families that in some cases are concerned about the effect of vaccinations," Obama told NBC on Sunday. "The science is, you know, pretty indisputable. We've looked at this again and again. There is every reason to get vaccinated, but there aren't reasons to not."
Clinton joined in on Monday night, tweeting her support for vaccines. "The science is clear: The earth is round, the sky is blue, and #vaccineswork. Let's protect all our kids," she wrote, adding #GrandmothersKnowBest. 
Christie appeared to discuss his meetings with anti-vaccination groups in a 2009 interview with radio host Don Imus in which he said he gave parents who were concerned vaccines cause autism a "seat at the table" and that mandates to get flu shots and vaccines presented "a real tough choice" based on their concerns. 
His latest comments come amid a multi-state measles outbreak that public health officials say has been exacerbated by an anti-vaccine movement that rejects established medical science. Experts warn that even relatively small numbers of parents who refuse to vaccinate their children can threaten entire communities by giving once-controlled diseases an opportunity to return.
"All I can say is that we vaccinated [our children]," Christie told msnbc's Kasie Hunt in England on Monday when asked about the outbreak. "That's the best expression I can give you of my opinion. It's much more important, I think, what you think as a parent than what you think as a public official."
He went on to add that "there has to be a balance and it depends on what the vaccine is, what the disease type is and all the rest" when it comes to mandating vaccinations.
Later on Monday, Christie's office put out the following statement elaborating on his position: "To be clear: The Governor believes vaccines are an important public health protection and with a disease like measles there is no question kids should be vaccinated. At the same time different states require different degrees of vaccination, which is why he was calling for balance in which ones government should mandate."
Kentucky Sen. Rand Paul, who -- like Christie -- is eyeing a bid for the GOP presidential nomination in 2016, told radio host Laura Ingraham that he believed vaccinations should generally be optional. 
"I'm not anti-vaccine at all, but particularly, most of them ought to be voluntary," said Paul. "What happens if you have somebody not wanting to take the smallpox vaccine and it ruins it for everybody else? I think there are times in which there can be some rules, but for the first part it ought to be voluntary."
He noted that he opposed requiring HPV vaccinations, an issue that came up in the 2012 presidential campaign when Rick Perry was attacked for his unsuccessful push to mandate the drug in Texas. Then-rival Michele Bachmann famously claimed after a debate with Perry that an audience member's daughter suffered "mental retardation" after taking the drug, earning a fierce rebuke from fact checkers. 
Paul, sounding a lot like Bachmann, told CNBC on Monday that, "I have heard of many tragic cases of walking, talking normal children who wound up with profound mental disorders after vaccines."
Perry, through a spokeswoman, offered this response to Christie's comments:  "Gov. Perry strongly believes in protecting life and has sought to improve the health and well-being of Texans in a variety of ways, including increased immunization rates," spokesman Lucy Nashed said. 
Habakus, for her part, said the threat of measles was overblown. 
"There have been so many diseases for which there have never been vaccines -- you can't say unvaccinated people disproportionately harbor germs," she said. 
MSNBC reporter Aliyah Frumin contributed to this story. 
Editor's note: An earlier version of this story said that Chris Christie "purportedly endorsed [Louise Kuo Habakus'] concern." It has been updated to reflect that Christie "purportedly wrote that he understood [the anti-vaccination group's] concerns." He did not formally endorse them.