Bobby Jindal loves to work out. 
That may be surprising for the boyish, bookish Louisiana governor, who looks more like someone who'd teach a graduate-level course on political philosophy than bust out squat-jacks and skull-crushers at the gym. But make no mistake: Jindal is a gym rat. 
After riding a stationary bike for about 40 minutes at a high-end Equinox gym in midtown Manhattan on Wednesday, the potential 2016 Republican presidential candidate – wearing a hockey T-shirt from his alma mater, Brown University, and blue shorts and white socks that went nearly to his calves– briefly spoke to msnbc, saying he tries to work out every single day.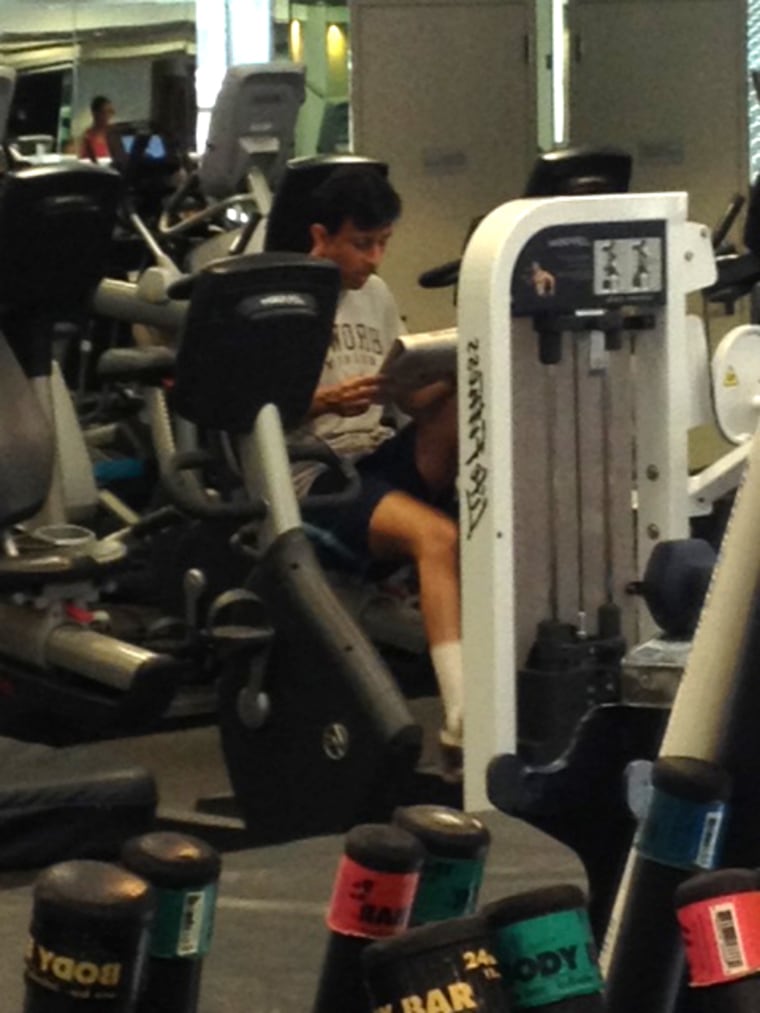 "I usually get here a lot earlier. Today we had some early meetings," Jindal, 43, said. "Normally, I start my day really early with a cardio workout, some light weights. You know, at my age, it's really about trying to stay healthy ... When I work out I have more energy for the rest of the day."
After wiping down the bike, Jindal headed over to a set of weights. "Today's legs, but every day I try to rotate it," he explained.
The stationary bike is his cardio equipment of choice, Jindal said, arguing, "It's better on the knees and it's easier to read while I'm on the bike." Indeed, Jindal spent his entire bike ride Wednesday buried in a newspaper. He said he considers the cardio portion of his routine a time where he can catch up on the news or read briefing papers.
Jindal doesn't have a membership at Equinox, where memberships run well over $150 per month. He said he's welcomed as a guest whenever he's in town.
While the slender Jindal says he's working out to maintain his physique and health, other potential presidential candidates have notably slimmed down ahead of a potential Oval Office run. Former Florida Gov. Jeb Bush has acknowledged following the Paleo diet; New Jersey Gov. Chris Christie underwent lap-band surgery in 2013; and former Arkansas Gov. Mike Huckabee lost more than 100 pounds before seeking the 2008 GOP nomination, and even wrote a book about his transformation called "Quit Digging your Grave with a Knife and Fork."
In terms of officially making a bid for the White House next year, "We're thinking about it," Jindal told msnbc, adding he won't make any decisions until late spring or summer.
RELATED: America wants a president like me, says Bobby Jindal
"I know a lot of people are looking into fundraising, consultants and polls but we've actually spent the last year thinking about what the next president should do," said Jindal, adding that he's been putting together policy papers on education, energy, healthcare and foreign policy.
For the most part, gym-goers largely ignored Jindal—either because they didn't recognize him, or were observing the Manhattan etiquette of leaving famous people alone. One man, during Jindal's bike ride, walked by and said, "Have a good workout governor." Jindal, looked up from his paper with a big smile and said, "Thank you!"