NEW YORK -- Democratic presidential candidate Bernie Sanders took his muscular attacks on wealth inequality and corporate greed to New York City on Monday, joining approximately 200 Verizon workers and union members in Times Square as they rallied for a fair contract and to rehire an employee who was allegedly fired after she spearheaded an organizing campaign.
RELATED: Bernie Sanders draws sharpest contrast with Clinton yet
"Let me get to the point," the Vermont senator told the crowd, which repeatedly chanted his first name. "The middle class in this country is disappearing and what Verizon is doing to their workers is exactly what has got to be fought if we are going to rebuild the American middle class."
"What this campaign is all about is saying to corporate America 'you cannot get it all.'"'
Verizon is currently in heated negotiations with the Communication Workers of America and the International Brotherhood of Electrical Workers after a contract covering 39,000 workers expired in August. The unions have said the telecom company, even as it rakes in big profits, wants employees to diminish their job security, increase their health care contributions and make concessions on pensions.
CWA separately contends that Brooklyn-based Verizon employee Bianca Cunningham was given the retaliatory boot after she helped a bullied worker. Rich Young, a Verizon spokesman, told MSNBC the union was "flat-out wrong" in its characterization of what happened to Cunningham, adding that she was not targeted and that her "conduct was subject to the same standard as all employees at Verizon."
In terms of the contract negotiations, Young said Verizon has been trying to work with union leaders to reach a deal since June. "Unfortunately, while we've worked hard in trying to meet that goal, week after week union leaders issue a myriad of distracting mischaracterizations, distorted facts and innuendo. These PR stunts do nothing to help advance the bargaining process. Verizon remains ready to hold serious discussions and engage in meaningful negotiations that will result is a fair and balanced agreement."
WATCH: Clinton, Sanders spar at Iowa fundraiser
Sanders, who has frequently argued for greater protections for workers on the campaign trail, told union members -- several of whom held signs emblazoned with "Stop Verizon Wireless corporate greed" outside one of the company's retail stores -- that their struggle is symptomatic of what's happening in the rest of the country.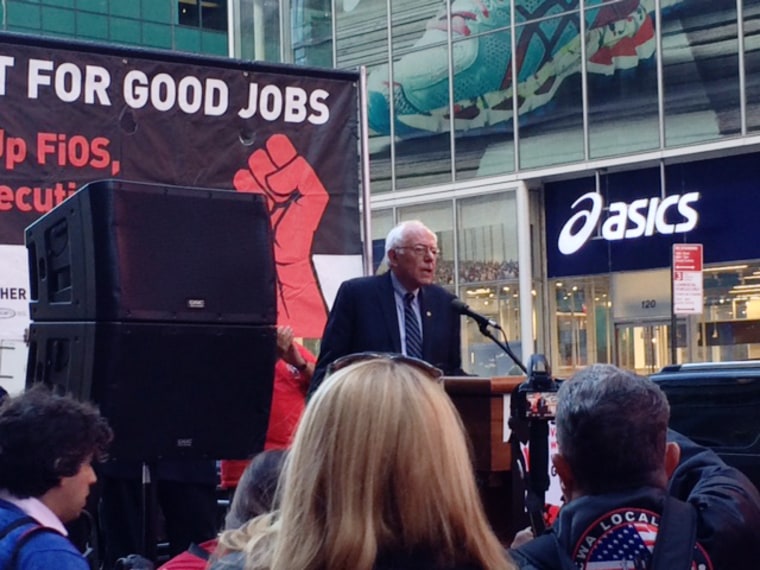 "You've got corporate America making huge profits. Their CEOs get huge compensation packages and then with all of their money, what they do is they hire lawyers in order to make it harder for workers to survive in this country," Sanders said. "What this campaign is all about is saying to corporate America 'you cannot get it all.' That when worker productivity is skyrocketing, you've got to pay your workers decent wages, you've got to respect and negotiate with workers for decent contracts."
The self-described democratic socialist spoke for about five minutes before jumping into his black SUV as workers continued to rally. CWA has not yet endorsed a presidential candidate. But his appearance on Monday could certainly help.
Cunningham, 30, told MSNBC that Sanders is "a voice for the American people." Dennis Trainor, vice president of CWA District 1, said the union -- which represents 600,000 workers -- was currently polling members on which candidate it should endorse. Trainor said Sanders' appearance would likely help him curry favor among union members, noting Democratic front-runner Hillary Clinton "was very good but she hasn't shown up at any of our rallies yet."