A little more than a year after her powerful Oscar speech calling attention to pay inequity in Hollywood, actress Patricia Arquette is still speaking out on behalf of women in the film industry.
On Wednesday, the "Boyhood" star led a panel discussion in New York City with young female filmmakers as a part of the #ActuallySheCan campaign, which aims to inspire women's empowerment through "confidence-fueled content, events and experiences" with the goal of helping "millennial women turn their ambitions into a reality."
Arquette appeared alongside two female directors (Emily Harrold and Erin Sanger) and a female producer (Anne Munger) behind three documentary shorts that will be screened during this year's Tribeca Film Festival. All three of the films feature strong female protagonists at the center of their stories and Arquette argued that "projects like this ... are the incubators of our films of tomorrow." Recent studies have shown that just 7 percent of directors of the top 250 films released in 2014 were women, so the timing of these projects couldn't be more prescient.
"That's not an acceptable number. That doesn't make any kind of sense," Arquette said regarding the 7 percent statistic. "As a film lover, I think film suffers for that."
RELATED: Filmmaker seeks to put the Equal Rights Amendment back on the map
The lack of racial and gender diversity both in front of and behind the camera has come under unprecedented scrutiny over the past two years, which has led to radical reforms at the Academy Awards and heightened industry-wide awareness.
"There is a movement right now that has really perked up in the last two years," Harrold told MSNBC on Wednesday. "The fact that our three films are being made is an example."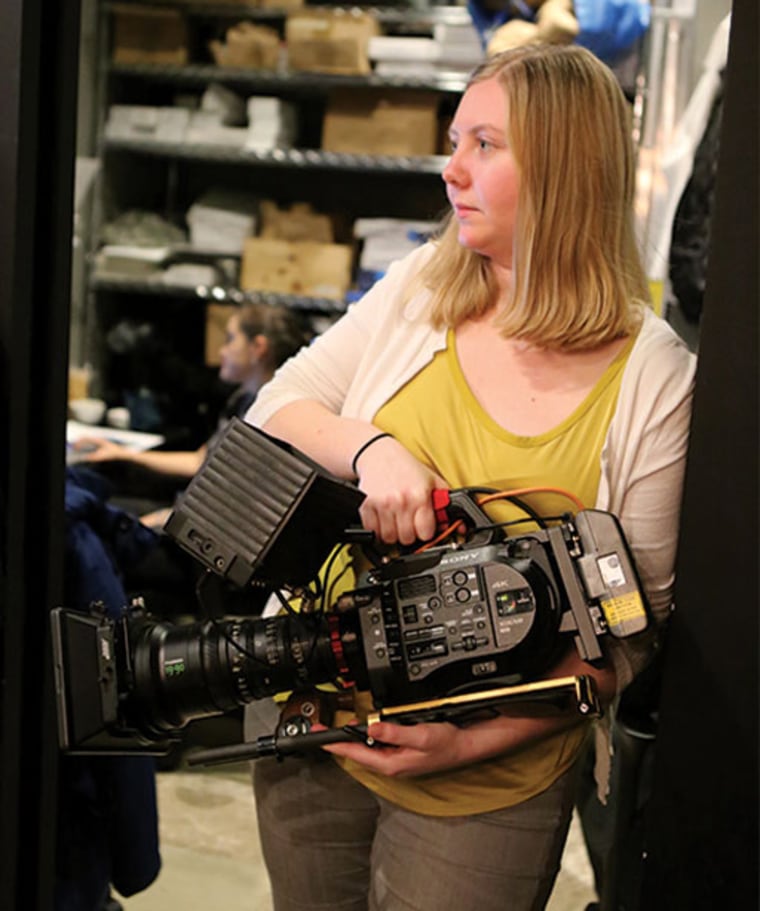 Veteran TV producer Ryan Murphy is an example of a new ally. The man behind "Scream Queens," "American Horror Story" and "American Crime Story" has launched a diversity initiative called Half, which is committed to having at least 50 percent of his programs directed by women or minorities by the end of this year. Murphy told The Hollywood Reporter in February that the #OscarsSoWhite fallout did play a role in his decision to take action.
Sanger told MSNBC on Wednesday that the initiative is a sign of how the industry is evolving. "That's tangible change that I don't think would have happened if this wasn't such a conversation right now," she said.
"It's important to remember that there's an intersectionality to lack of opportunity -- filmmakers of color and filmmakers that belong to the LGBTQ community are also underrepresented, so it's exciting to see people in industry taking action to change this," she added in a later statement. In her experience, women in the documentary genre seem to face less discrimination, perhaps because projects are often organically generated by the filmmakers themselves and the financial investments, as well as expectations, simply aren't the same as they are in more commercial Hollywood productions.
Still, all of the women who appeared at the #ActuallySheCan event rejected the notion that audiences aren't interested in seeing films made by women. "People aren't seeing them because they're not being made," Harrold said, pointing out that even the overwhelming majority of so-called "chick flicks" are made by men. 
In addition to diversity behind the camera, more women in executive leadership roles will be crucial to true gender equality in the film business as well. A recent University of Southern California study found that just 39.1 percent of all the executive positions in the industry are held by women. This disparity influenced Munger to make a conscious effort to hire more female crew members for her project.
RELATED: ACLU calls for investigation into lack of female directors in Hollywood
"When you are in an executive role, it's kind of a trickle-down effect: You have the power to choose your team and decide what stories you're telling," she told MSNBC on Wednesday. "When you see a woman in a position of power, it sort of changes the way people view women generally in the industry." 
During the panel discussion, Arquette admitted that when she prepared to give her memorable Academy Award speech, she anticipated that it would effect how she was perceived in the business — but in a bad way. "I'm gonna lose jobs over this. I might not work anymore," she said she told her boyfriend at the time. And after she made her declaration, despite a rapturous reception in the room, Arquette has "lost some jobs from it." In her experience, earlier in her career "there was an overt bias" in the film industry towards women in positions of power or who spoke their minds.
"There was no way around it. And I think a lot of that has been driven underground and it's more subterranean," the actress said.
And she has watched as other actresses like Jennifer Lawrence have been attacked for similarly speaking up about their salaries compared to their male co-stars. Lawrence wrote an open letter highlighting pay disparities she discovered between herself an her "American Hustle" co-stars due to information leaked in the hacking of Sony Pictures last fall.
It's not lost on Arquette that this problem of inequality doesn't just exist in the film business, but in "98 percent of all industries," but she remains hopeful, citing Kathryn Bigelow's Best Director Oscar win in 2010 (the first, and so far only, victory in that category for a woman) as proof that "these things do happen when somebody has a chance."