The students of Sandy Hook Elementary School returned to the classroom Thursday, 21 days after the rampage that claimed the lives of 20 students and six teachers.
Julian Epstein, a frequent guest on the Martin Bashir show, has routinely hammered in how important it is that we stay on the issue, lest this stubborn topic lose a place in the minds of Americans.
"Since Newtown occurred Martin, there's been 396 homicides. Twenty-six children killed since Newtown. Where is all the media focusing?" Epstein chided Wednesday in the segment embedded below. The Washington Post's Dana Milbank, also in that discussion, echoed the same point while also acknowledging the brutally honest politics.
We know the numbers and they are staggering. We know that while so much attention was paid to the victims at Sandy Hook, a significant share of homicides in this country go unnoted beyond police precincts, funeral homes, and immediate family and friends.
To this end, a group of citizens are now posting at the Twitter account @GunDeaths.
To date, the account has tweeted 997 times since it launched July 23—mostly links to local news reports, many via Twitter users.
One user cited as an @GunDeaths source told msnbc she has had no contact with any representative of the handle – simply tweeting her examples to the handle before an unknown curator posts.
The handle describes itself as a user-generated clearinghouse: "This account will try to tweet every gun death in North America regardless of cause and without comment, to tell the story behind the statistics."
Below is the tweet from the December 14 Sandy Hook shooting.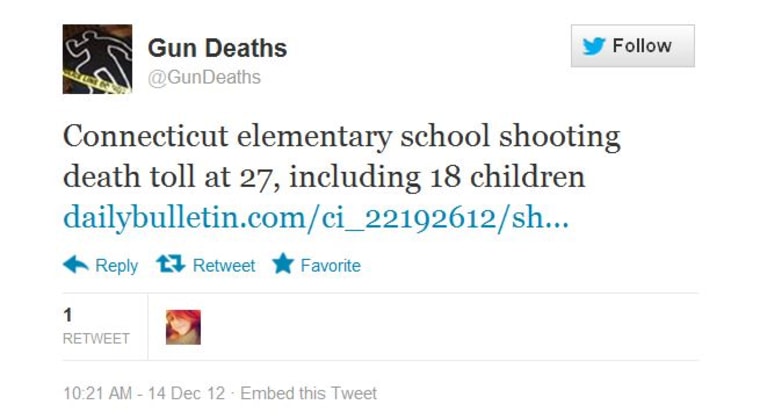 It is a sober social media reminder—with nearly 8,000 followers as of this writing. At this point, however, the site is vastly under-reporting the totals.
We intend to keep doing our part this afternoon, raising the issue as the 113th Congress officially gets to work and the first firearm-related bills are introduced.
And if there is one thing we know for sure, there will always be new examples of gun deaths to use as fresh reminders of a uniquely American problem.
UPDATE: The good people at Slate are working to help collect and distribute the @GunDeaths information. Read more here.
Visit NBCNews.com for breaking news, world news, and news about the economy