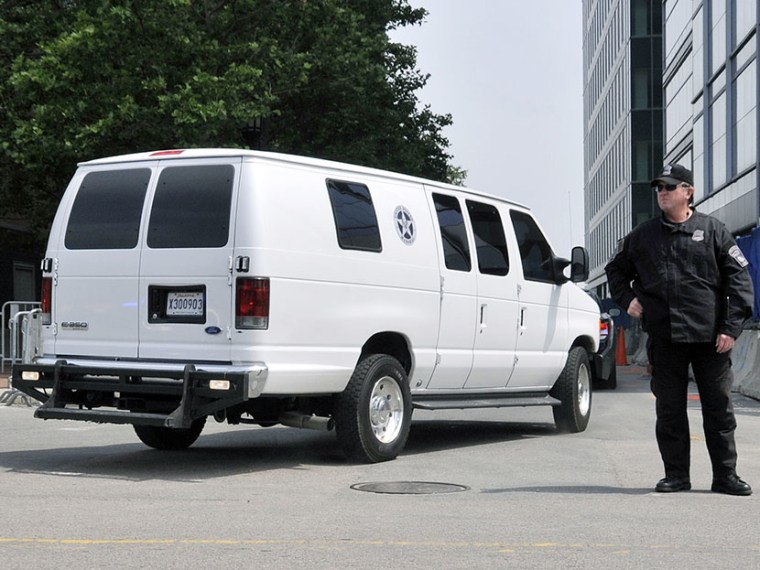 In front of a packed courtroom filled with 30 survivors of the Boston Marathon bombings and family members of victims, suspect Dzhokhar Tsarnaev pleaded not guilty to the attacks, which killed three people and wounded more than 260.
During the eight-minute arraignment, the 19-year-old said "not guilty" as all 30 charges--including using a weapon of mass destruction--were read. Tsarnaev appeared in the federal court in Boston wearing an orange jail jumpsuit and had a bandage covering his left hand, according to NBC News.
It was Tsarnaev's first public appearance since he was apprehended following a dramatic manhunt after the April 15 explosion.
Federal prosecutors are still deciding whether they will pursue the death penalty. Tsarnaev is also accused of killing MIT police officer Sean Collier when he and his brother, Tamerlan Tsarnaev (who died in a shootout), were on the run.
The ethnic Chechen brothers came to America in 2002 after fleeing the war-torn area. The two were born in the former Soviet territory now known as Kyrgyzstan. Dzhokhar became a naturalized citizen just a year ago while Tamerlan had a green card.
The younger brother, according to the government, was inspired by al-Qaeda and was angered by the U.S. military's killing of Muslim civilians.
Tsarnaev will return to court on Sept. 23. Prosecutors expect the trial will last up to four months and up to 100 witnesses will be called.