The fall campaign has officially begun, ringing in the first round of face-offs in a series of high profile 2014 contests.
Referendum on Obama
The Republicans are in lockstep, making the election a referendum on President Obama.  Former Massachusetts Sen. Scott Brown says his opponent, Sen. Jeanne Shaheen (D-NH) voted with the president 99% of the time.  Sen. Kay Hagan (D-NC) votes with Obama 95% according to her challenger State Rep. Thom Tillis.
"We must stop the Obama agenda...He's your buddy," Sen. Pat Roberts (R-KS) told his challenger, Greg Orman.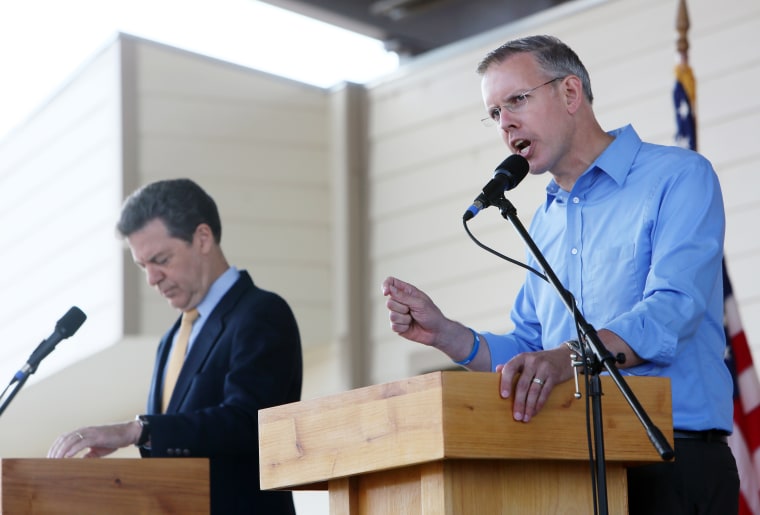 Republicans want to paint the face of Barack Obama on the back of every Democrat running for office this year, even Democrats not seeking to come to Washington, D.C.  Kansas Democrat Paul Davis, challenging Republican Gov. Sam Brownback, openly distanced himself from the Democratic brand, saying he would model himself after Republican Governors Chris Christie, Jan Brewer and John Kasich.
"They have put the people of their state before politics and that's exactly what I'm going to do," Davis said.
Brownback hammered Davis as a liberal who supported President Obama.  Davis said he could understand why Brownback was so obsessed with Washington since he had 16 years of experience there.
"There's only one of us who still has an open presidential campaign account," Davis said. "While you seem so interested in who I supported in the last presidential election, the last person you supported for president [Rick Perry] is under indictment."
ISIS
Democrats in red or purple states want to see the president take decisive action against ISIS, but won't go as far to say they would support sending in ground troops. Sen. Mark Udall in Colorado, Sen. Kay Hagan in North Carolina and Independent candidate Greg Orman in Kansas all say they would support military airstrikes. Their Republican opponents were non-committal as to whether they would support any plan from the president, but chastised him for having a strategy in the first place. 
Sen. Pat Roberts said the president needs to tell the American people he has a strategy and come to Congress to seek authorization.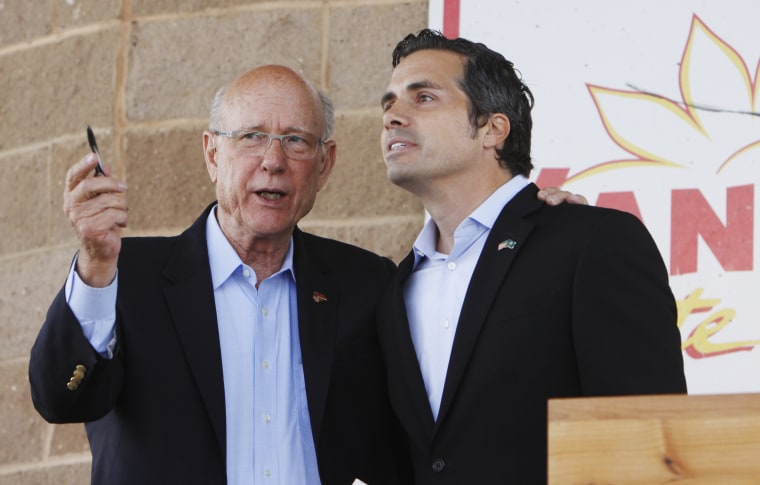 "I don't know if I'm going to support that or not depending on what his strategy is," Roberts said. 
But some red state Democrats are starting to echo Hillary Clinton's criticism of the Obama administration. 
"The president should have weaponized the moderate Syrian rebels earlier," Sen. Hagan said.  "Without doing that, that has allowed ISIS to grow."
 "The vacuum that we left has allowed them to form," said Greg Orman, referring to ISIS. 
Gender Wars
Republicans in purple and red states kept a united front on the issue of women's health, pushing back against the perception that the GOP is out of touch when it comes to women's issues.  Rep. Cory Gardner in Colorado and Tillis in North Carolina threw their support behind over-the-counter birth control.
 "I actually agree with the American Medical Association that we should make contraception more widely available. I think over-the-counter oral contraception should be available without prescription," Tillis said
 "I believe the pill ought to be available over the counter, round the clock without a prescription, cheaper and easier for you," Gardner says in a television ad.
 In Gardner's latest ad, he says he wants to make contraception for women available over the counter without a prescription.  The same idea was expressed by Ed Gillespie in his debate with Mark Warner in Virginia, as well as Mike McFadden during his run against Al Franken in Minnesota. 
Immigration 
They might be on two separate coasts, but Gov. Jerry Brown's (D-CA) challenger Neel Kashkari and Scott Brown both agreed on sending unaccompanied children back but with "compassion."
"My heart goes out to the kids coming here from distressed countries," Kashkari said.  "But the solution is not an open border.  We need to send them back to their home countries." 
"We need to have compassion for the children who come here, but we need to send them home," Brown said.  One of his GOP opponents, former Senator Bob Smith who is positioning himself to the right of Brown took a harsher approach calling undocumented immigrants "aliens."  
"Round them up and send them home," said Smith.