Philadelphia Mayor Michael Nutter is defending his city's decision to close 23 schools and lay off thousands of workers in the face of a $304 million deficit—all while Pennsylvania is investing in a $400 million state prison in suburban Philly.
Nutter told Chris Hayes Monday night that Pennsylvania's School Reform Commission, which voted in March to close 23 schools, took the "right steps in honest budgeting" after Pennsylvania Gov. Tom Corbett and the state's Republican-controlled House cut $961 million from its pre-K-12 education budget last year—a 12% cut in education across the state.
"These are some pretty tough economic times," Nutter said. The state-run commission and Superintendent William Hite Jr. "only budgeted the dollars they know that they're going to have," he added.
Nutter said that the city planned to seek additional funding from the state, but needed to find a way to save the money immediately. Effective July 1, 3,783 employees of the Philadelphia school system—which includes 676 teachers and 283 counselors—will be unemployed. Officials have said there will be more layoffs in the future.
The commission also recommended the closure of 23 schools, despite critics who've argued that "no district has reaped anything like a windfall" from selling emptied school buildings. Nutter said the schools that the commission, and Superintendent Hite chose to close contained too many vacant seats, and the goal of the public school system was to focus on providing a high-quality education across the city.
"You can't maintain that level of inventory—70,000 vacant seats across the entire school system—and continue to provide high-quality service," Nutter said.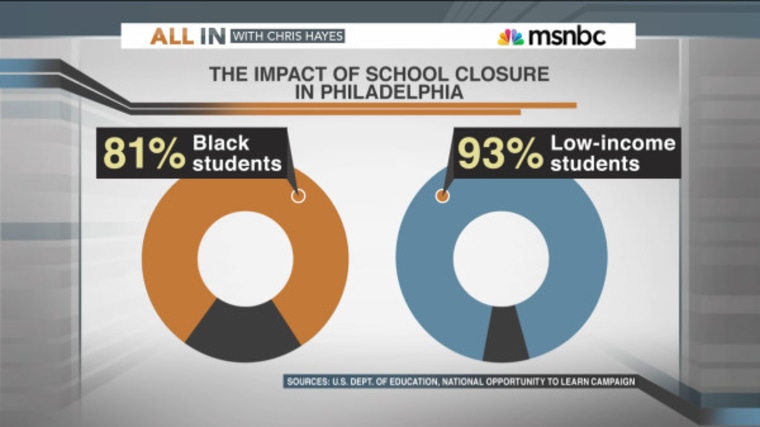 Nutter argued that Philadelphia's school system would not suffer from the closures because of the expansion of charter schools in the city, which he insisted were still public schools. He dismissed the argument that charter schools have often been criticized for their lack of accountability, and added, "My job is to make sure we have a system of great schools all across the city of Philadelphia...and that the election officials are providing the proper funding for a high-quality education regardless of what school a parent decides to send their child to."
But high-performing schools are not exempt from the SRC's decision: one school, M.H. Stanton Elementary School, has been collecting accolades for boosting the academic performance of low-income students, and is on the list of the schools that will be closed. M.H. Stanton was also the subject of the 1993 Academy Award-winning documentary, I Am a Promise: The Children of Stanton Elementary School.
"You have some buildings where there actually is a good-quality education going on," Nutter said of the high-performing schools on the SRC's list, "but the physical plant of that building is old and decrepit."
"The SRC made tough choices, but they made the right choice. We need to downsize the system."
As Philadelphia families face an uncertain future for their children's education, The Philadelphia Inquirer reported earlier this month that workers began construction on what will be the "second-most-expensive facility Pennsylvania has ever built." The new prison's multiple complexes will house 4,000 offenders, including 700 serving life sentences, and contain new cell blocks, more single rooms with air-conditioning, roofs that don't leak, and classrooms.