Progressive watchdog Media Matters is out with a new report on disinformation spewing from a right-wing media outlet targeting Hispanic Americans. 
In recent years, the rise of foreign-language media outlets peddling false and misleading information to Americans has concerned federal officials, including Democrats who have watched Republicans make inroads with Hispanic voters with the help of conservative disinformation networks.  
Media Matters' latest report sheds light on some of the abortion-related stories coming from one of those networks, "Americano Media." The network's CEO and founder has said he wants it to become "Fox News in Spanish," which tells you about the reach and political influence Americano is striving for. And with deep-pocketed investors, the network may have the means to do it unless more U.S. institutions commit to the fight against misinformation.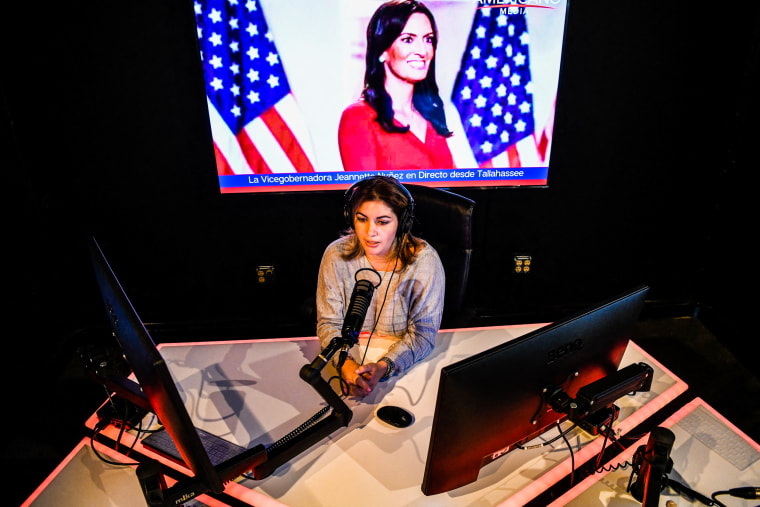 Many Americans probably have no idea that this fount of conspiratorial drivel even exists. According to Media Matters: 
A common narrative that hosts on Americano push is the idea that Democrats and elites support a Satanic agenda. Narratives invoking Satanism as a talking point are especially common on Americano's radio shows when hosts discuss abortion, liken the procedure to a Satanic ritual, and argue that anyone who supports reproductive rights is aligned with Satanism. This narrative is also common among English-language right-wing media outlets and figures.
The report cites Americano hosts who have likened abortion to a satanic ritual, claimed Democrats support "murdering children in the womb" and falsely categorized abortion as a form of eugenics.
As Media Matters reported previously, this rhetoric aligns with other right-wing conspiracy theories frequently espoused by Americano Media hosts, including the racist "replacement theory" alleging that Democrats have a sinister motive for supporting the arrival of undocumented immigrants in the United States. 
I consider Americano Media as part of the conservative movement's multipronged effort to resolve their electoral problems with nonwhite voters. Where voter suppression efforts don't do the trick, the thinking seems to go, maybe voter misinformation will work instead — whether that means using ostensibly Black-owned, English-language media channels to push conspiratorial claims, or using foreign-language platforms like Americano Media to do the same.