Dressing for the office, especially for the upcoming warmer months, can be stressful and time consuming. Millennials, especially young women starting out, can have a tougher time deciphering so many different dress codes - they want to dress properly for the office without losing their sense of style.
Often, the rules on how to dress for work can get a bit blurry. Office environments are all over the place – from creative to business casual to professional. And even then, depending on the particular company's culture, those guidelines vary.
New York-based stylist and owner of BU Style, Natalie Tincher, says she's seen the struggle first hand. "I think some of the challenges stem from work dress codes being less defined. Millennials are given more freedom, which can be great for self-expression, but more freedom also comes with a lack of direction. And if you've had limited exposure to office environments or proper instruction, it can be easy to miss the mark."
A good rule of thumb when entering a new office environment is to "play the dress code safe until you can observe what others wear," Tincher says. "Dressing too casual in any dress code can send a message that you don't care or that you think you are above the rules. Always dress your best within any of the defined dress codes. Take care to stay groomed and make sure your clothing isn't wrinkled or unkempt," Tincher adds.
Dressing for business casual
Tincher advises clients to take into account the particular industry when dressing business casual. For example, business casual tends to skew more on the 'business' side of work wear in traditionally corporate industries like finance and law. "Chinos would be acceptable but never denim," Tincher says.
In more creative industries like advertising or public relations, "business casual can lean more toward the casual end of the spectrum. Nice jeans would be appropriate business casual in less corporate industries." Tincher calls this, smart casual wear. "It's a step up from casual and a step down from business casual," she says.
In order to bring these looks to life, I enlisted the help of stylist Valerie Halfon, the founder and CEO of Shop With Val to curate a few looks on millennial women. Here are some seasonally-appropriate outfits for this spring and summer for each industry type and her comments on each. With plenty of business casual options to save you time in the mornings!
Business casual wear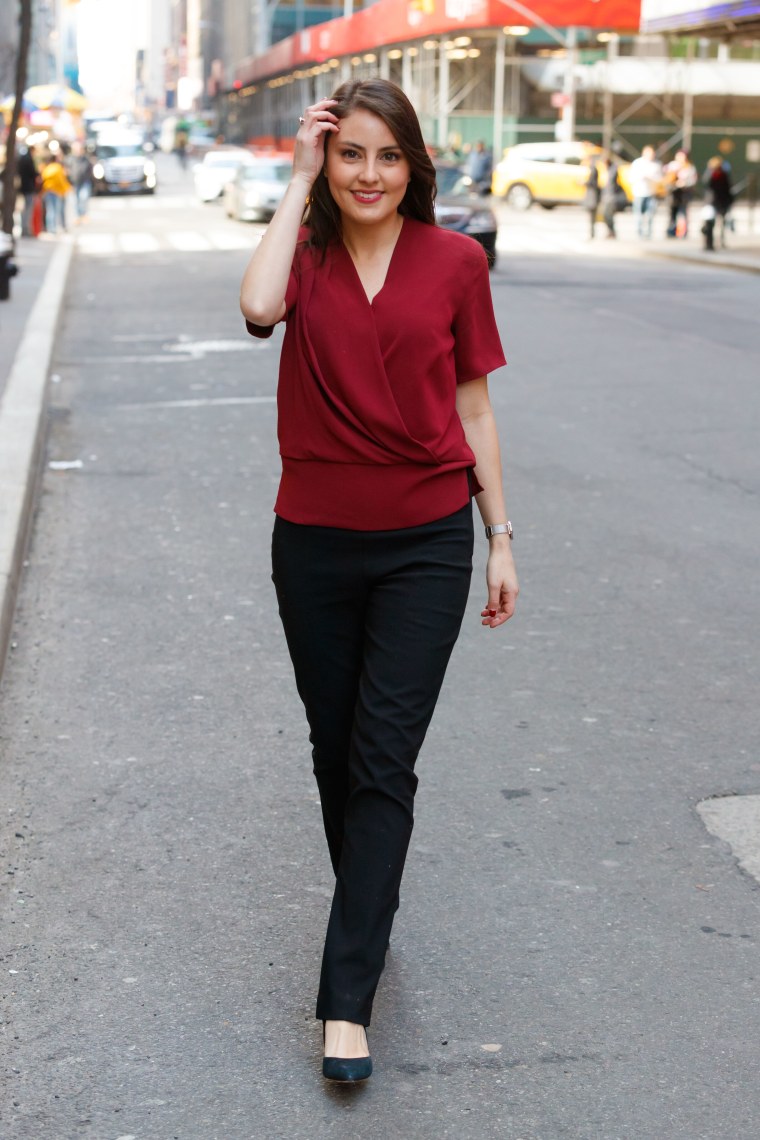 "The faux wrap style on this blouse is not only fun and flattering but also a great option that will take you from work to weekend. This color can work throughout the seasons. The flat tapered bottom highlights the waist and provides structure so it doesn't need to get tucked in. Pair it with dress pants, jeans on the weekend or tucked into a pencil skirt for countless options. The black pant is slim throughout the leg without being too form-fitted, making it a perfect go-to for work."
The Dani Top blouse in Pomegranate, $165, MM.LaFleur https://mmlafleur.com/shop/dani-pomegranate
The Foster Pant in black, $195, MM.LaFleur https://mmlafleur.com/shop/foster-black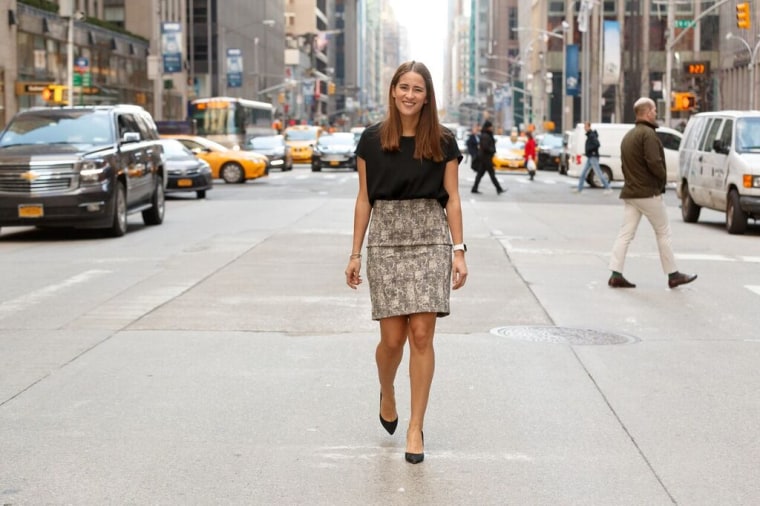 "A solid black blouse is a must for every woman's wardrobe. The higher neckline and cap sleeve make this a great work to weekend piece. The cap sleeve provides just enough coverage for those that don't love to bare their arms in a sleeveless top. Tucking the blouse into the skirt highlights the waist, elongating the leg line and creating a nice balance between loose and flowy on top with structured and form-fitting on the bottom. The skirt is printed so I'd recommend a shoe that is pretty simple in style. Opt for a colored pump to kick the look up a notch!"
MM.LaFluer The Didion Top in black, $110, (https://mmlafleur.com/shop/didion-black)
MM.LaFluer the Noho Skirt in Crackle print, $165 https://mmlafleur.com/shop/noho-skirt-crackle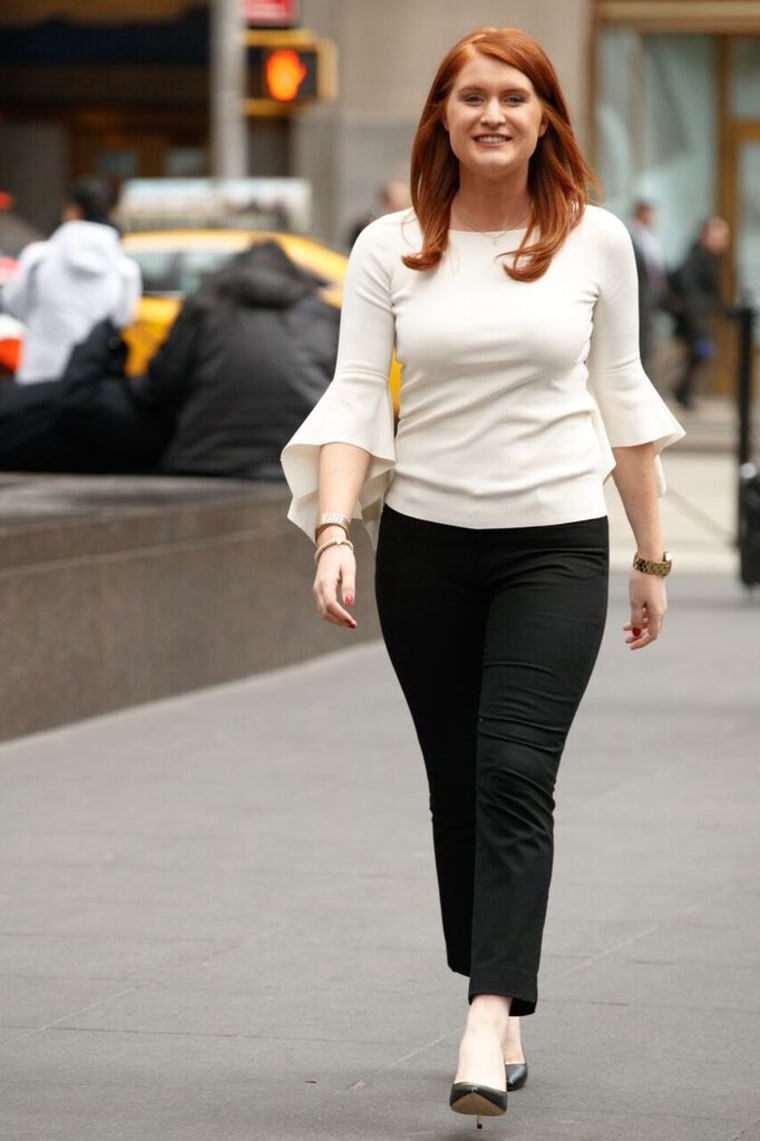 "This blouse is solid but has detailing on the sleeves which adds enough flair to dress it up for work and to keep it modern. This top is also a great weekend option when paired with jeans. A slim leg and tapered ankle on the pants make for a flattering fit, especially on a petite frame. This fit is modern and versatile and can be paired with any type of shoe from a flat to a heel to a boot. "
http://bananarepublic.gap.com/browse/product.do?cid=77996&pcid=5032&vid=1&pid=268031002 MACHINE WASHABLE FLARED SLEEVE $78.00
http://bananarepublic.gap.com/browse/product.do?cid=1009305&pcid=67595&vid=1&pid=267918002 SLOANE SKINNY-FIT UTILITY PANT $62.00
http://bananarepublic.gap.com/browse/product.do?cid=1093595&pcid=1032746&vid=1&pid=266937012 MADISON 12 HOUR PUMPS $118.00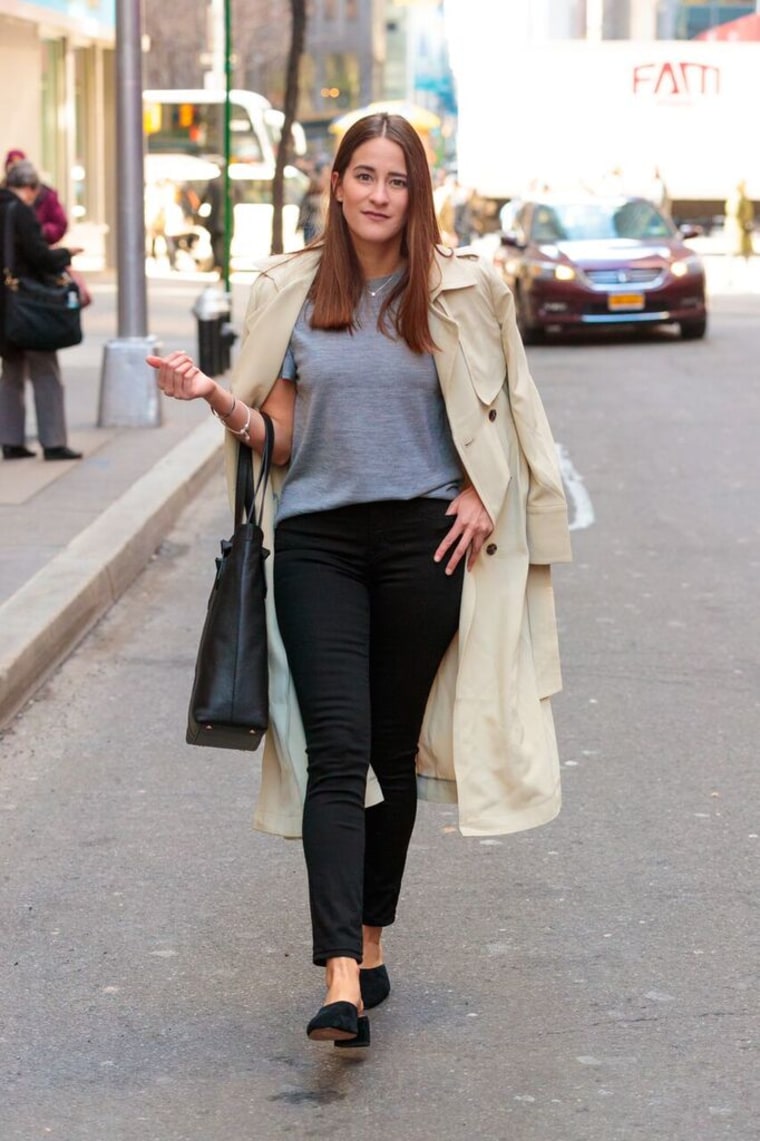 "A heather gray shell is a great essential for every woman's closet. It can be worn on its own or layered underneath a blazer. It looks terrific with all the basic dark colored bottoms you probably already own and it can also be paired with vibrant colors or pastels for spring and summer.
The trench coat is another wardrobe staple. The cream color allows it to pair beautifully with other wardrobe colors and to give a neutral look a fresh take for spring. Drape it over your shoulders for cool girl status. The structured bag polishes and dresses up the look a bit. An added bonus is that it's large enough for all your day-to-day essentials."
-- Soft pleated trench coat with longer length that hits below the knee, $248, Banana Republic, http://bananarepublic.gap.com/browse/product.do?cid=1091938&pcid=99915&vid=1&pid=261892002
-- Portfolio Knotted Phone-Charging Italian Leather Tote, $178, Banana Republic, http://bananarepublic.gap.com/browse/product.do?cid=1087247&pcid=1025289&vid=1&pid=229120002
-- Heather Gray Tee, $22.99, J. Crew, https://www.jcrew.com/p/womens_category/tshirtsandtanktops/perfectfit/your-perfectfit-tshirt/G1438?color_name=hthr-grey
--Mid Block-Heel Mule in black, $138, http://bananarepublic.gap.com/browse/product.do?cid=1081944&pcid=1081944&vid=1&pid=266923012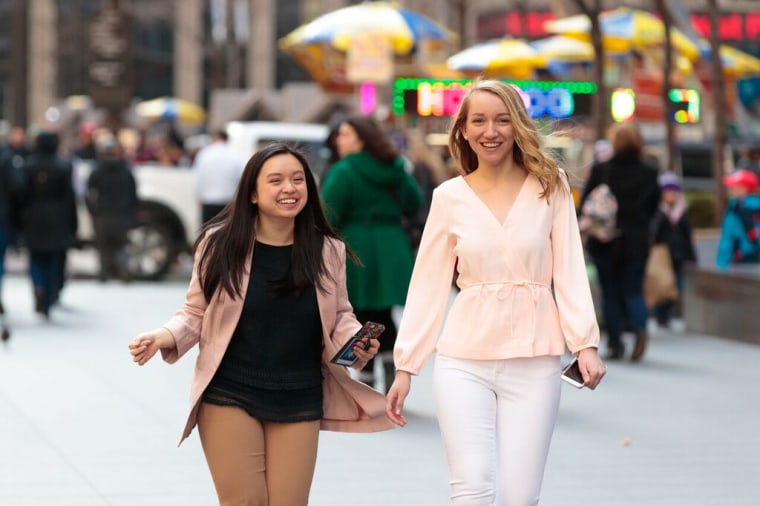 Look on the left: "I love this look for spring! This navy boucle shirt is thick and structured so it looks great untucked. It's very flattering across the middle, for those whose tummy is a problem area. Pair it with a blush blazer to soften up the look and finish with a khaki/camel colored pant for contrast. Try a light neutral colored pant for warmer weather and versatility. This shade pairs well with everything!"
-- The soft-knitted Navy Blue Boucle Tee, $68, Banana Republic
http://bananarepublic.gap.com/browse/product.do?pcid=5001&vid=1&pid=268256002&searchText=navy+blue+boucle+tee
-- Lauren Conrad blazer $49.99, Kohl's
https://www.kohls.com/product/prd-3199739/womens-lc-lauren-conrad-shawl-collar-blazer.jsp?pfm=rrrecs-pdp-gtab1
-- Cameron Slim Crop Pant in four-season stretch, in neutral Saddle color, $79.50, J. Crew -- https://www.jcrew.com/p/womens_category/pants2/slimcrop/cameron-slim-crop-pant-in-fourseason-stretch/G8547?color_name=black
Creative wear
Look on the right: "The wrap style blouse is particularly flattering on those with a larger chest and smaller waist. While highlighting your curves, the looser fit makes it appropriate for the workplace as well as perfect for the weekend.
White jeans can sometimes seem intimidating but are actually oh- so- versatile. Look for a style with a high waist that is structured for extra support and finish with a nude shoe for a crisp, clean look that's soft and feminine."
Drapey crepe faux-wrap top in subtle pink, $68, J. Crew, https://www.jcrew.com/p/womens_category/shirtsandtops/sleeved/drapey-crepe-fauxwrap-top/H2847?color_name=subtle-pink
-- High-rise white toothpick jeans, $98, J. Crew
https://www.jcrew.com/p/womens_category/denim/highrise/9-highrise-toothpick-jean-in-white/B3584?color_name=white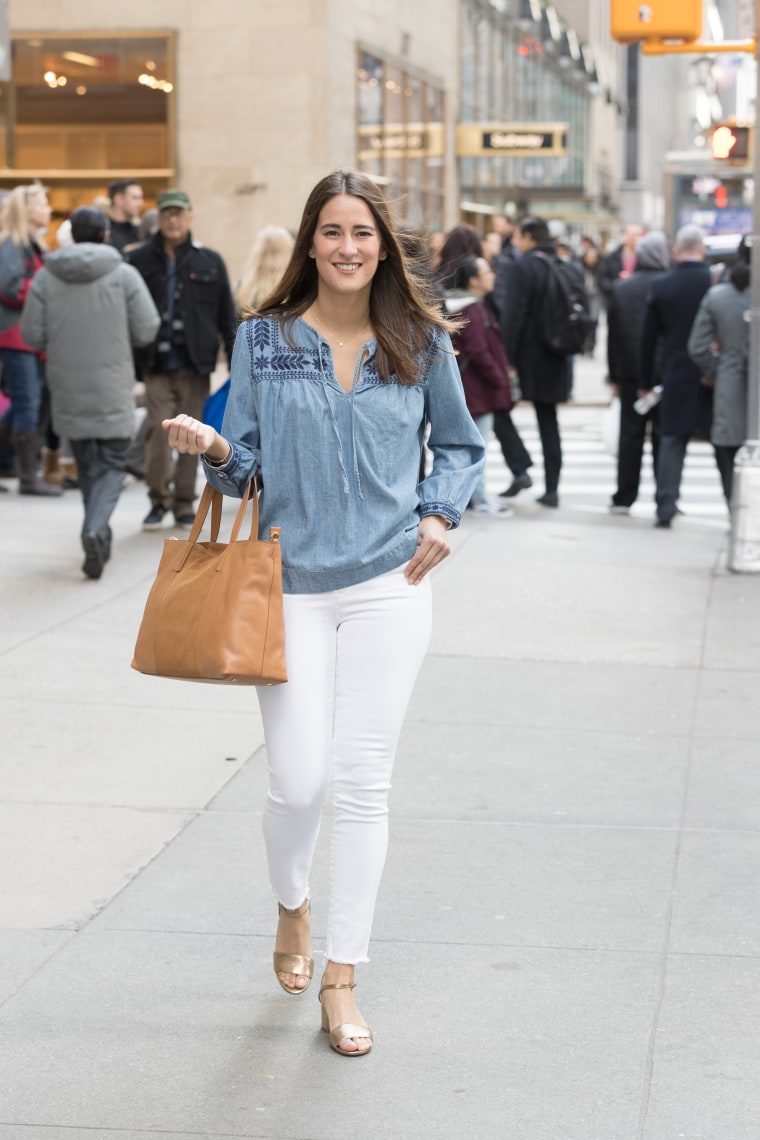 "A chambray shirt is a fun and easy wardrobe staple. The embroidery on this shirt adds a touch of femininity and dresses it up compared to a traditional button down. Treat this shirt like a pair of blue jeans - it works with nearly everything!
Pairing it with white jeans and a metallic sandal with a block heel gives it a fresh kick for spring. Metallics, which are a neutral, pair easily with all colors and dress up the look without creating an overly fancy feel. The light brown tote is extra roomy and the perfect shade to complement this clean and polished look."
Outfit 6: Rose
-- Embroidered Chambray top, on sale for $39.99 regularly $78, J. Crew https://www.jcrew.com/p/womens_category/shirtsandtops/sleeved/embroidered-chambray-top/H6744?color_name=acorn-wash
-- Strappy Block Heel Sandals in Metallic Gold, $128, J. Crew https://www.jcrew.com/p/womens_category/shoes/sandals/strappy-blockheel-sandals-60mm-in-metallic-gold-leather/H7329
-- Portfolio Slouchy Convertible Tote with Suede Panel, $158, Banana Republic http://bananarepublic.gap.com/browse/product.do?cid=1032766&pcid=1032764&vid=1&pid=229134002
Business wear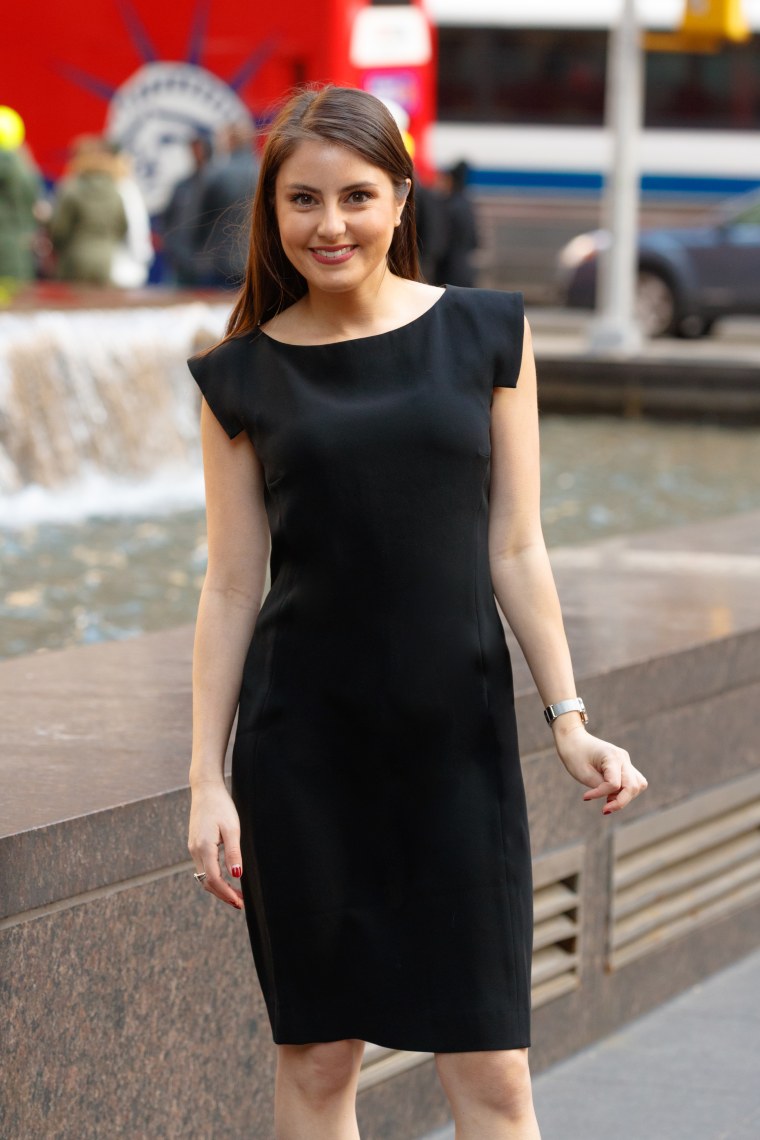 "A solid black dress is a must-have for every woman's closet. The sleeve on this style makes it stand out while still remaining appropriate and professional. Stick to styles that are simple and classic so you can easily pair them with different colored jackets, shoes, and accessories to maximize wear. Opt for a metallic pump to add a pop of color and to take the look into evening."
MM.LaFleur The Sarah Dress $195 https://mmlafleur.com/shop/sarah-dress-black