The LGBTQ community is making record strides in the workplace and in leadership roles, however, there is still a long way to go before we achieve true equality.
With no federal laws to protect LGBTQ people in the workplace, and with some states actively working against them, it's up to businesses and advocates to promote diversity and inclusion.
Here are some of the signs of progress for LGBTQ people in the past year.
1. A record number of businesses have an anti-discriminatory policy toward LGBTQ workers.
It's against federal law to discriminate against employees based on gender or race. However, no such law exists for LGBTQ employees. It's up to businesses to take initiative and include the clause in their policy.
Luckily, the numbers are very promising, according to the 2019 Corporate Equality Index, a wide-reaching study of LGBTQ employees from Human Rights Campaign. In fact, 93 percent of Fortune 500 companies include sexual orientation in their anti-discrimination policy, while 85 percent have protections for gender identity, such as transgender or non-binary.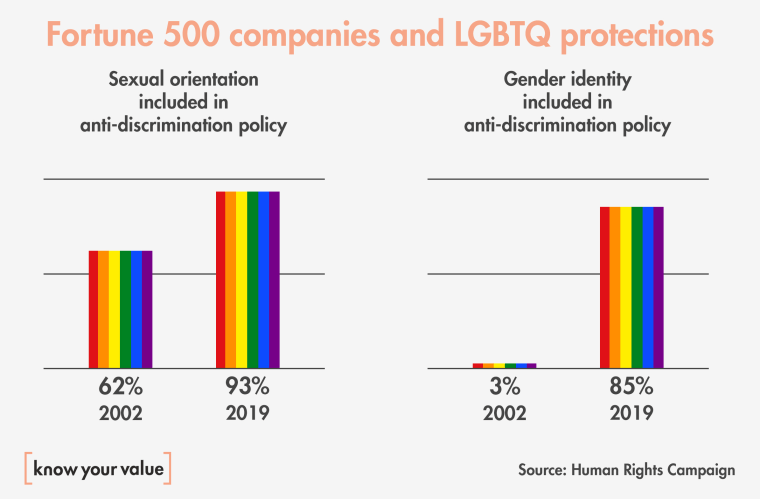 In 2002, only 62 percent of Fortune 500 companies included protections for sexual orientation, and just 3 percent included protections for gender identity.
"We're asking companies to step ahead of the law to create those protections," said Beck Bailey, acting director of the Human Rights Campaign's Workplace Equality Program. "We do that by showing them, certainly that it's the right thing to do through the value of equality and inclusion, but perhaps more importantly to them, it's the best business decision ... It's critical in what they call the 'war for talent' that you are welcoming everyone in your organization."
2. Companies are working to build a better environment for LGBTQ employees.
Bailey said that most businesses in the Corporate Equality Index — which surveys 1,028 of the largest businesses in the U.S. — are actively trying to draw and maintain LGBTQ employees. Some companies have implemented formalized career development and sponsorship programs, such as IBM, which launched a system that searches for LGBTQ-identified employees who have great performance reviews and potentially taps them for a special career development program.
LGBTQ employment resource groups are available in most top companies now, according to Bailey, providing social opportunities, support and networking within the company.
"Traditionally, these are the things that happened on the golf course," Bailey said. "...The purpose is to develop and to retain those people and move them through a leadership pipeline where they get the same opportunities and are mentored, and so they get that job assignment that gets them promoted."
While companies are trying to progress, unconscious bias still hampers LGBTQ employees, according to Bailey. For example, he said, employees might tip-toe around a non-binary colleague because they don't know what to say, but the non-binary employee might interpret the behavior as alienation. Or, an employee might see a gay man's wedding ring and say "oh, how's your wife?" thereby putting the man in an awkward position.
"Culture or human behavior or unconscious bias is harder to change than a policy on a piece of paper," said Bailey. "... Companies do need to work on their overall culture, education, engagement around bias and unconscious bias and how it comes up at work and observing how they may inadvertently be sending messages to people that they should stay in the closet."
Currently, only 46 percent of employees feel comfortable coming out at work, according to the Corporate Equality Index.
The low number is partly why we don't know how many employees identify as LGBTQ or where they fall on the managerial scale.
3. There are more LGBTQ elected officials than ever.
The election of President Donald J. Trump motivated the LGBTQ community to get involved in politics on a local and national level to a record degree, according to the LGBTQ Victory Fund, a national organization that endorses and trains LGBTQ candidates.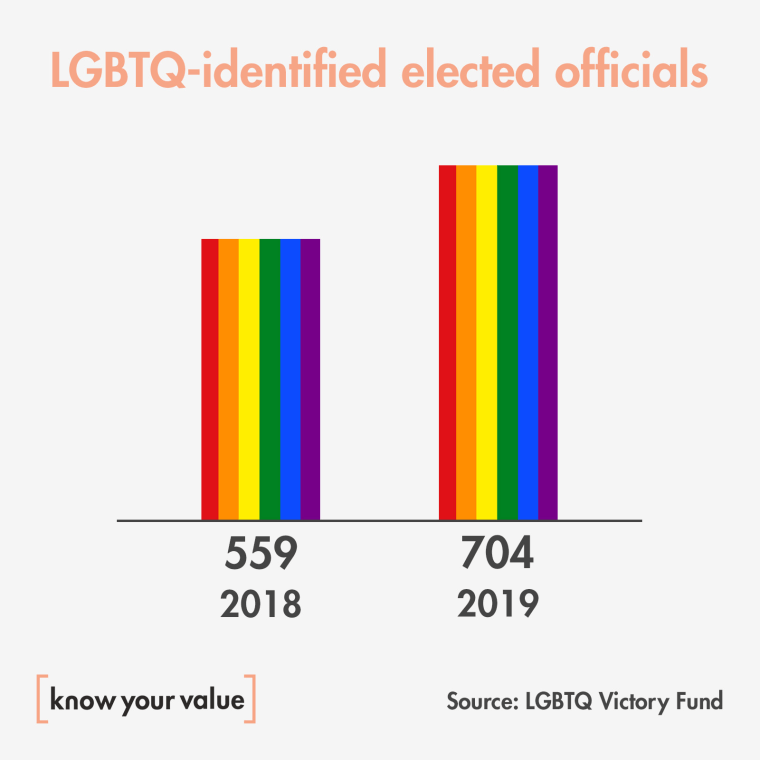 Currently, there are about 704 LGBTQ-identified elected officials nationwide, up from 559 in 2018.
"Everyone was fired up and wanted to step up and do their part for the community," said Annise Parker, former mayor of Houston and president of the Victory Fund. Parker was the first out lesbian to become mayor of a top 100 city when she was elected in 2010. "We were part of the big blue wave. There were more women, more candidates of color, more LGBT candidates — we were part of it."
4. More businesses than ever offer transgender health benefits.
One area of "great growth and change," according to Bailey, is the amount of companies offering transition-related benefits for transgender employees, which can include mental health, hormone treatment, surgery, and more.
"If you look at when we started in 2002, there were no companies that had that kind of care," Bailey said. "In 2009, there were four dozen companies. Today, there are hundreds that have trans benefits, including 62 percent of the Fortune 500 companies."
5. Legal victories are mounting, slowly.
The Equality Act — which ensures protections to LGBTQ people in employment, housing education and more — passed the House in May and is currently in the Senate. The Equality Act is the first such comprehensive federal pro-LGBTQ act to make it this far. Over 200 major companies openly supported the bill, including Coca Cola Inc., Apple, Microsoft and more.
"Not only are they supporting the cause internally, they're openly advocating for it," Bailey said.
More victories can be found on the state level. States like Oregon and New Jersey passed laws that allow people to use their self-identified genders on their birth and death certificates, for example. Some states banned gay conversion therapy for minors, like New York, New Mexico, and Nevada.
However, many states are actively working against progress. LGBTQ topics are restricted in schools in Arizona, while 21 states including Connecticut, Florida and Idaho enforce a version of the Religious Freedoms Restorations Act, which has historically discriminated against the LGBTQ community.
"The administration has been openly undermining LGBTQ equality as well as many state legislatures that have put forth vehemently anti-equality legislation," Bailey said. "Our community is fed up and stepping forward."