In Thursday night's episode of "The ReidOut," Joy led a segment with former Republican National Committee Chair Michael Steele focused on the GOP's shameless use of identity politics during the speaker votes this week.
Republicans — members of a party openly averse to virtually any intelligent discussion about race — have been shamelessly pushing Black lawmakers to the forefront of the House speaker race. Newly elected Rep. John James, a Black lawmaker from Michigan, was the first to nominate Kevin McCarthy on Thursday, day four of the speaker election. (McCarthy went on to lose that round of voting, too.)
Earlier this week, some far-right Republicans nudged Florida Rep. Byron Donalds into a long shot nomination bid, in what seemed like a shallow response to Democrats' nomination of Hakeem Jeffries, the first Black lawmaker to lead a major party in American history.
This fits a pattern, Joy noted, highlighting the GOP's cynical attempts to win over Black people by nominating Black candidates with right-wing views. (Remember Herschel Walker?)
In making her point, Joy took some time to note how forlorn the GOP's outreach to Black voters actually is, with the help of the best visual aid imaginable. 
Introducing the "urban engagement activism kit," presented by Turning Point USA, a group focused on wooing high school and college students into the conservative movement.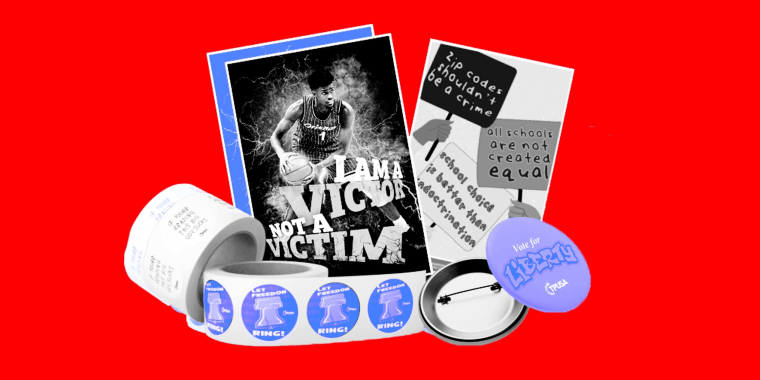 TPUSA purports to be the GOP's secret weapon for reaching young voters, and they apparently give out these kits full of goodies (if you want to call them that) to boost conservative outreach.
The site also lists the kit as the "HBCU-Urban Kit," which ... wow, good luck to anyone trying to pawn these off to students at Howard University or any other HBCU.
So what's in the so-called urban engagement activism kit?
One (1) poster of sidelined, right-wing NBA player Jonathan Isaac, who's best known for Covid denialism and refusing to take a knee in 2020 with fellow NBA players protesting the murder of George Floyd. (Note: Isaac hasn't played a minute in nearly two years due to injury). 
One (1) roll of "The Fresh Prince of Bel-Air"-inspired stickers that say "vote for liberty" on them
One (1) roll of stickers inspired by a Drake album from nearly a decade ago
One (1) roll of stickers with a quote popularized by Martin Luther King, Jr. 
One (1) poster that reads, "No one raps about staying broke." 
So, by TPUSA's estimation, the best tools for "urban" (read: Black) engagement are basketball, rap music and… "The Fresh Prince of Bel-Air."
And, to think: these people wonder why they can't win over Black voters. 
I can imagine the spiel for TPUSA's urban engagement kit now: 
"Hello urbanite/college-going Black person, I'm a rep from Turning Point and I would like to take you away from the Democrat plantation. You like basketball, rap and the Fresh Prince, also known as Will Smith, correct? Of course you do! Well, iiiiiiin West Philadelphia Dems stole the 2020 election from Trump, amirite? Anyway — I have some swag for you in my car. Stay right there!"
TPUSA has milked millions of dollars out of right-wing donors (or rubes, as I call them) in recent years, and some of that money has apparently been used to purchase several other cringeworthy activist "engagement" kits that similarly play on weird tropes and stereotypes. For example, they have kits meant for Latino voters, women and Texans.
Yet again, I'm happy to shout out the Arizona Right Wing Watch Twitter account, which has compiled pics of the kits in this handy Twitter thread. 
(I cannot say this enough: This account is an essential follow if you're looking to follow the conservative movement in Arizona, which I believe to be the epicenter for far-right extremism.)
I invite you to look and laugh at the other kits TPUSA is offering. Admittedly, the "urban" kit is so hilariously dumb, I'm crying tears of laughter as I type this. Isaac literally isn't even a bench player at this point (that would require him actually playing), so anyone who thinks he's widely recognizable among Black people is sorely mistaken. The Drake sticker is modeled after a mixtape he dropped in 2015. A mixtape that happens to be titled, "If You're Reading This, It's Too Late." If only TPUSA had taken that as a hint. Drake has dropped several albums since then. The least TPUSA could've done is pick something current. And it's clear they think rap music is their bridge to Black folks, but the phrase "no one raps about staying broke" is absolutely untrue and doesn't actually constitute a political statement.  
(Side note: The characters on that poster appear to be modeled after actual rappers. Watch out for those potential cease and desist letters!) 
Still, all things considered, I'm a progressive who has every reason to want TPUSA — and the GOP more broadly — to fail. So I'm thinking they should purchase a few truckloads of these nifty kits.