I don't think much guesswork is needed to conclude why many conservatives nationwide want cartoonist and author Jerry Craft's work banned from school bookshelves. 
Craft's creations, from his comic strip book "Mama's Boyz" to his award-winning graphic novel "New Kid," literally provide color to common stories of Black youths struggling to fit in. For conservatives who claim there is something nefarious about acknowledging cultural variety, Craft's books are evidence to the contrary. 
They are fun coming-of-age stories of Black students who are conscious of their differences — not only between themselves and white students but among Black students as well — and the personal, sometimes comical ways all people navigate these differences.  
I've been having a ball making my way through some of Craft's earlier work, but I wanted to highlight a more recent book for today's edition of "Black History, Uncensored," our ongoing project focused on Black authors targeted by right-wing bans. While some conservatives have targeted "New Kid" for removal from bookshelves — a testament to its value, in my opinion — the companion book Craft released after that, "Class Act," is just as good and just as worthy of praise.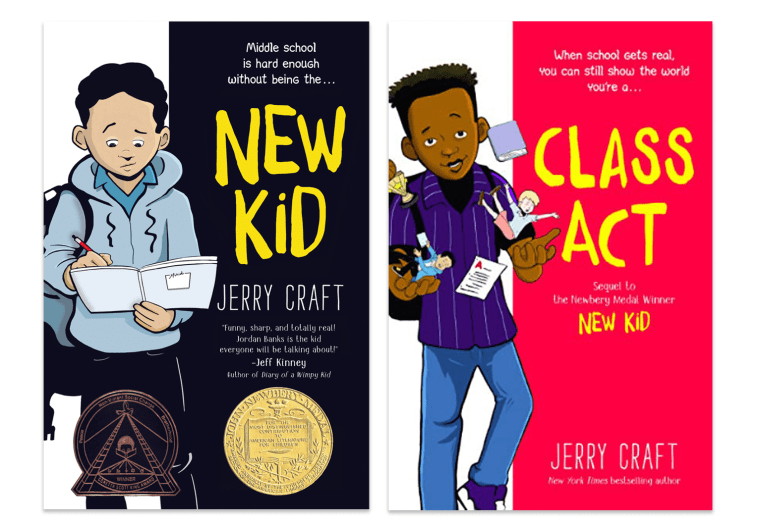 "Class Act" tells the story of a Black middle schooler, Drew, who's a friend to the protagonist in "New Kid," a fellow middle schooler named Jordan. Both of them embody the social consciousness Republicans often claim to be a threat to students — in particular, white students. 
Jordan, for example, frets over attending a new school in New York City's Riverdale neighborhood, "a section of the city that's so fancy," he says, "its residents refuse to admit that it's actually a part of the Bronx. But it is!"
He explains, using illustrations, that the Bronx is often associated with blight and homelessness, while Riverdale (which, in reality, is known to be a whiter section of the Bronx than its surrounding areas) is seen as more appealing. 
Jordan shares similar illustrations with us to highlight the disparate ways he and Drew, whose skin is darker and hair is kinkier than his, are treated in public.
"The way that SOME people see us, and treat us, is really different. Even though we're both African American," Jordan says.  
It's the kind of touching moment that Craft weaves seamlessly into moments of hilarity.
He explains that Drew is baselessly assumed to be dangerous, followed around in stores by security guards, and often deemed unintelligent before people have actually gotten to know him. 
"Of all the people in the world, the one who's most like me is my friend Drew. It's the world that makes us different," Jordan says.
It's the kind of touching moment that Craft weaves seamlessly into moments of hilarity. Honestly, there are other parts of the book that had me straight up chuckling, both because the scenes are funny and because I could easily imagine some cloistered conservative pulling their hair out in response. For example, when a teacher sees Drew and another boy seemingly preparing to fight, he reminds them — somewhat clumsily — of the school's no-tolerance policy. 
When the teacher breaks them up and euphemistically says the boys need to "kiss and make up," he tries to correct himself:
Not that I really want you to kiss … that would be bad. I mean, not "bad," per se, if that's what you — just not on school grounds. But after school, knock yourselves out! ... (sigh) ... Which is not to say that I want you to literally "knock yourselves out," after school … because that would go against the school's new zero tolerance policy on fighting.
The scene is the perfect embodiment of Jerry Craft's work: conscious and quirky and playful and inclusive and … just about everything Republicans seems dead set on stripping from the modern-day classroom.
Read previous "Black History, Uncensored" posts about Isabel Wilkerson, Ibram X. Kendi, Ralph Ellison, Zora Neale Hurston, Maya Angelou and more.