As the kids say these days: "Let that man cook!"
I recently had the opportunity to speak with Charlie Mitchell, the first Black chef in New York City, and only the second Black chef in the United States, to earn the prestigious Michelin star rating.
And he's only 32 years old.
Mitchell is the executive chef and co-owner of Clover Hill, a contemporary American restaurant in Brooklyn. And I relished the chance to chat with him on everything from food costs, his meticulous designs for each spoonful, his gripes with the fine dining industry, and why more Black chefs haven't received Michelin stars.
This interview has been lightly edited for clarity.
Ja'han Jones: Where does your affinity for food come from?
Charlie Mitchell: I grew up in a typical Black family. You know, we fellowship over food a lot. Every day after school was always dinner with your family. My grandmother was the matriarch of the whole family, and watching her showed me what food means to people.
Anytime we were hungry, a family member was hungry, friends were hungry, anyone in the neighborhood, really, could rely on her for a great meal all the time. And that just made food special for me out the gate.
JJ: I feel you. Food really is very experiential with us. Were there any particular dishes she prepared that you associate with fond memories?
CM: It wasn't necessarily specific dishes. She definitely had her repertoire. She's from Georgia. So her repertoire was very soulful. But for me, it was more about how she treated the holidays and every occasion and how she just would do so much for us. Those were our fond memories. This woman was cooking for 20, 25, 30, 40 people, all by herself. I was impressed by that as a kid. I'm still impressed.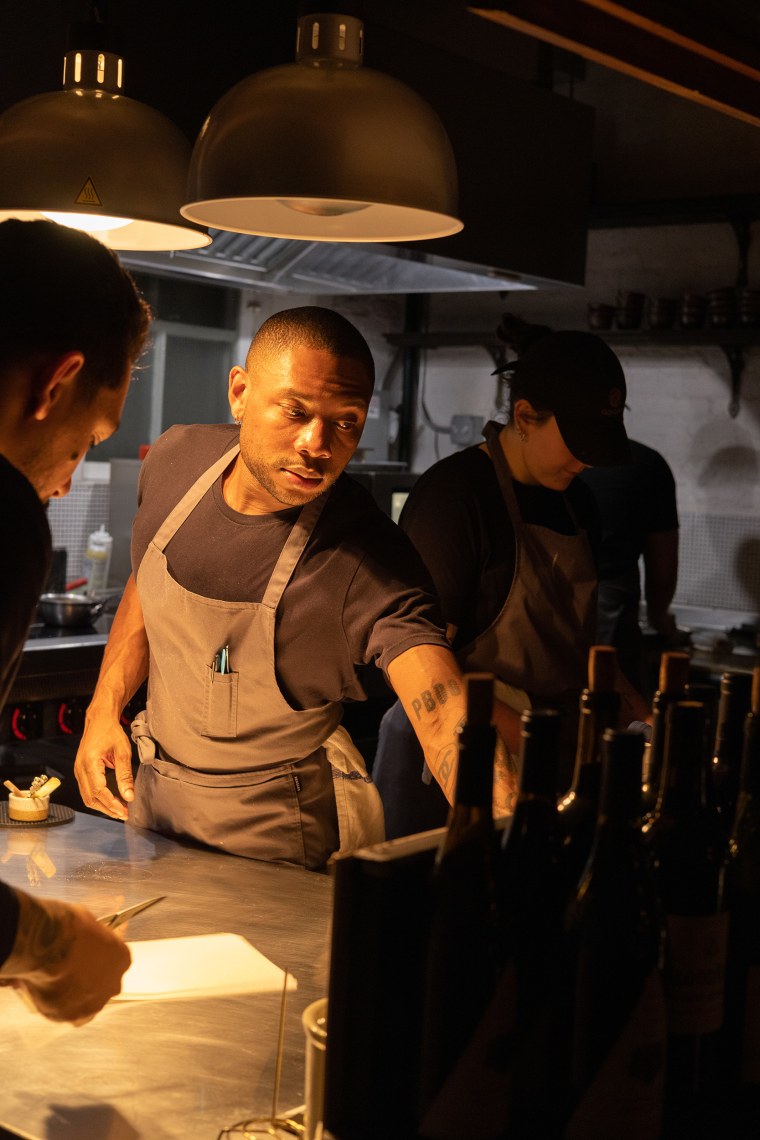 JJ: Ah, so it's kind of like the beginning of your restaurateur ambitions. At that age, were you familiar Michelin stars and how prestigious they are?
CM: Absolutely not (laughs). I had no idea what Michelin stars were until my first real job, thanks to one of my best friends to this day. It was my first day coming in for a "trail" — which is like an interview you work in. My friend asked me what my goal was and I'm just like, "I don't know, man. I just love to cook." But he said, "I want three Michelin stars."
I thought fine dining was, like, "Iron Chef," you know? But then I learned people travel all over the world to try chefs, restaurants, other food, the hospitality, the service, the wine, the culture behind it. And then from there, I just kind of got sucked into it, and the Michelin star became a goal — not just for the accolades, but more. 
JJ: Can you elaborate? 
CM: It's kind of like I was saying about my grandmother. It means something for someone to spend special occasions in your environment. For people to spend birthdays, anniversaries, job promotions with you. People are willing to travel, get on a plane and say, "Hey, I want to eat that food."
To me, that's taking things to the next level. And I've always wanted to make sure that I could cook at a level that could be a memory for someone. For people to come by and say, "That's the best meal I've had all year." I think that's special.
JJ: Speaking of special, I want to read from your Michelin star review because it has so many glowing things about the experience you create for people.
It says, "Charlie Mitchell cooks with irresistible suaveness and competence, making the most out of top rate ingredients, delicious sauces, and thoughtful combinations." In your view, what is that irresistible suaveness they're describing?
CM: I think what we try to do as a whole is create an environment that feels warm, it feels like home, it feels inviting. We create fine dining that feels like a home-cooked meal. We're always thinking, Does this dish feel like food? 
Sometimes you go to a fine dining restaurant and they get so into the "magic" behind it. So into the creativity. And at a certain point it doesn't even feel like cooking. So even when I'm using luxury ingredients — caviar, truffles, fish from all around the world — the point is to provide what feels like home cooking. 
At the end of the day, the thing people remember most is going to be delicious bites of food. 
JJ: That's a lot of pressure. 
CM: Right. And there's a learning curve. As a chef, I've always thought you have control over the way a person feels for two and a half hours. From the first bite to the last bite. Yeah. And that can be a little bit intimidating. How do you set the tone?
So the way each bite of food tastes matters. Is it thought-provoking? Maybe it's emotional. Maybe it's just exciting. But planning all that out is the hard part. And I think that's the difference between a lot of restaurants. We're all great in our own respective ways, but you're gonna feel very different when you leave each one. 
JJ: Are you a good collaborator? I see all sorts of chefs on television, and some of them have different tactics —  you know, some of them really love getting their hands on other people's dishes and kind of working with others, and some are more kind of directive with their methods. What's your style? 
CM: I haven't reached a very good collaborative point yet. You know, I'm 32, but I think I'm on the line between old school and new school chefs. I'm old school in the sense that I think the chef is face of the restaurant. So even if we collaborate on a dish like, I think it should be representative of the chef.
It's very trendy now for chefs to do collaborations and stuff like that. But for me, I don't think I've matured to that point yet. We're trying to raise chefs here in the kitchen. I think of it like this: One day, it's going to be your turn. And when is your turn? You're going to be very particular about how you want things. 
JJ: What do you think about the lack of more Black Michelin star chefs? It's not like we don't know how to cook. 
CM: I think the issue is the same with Black people across different industries: In the beginning, you don't make any money. Early on,  when you're being trained, you're most likely going to be yelled at and bossed around by people who don't look like you. So it's discouraging.
And like every industry that's made us work hard for representation, somebody else likely had to give up their space for us to earn that representation. I mean, it's the same thing in the food industry, right? A lot of us kind of get out of it before we're ready to fully bloom in it.
JJ: That's real. And also, a major reason why the instruction you can provide — even given your young age — could be invaluable to young chefs, Black ones in particular. What kind of advice do you impart on the ones you come in contact with?
CM: Earlier in my career, I wasn't given all the information I deserved, because chefs want to keep me at a certain place. So with my chefs, we discuss everything: food costs, the process of creating and designing menus.
We make jokes about it, but when we opened this restaurant, I was so surprised at how much trash costs, and how hard it was to get people to pick up the trash on time. All that — they never talked about in culinary school. I feel like it's just best to give these kids information so that they can succeed and be stronger.