A jury on Tuesday found the three white men who murdered Ahmaud Arbery guilty on all counts in their federal hate crimes trial.
The three men — Gregory McMichael, his son Travis McMichael, and William Bryan — hunted and killed Arbery, a 25-year-old Black man, while he was jogging through a Georgia suburb in 2020.
The jury took less than four hours to deliberate, finding all three of the killers guilty on two counts of interfering with Arbery's rights, as well as attempted kidnapping. The McMichaels were also found guilty on charges related to using firearms during a violent crime.
Despite the obviousness of the case, it's important to note just how unlikely this outcome was. America's justice system was bent against its will.
The McMichaels and Bryan were convicted in November of murdering Arbery, though prosecutors in that trial did not have to prove the three men killed Arbery because he was Black. However, the federal hate crimes trial hinged upon proving racial animus played a role in the slaying.
"If Ahmaud Arbery had been white, he'd have gone for a jog, checked out a cool house that was under construction and been home in time for Sunday dinner," prosecutor Bobbi Bernstein said during the federal trial. "Instead, he ended up running for his life."
Proving that was an easy task. 
The prosecution showed multiple examples of the defendants using overtly racist language to describe Black people. Bernstein revealed that days before the shooting, Bryan had denounced his daughter's decision to date a Black man, referring to the man using the N-word and calling him a "monkey" in unearthed text messages. 
Bernstein said Travis McMichael had once texted a friend saying he loved his job because he worked with "zero" Black people, whom he described using the N-word. She also said he was found to have commented on a video of a Black man with a firecracker in his nose saying, "It'd be cooler if it blew" the man's head off.
When it came to Gregory McMichael, Bernstein's investigation found he previously responded angrily in a conversation about the death in 2015 of the civil rights activist Julian Bond, saying: "Those Blacks are all nothing but trouble."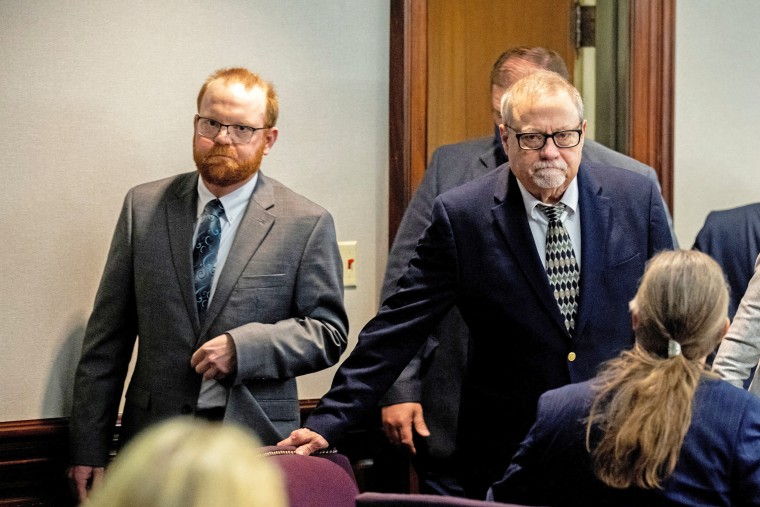 Despite the obviousness of the case, it's important to note just how unlikely this outcome was. America's justice system was bent against its will.
Arbery's killers almost dodged a murder trial, let alone hate crime charges. After shooting him to death, the three killers weren't even arrested, having brazenly claimed they'd been committing a citizen's arrest when they murdered him. Jackie Johnson — a former district attorney in Glynn County, Georgia — recused herself from the case because Gregory McMichael had worked in her office. She's since been charged with obstructing the police investigation into Arbery's murder.
Even after the charges were filed, there was no guarantee the nearly all-white jury would make the three killers face consequences. And after that, there was no guarantee the Department of Justice would bring hate crime charges to trial — despite declaring it would. As I wrote a couple weeks ago, the department offered plea deals to the men before the hate crime trial began. Arbery's family vehemently opposed the plea agreements.
Wanda Cooper-Jones, Arbery's mother, addressed the Justice Department after Tuesday's verdict, saying its officials had "ignored my cry." 
"What we got today, we wouldn't have got today if it wasn't for the fight that the family put up," she said, adding that the Justice Department was "made to do their job." 
These are the all-too-familiar conditions for Black justice in America — a phenomenon seemingly always determined by Black people's willingness to swallow pain and turn it into righteous rage when others won't. 
The guilty verdict was seen by many as a necessary denunciation of racist brutality at a time when accountability for anti-Black violence seems increasingly elusive. In the murder trial, prosecutors stayed clear of alleging the men were racist. But federal prosecutors were compelled by Arbery's advocates to hone in on it in the federal case in order to assert — emphatically — that racist hate is not to be tolerated.