Snapchat is taking a stand against a ban on "ballot selfies." The popular social media platform filed a brief in New Hampshire last week, supporting an ACLU suit that advocates for a voter's right to take and share photos of their completed ballots in the voting booth. Two other groups, the New England First Amendment Coalition and the Reporters Committee for Freedom of the Press, filed briefs as well.
The New Hampshire state legislature passed a law in September 2014 that made photographing a marked ballot punishable by a fine of up to $1,000. The American Civil Liberties Union promptly challenged the ban, claiming it violated the constitutional right to freedom of speech, and a federal judge agreed, overturning that law in August of 2015. That judge's decision is being challenged in the First Circuit Court of Appeals.
Snapchat argues that ballot selfies, like campaign buttons, are "simply the latest way that voters, especially young voters, engage with the political process and show their civic pride.'
In their 26-page amicus brief, Snapchat argues that ballot selfies, like campaign buttons, are "simply the latest way that voters, especially young voters, engage with the political process and show their civic pride." Not only should they be constitutionally protected, Snapchat argues, but the social media company says the photos are also valuable because they could "encourage others to vote—particularly younger voters who have historically low turnout rate." As evidence of social media's power, they cite a 2012 study in Nature that found Facebook's "I Voted" button spurred an extra 340,000 people to vote in the 2010 congressional elections.
Supporters of the ban argue it is essential in protecting the secret ballot, citing the risk of campaigns trying to buy votes and demanding ballot selfies as confirmation. Furthermore, in a world where social media "influencers" can charge thousands of dollars for a single sponsored Instagram post, some worry the ballot selfie can become an advertising tool to reach young voters. Critics of the ban, on the other hand, say there is little difference between a ballot selfie and telling someone who you voted for, wearing an "I Voted" sticker, or sporting a campaign button to the polls (even though the last is illegal in some states). In New York, for example, the law prohibits wearing shirts, hats, or other campaign materials within 100 feet of a polling place to avoid "passive electioneering," or attempting to influence other voters.
RELATED: #WomanCard trends after Trump jabs Clinton during his New York victory speech
Rules about photographing ballots differ from state to state. Most, including Snapchat's home state of California, ban ballot selfies outright. Other states such as Texas go even further by banning photography of any kind at the polling place. In Pennsylvania, a voting booth photo can actually land the offender in prison for up to a year. Several states—New York, North Dakota, Oregon, South Carolina, Washington, and Wyoming—allow photos in the voting booth without restriction. Vermont permits voters to take ballot selfies for private use, but bans sharing them with others.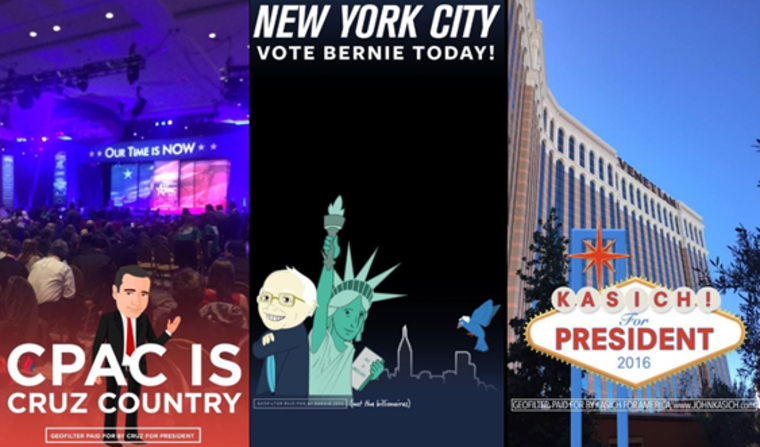 Snapchat is playing an integral role this election season, particularly in reaching the all-important millennial voting bloc. Snapchat employs its own journalists to cover major political events on the app, and the Snapchat Discover feature shares content, often political, from major news outlets. Presidential candidates have created their own accounts in an attempt to directly and organically reach young voters on their own turf. Additionally, campaigns, advocacy groups, and super PACs have rolled out paid "geofilters" in support of or against particular candidates. On Iowa Caucus Day, Snapchat debuted filters that show election results in real time. The Snapchat LIVE feature even lets users engage in citizen journalism by uploading photos and videos from rallies or debates.
Snapchat reiterated its commitment in a statement on Monday, asserting the ballot selfie is "an important part of free speech and civic engagement that the First Amendment roundly protects."
The appeal is pending, and the Court of Appeals for the First Circuit has only scheduled cases for oral arguments through May 5 on its official calendar.