Mitt Romney retracted the claws for his third and final debate with Barack Obama, agreeing on nearly every substantive point of the president's foreign policy agenda. His performance struck quite a stark contrast with Romney's contentious, almost oppressive posture towards Obama in the town hall debate just one week earlier. If this surprised the President, he didn't seem to mind it so much, as it gave him the opportunity to further develop his campaign's portrait of Romney as wishy-washy, while at the same time bolstering his own record.
"Governor Romney, I'm glad that you agreed that we have been successful in going after al Qaeda," said President Obama, "but I have to tell you that your strategy previously has been one that has been all over the map and is not designed to keep Americans safe or to build on the opportunities that exist in the Middle East."
Whether on the ouster of Hosni Mubarak in Egypt, the withdrawal of troops from Afghanistan, the commitment not to put boots on the ground in Syria, or the use of drones, Romney ceded the court to Obama.
Radio host Glenn Beck was not happy about this: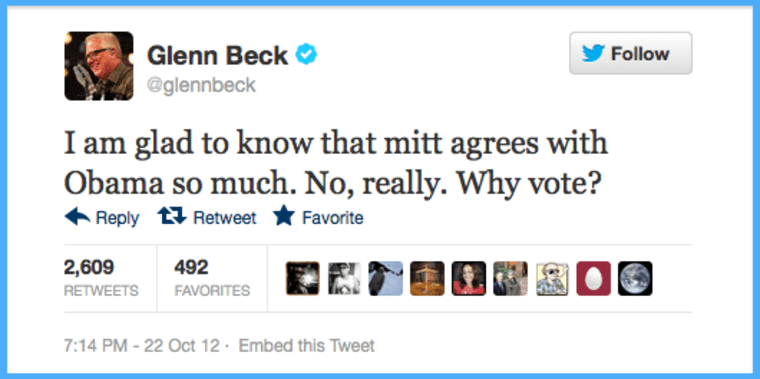 "Mitt Romney has nothing really coherent or substantive to say about domestic policy," wrote the New York Times editorial board, "but at least he can sound energetic and confident about it. On foreign policy...he had little coherent to say and often sounded completely lost. That's because he has no original ideas of substance on most world issues, including Syria, Iran and Afghanistan."
Others saw Romney's strategy as a careful, purposeful attempt to avoid major blunders and keep the focus on domestic issues, toward which the debate often veered. Strategy or not, it's rare to see Mitt Romney agree with president so often in one 90-minute span.