Iconic Sopranos star James Gandolfini died Wednesday night from a heart attack at his hotel room in Italy. He was 51.
Gandolfini played Tony Soprano, the neurotic powerful New Jersey mob boss in the HBO series. The show, which aired for six seasons, followed Soprano as he dealt with personal and professional issues in his home and business lives. Gandolfini more recently appeared as the unnamed CIA director in Zero Dark Thirty.
He was born and raised in New Jersey and graduated from Rutgers University.
The Taormina Film Festival in Sicily, where Gandolfini was scheduled to appear as a guest of honor on June 22, told NBC News the actor will be honored at the event.
New Jersey pols quickly issued statements and used Twitter to offer their sympathy to his family and colleagues.
N.J. Gov. Chris Christie:
"It's an awful shock. James Gandolfini was a fine actor, a Rutgers alum, and a true Jersey guy. I was a huge fan of his and the character he played so authentically, Tony Soprano. I have gotten to know Jimmy and many of the other actors in the Sopranos cast and I can say that each of them are an individual New Jersey treasure. Mary Pat and I express our deepest sympathies to Mr. Gandolfini's wife and children, and our prayers are with them at this terrible time."
N.J. Sen. Robert Menendez:
"James Gandolfini was a distinctive, talented actor whose unforgettable performances made him a television icon. Through all of his success, James Gandolfini remained a proud New Jerseyan, a Westwood native, and a Rutgers University graduate. His photograph has been displayed in my Washington, D.C., office for years as part of our New Jersey Wall of Fame. I am saddened at the news of his untimely death. My thoughts and prayers are with his family and all who were close to him."
Newark Mayor Cory Booker: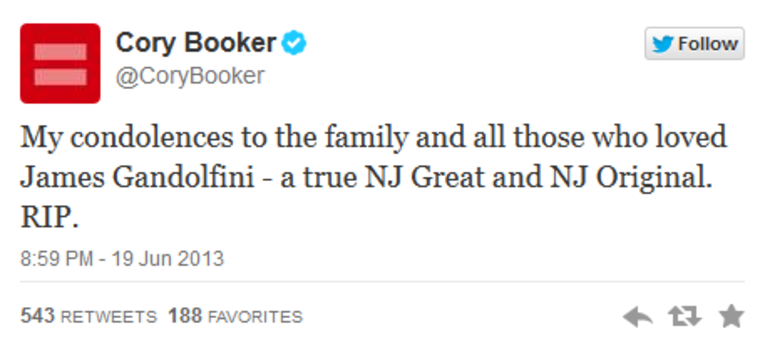 Rutgers University:
"The Rutgers University community mourns the sad and sudden loss of James Gandolfini, a 1983 Rutgers graduate who was inducted into the Rutgers Hall of Distinguished Alumni in 2004. Mr. Gandolfini was a proud and passionate supporter of the university for many years. Our thoughts and prayers go out to Mr. Gandolfini's family."